Baseball Legends from Down the Bay
---
Posted on April 19, 2023 by Rachel Hines
Rachel Hines
---
Baseball runs deep in Mobile. Five players from Mobile are commemorated in the Baseball Hall of Fame. We rank third, behind New York City and Chicago, for most honorees from one city. Three of Mobile's Hall of Famers were born Down the Bay, the neighborhood south of Government Street: Satchel Paige, Hank Aaron, and Willie McCovey. Baseball was popular, as the neighborhood primarily consisted of working-class renters. Baseball could be played when money was tight.
In interviews for the Down the Bay Oral History Project, many people who grew up in the community remember making their own toys and sports equipment. Streets, empty lots, and even Magnolia Cemetery served as makeshift baseball diamonds, as Marjorie Kenny Jones remembered in her 2022 interview: "The only place we had to practice was in the graveyard. And [the postman]...bought us little bats, balls, and what have you. And we went into the graveyard and that's where we practiced playing baseball."
In his biography of Satchel Paige, Larry Tye describes this innovative spirit: "Many learned to hit and pitch playing "top ball," where a stick replaced the bat they could not afford and soda bottle caps substituted for baseballs." It's not surprising, then, that so many baseball legends came out of this community. If you could hit a bottle cap with a stick, it would be easy to hit a comparatively large target, like a baseball.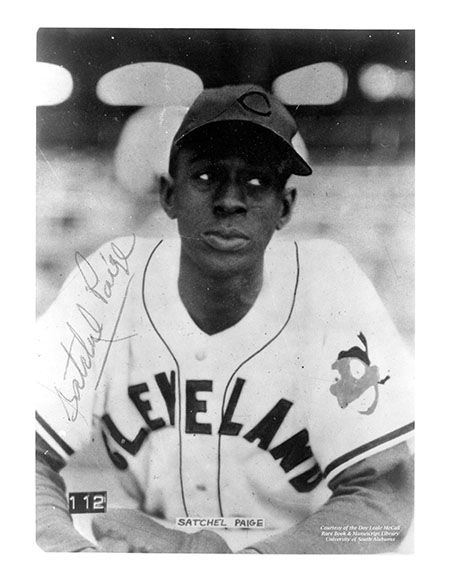 A signed photo of Satchel Paige. Courtesy of Marshall Wormley, the Doy Leale McCall Rare Book and
Manuscript Library, University of South Alabama.
Satchel Paige (above) is one of the best pitchers in history. Born in 1906, he was the first baseball great to come from Down the Bay. In his memoir, he remembers pitching for a local team called the "Down the Bay Boys." As a child, Paige lived in a shotgun house on Franklin Street and attended Council Traditional School, a Black founded in 1910 that still operates today as part of the public school system. Paige grew up in the Jim Crow South, and for the first two decades of his nearly 40-year career, he played in the Negro Southern and National Negro Leagues. When he was finally allowed in the major leagues in 1948, he became the first Black pitcher in the American league and the oldest player to debut at age 42. When he retired at age 59, he became the oldest player in a major league game.
"Satchel Paige was— I don't remember a lot about him but I do remember him pitching baseballs on Hamilton Street to the kids or whatever. I can remember sitting on his sister's porch with him and he would always have a lot of kids around him." -Creola Gibby Ruffin, whose father played for the Mobile Black Bears, in her Down the Bay Oral History Project Interview in 2022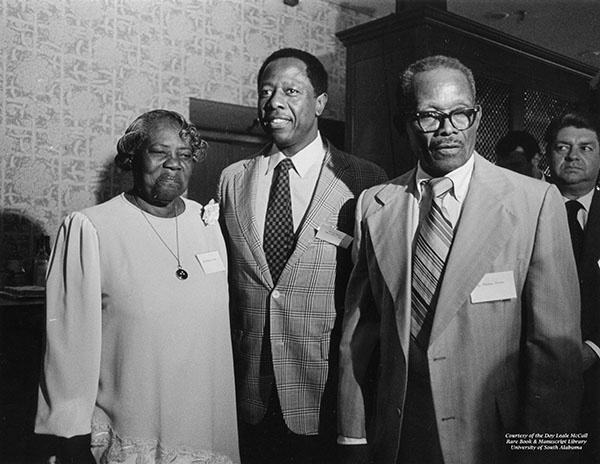 Hank Aaron with his parents in 1985. Photo courtesy of the Azalea City News Collection, the Doy Leale
McCall Rare Book and Manuscript Library, University of South Alabama.
Hall of Famers Hank Aaron (above) and Willie McCovey rose to fame a generation later. Their careers began in the 1950s, during the integration of Major League Baseball. Hank Aaron is one of the greatest baseball players in history, holding the home run record for 33 years. Hank Aaron was born Down the Bay but grew up in Toulminville on the north side of Mobile. He went to Central High School on the Avenue, the Black business district in Mobile, as well as the Josephine Allen Institute, a private school for African American children. Willie McCovey grew up Down the Bay on Maryland Street and played for the Down the Bay Hawks. He played first baseman and ranked second to Babe Ruth in left-handed career home runs when he retired in 1980.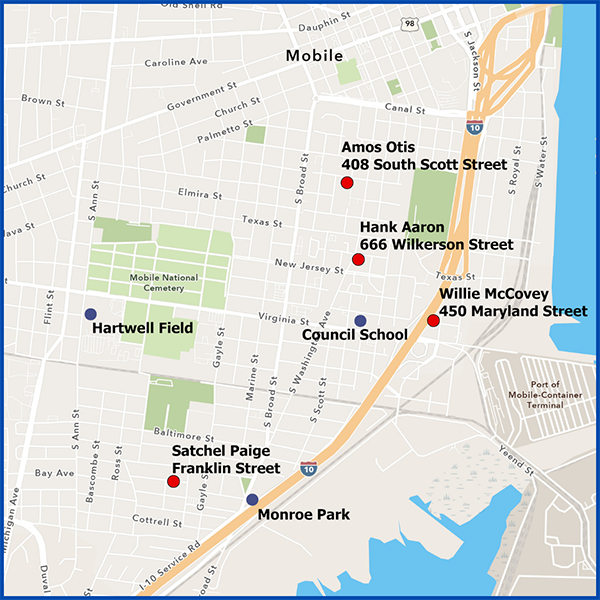 Baseball History in the Down the Bay Neighborhood. The birthplaces and childhood homes of players are
marked in red, while ball fields are marked in blue.
There were many baseball fields located on the south side of town. One of the first baseball fields was built at Monroe Park around 1901. After the 1926 hurricane, it was replaced by Hartwell Field. Despite their proximity, African Americans residents had unequal access to these fields. Mobile had racially segregated teams, even after Jackie Robinson desegregated Major League Baseball in 1947. Satchel Paige played for the all-Black Mobile Tigers early in his career and Hank Aaron played for the Mobile Black Bears when he was just 17. The Black Bears played at Hartwell Field when the Mobile Bears were out of town and fans sat in segregated seating.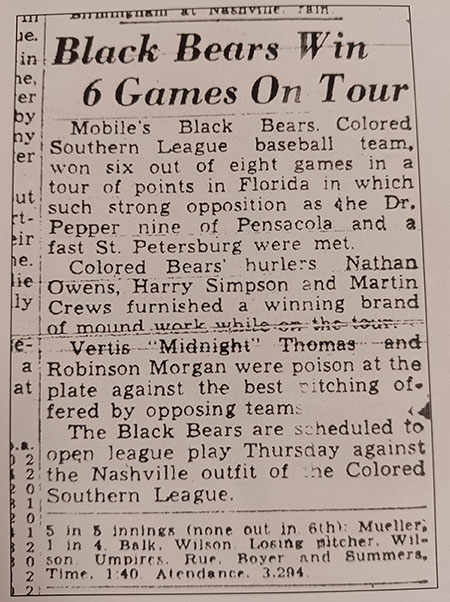 1945 Mobile Register article about the Mobile Black Bears baseball team.
Many Mobile Black Bears lived Down the Bay, including Nathan Owens, mentioned in this 1945 Mobile Register article (above). The Owens family lived at 906 South Franklin Street. This property is part of the Virginia Street Site, which we excavated for our I-10 Mobile River Bridge Archaeology Project. We've been investigating the history of Down the Bay as part of that project. Continue to follow along as we learn more about this historic neighborhood.
References and Further Reading:
Oral history interviews for the Down the Bay Oral History Project are on file at the Doy Leale McCall Rare Book and Manuscript Library at the University of South Alabama, including those of Marjorie Kenny Jones and Creola Gibby Ruffin from 2022.
Cuhaj, Joe and Tamra Carraway Hinckle (2013) Baseball in Mobile. Arcadia Publishing, Charleston SC.
Paige, LeRoy (Satchel) (1993) Maybe I'll Pitch Forever. As told to David Lipman. University of Nebraska Press, Lincoln.
Stanton, Tom (2004) Hank Aaron and the Home Run that Changed America. HarperCollins, New York.
Tye, Larry (2009) Satchel: The Life and Times of an American Legend. Random House, New York.
---
---