Travel and Lodging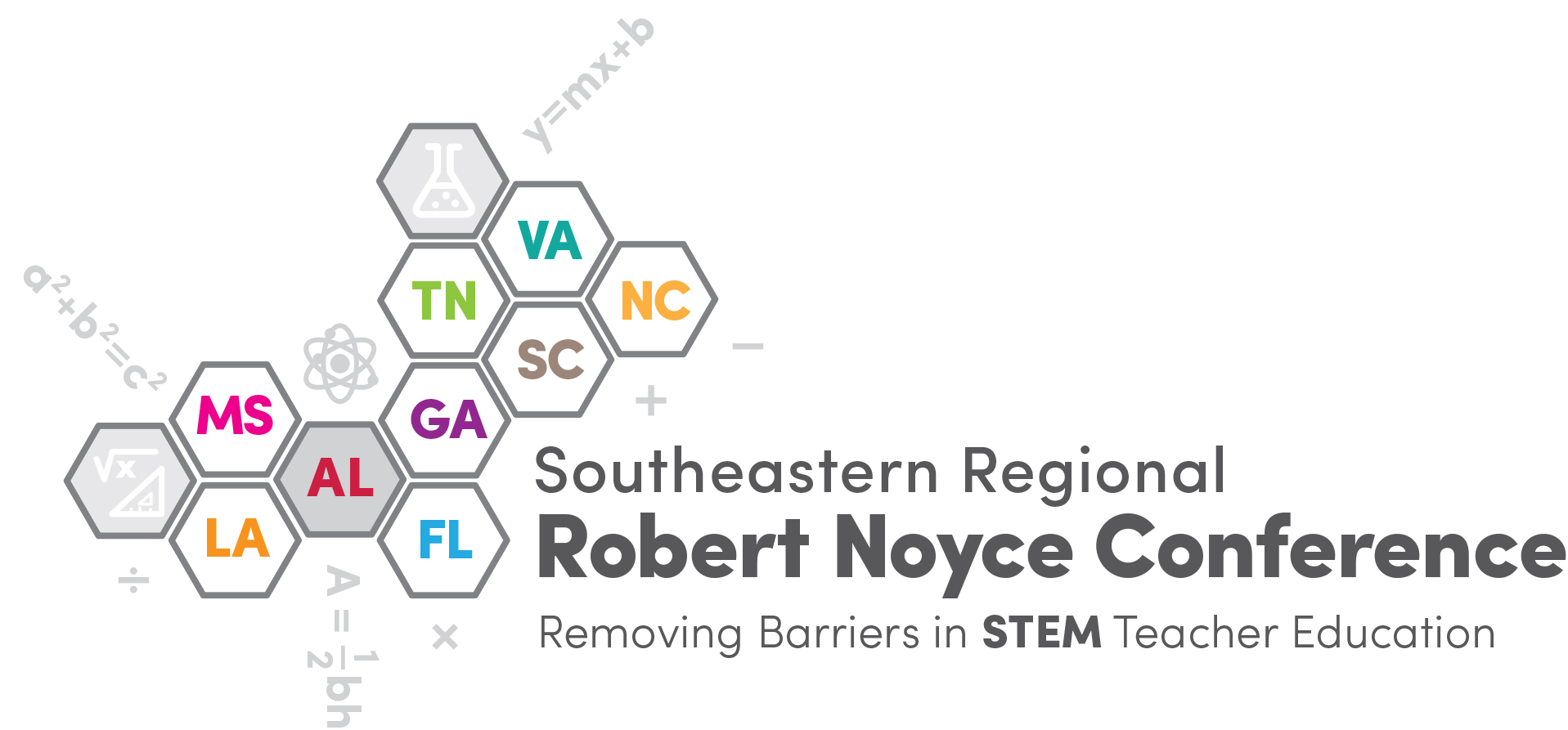 June 15 - 18, 2022 | Renaissance Montgomery | Montgomery, Alabama
The University of South Alabama Center for Integrative Studies in Science, Technology, Engineering and Mathematics (USA CISSTEM) in conjunction with the USA College of Education and Professional Studies and USA College of Arts and Sciences are pleased to host the 2022 Southeast Regional Noyce Conference.
This year's conference theme is Removing Barriers in STEM Teacher Education. In just three-and-a-half days, conference attendees will:
Re-connect with more than 200 Noyce program leaders, master teachers, and scholars
Grow their personal network of educators
Share updates on their Noyce Projects
Attend specialized mathematics and science professional development workshops
Engage in thought-provoking conversations around cultural awareness
Learn from National Science Foundation (NSF) program officers about upcoming and continuing grant opportunities.
Showcase their Noyce project during the conference poster session
As you prepare to join us for this year's conference, please use this page as your travel resource. All conference participants must receive prior approval from their Noyce PI or Project Director before travel accommodations are made. Throughout this webpage, we will provide suggestions to encourage all participants to be good stewards of the financial resources of this project.
Air Travel
Corporate Travel Planners is handling all air travel for this conference. After you have registered for the conference, please contact one of the listed representatives to make your flight arrangements via email. CTP advisors will need your legal name, gender, date of birth and cell phone in order to book your flight. Please include this information when you reach out to them.



Airport Shuttle Service
We will provide transportation between the Montgomery Regional Airport (MGM) and the Renaissance Montgomery Hotel & Spa at the Convention Center. The shuttle times will be scheduled to coincide with the majority of arrival and departure times. If your flight plans are outside of these dates/times, you will need to reserve a taxi or car service. The shuttle schedule will be emailed to all conference participants prior to the conference.
Mileage & Parking
If you are coming from within driving distance and/or would prefer to drive to Montgomery, please track your mileage on the way to the conference. For in-state travel, please use this mileage form, as well as provide a Google map that outlines your route and states the mileage traveled. For out-of-state travel, please provide a Google map that outlines your route and states the mileage traveled. The mileage rate is 58.5 cents/mile, up to a maximum reimbursement of $425. Car pools are highly recommended as a way to reduce expenses for the project. Self parking in the Hotel's garage for one car per hotel room will be paid on your behalf. If you choose to valet or have multiple cars per room, you will be financially responsible for those expenses.
Reimbursements
You can complete these forms prior to arrival to aid in your reimbursement. We will have a designated area at registration and a person on hand to answer any of your reimbursement questions. Reimbursement forms will also be available at registration. If you are driving, please have the documentation available at registration.
Lodging
The conference will be held at the beautiful Renaissance Montgomery Hotel & Spa at the Convention Center in downtown Montgomery. We will make your hotel reservations based on your registration and send you the confirmation number in early June. Please do not contact the hotel as we will be making all reservations..
Lodging costs for June 15th through June 18th will be paid on your behalf. Upon check-in at the hotel, participants will need to provide a credit card for incidental expenses.
If you choose to stay outside of the dates covered by this project, please let us know when you register for the conference. If additional nights are booked, you will be financially responsible for those nights. Therefore, at check-in, you will need to present a credit card for your personal lodging.