Poster Session & Presentation Proposals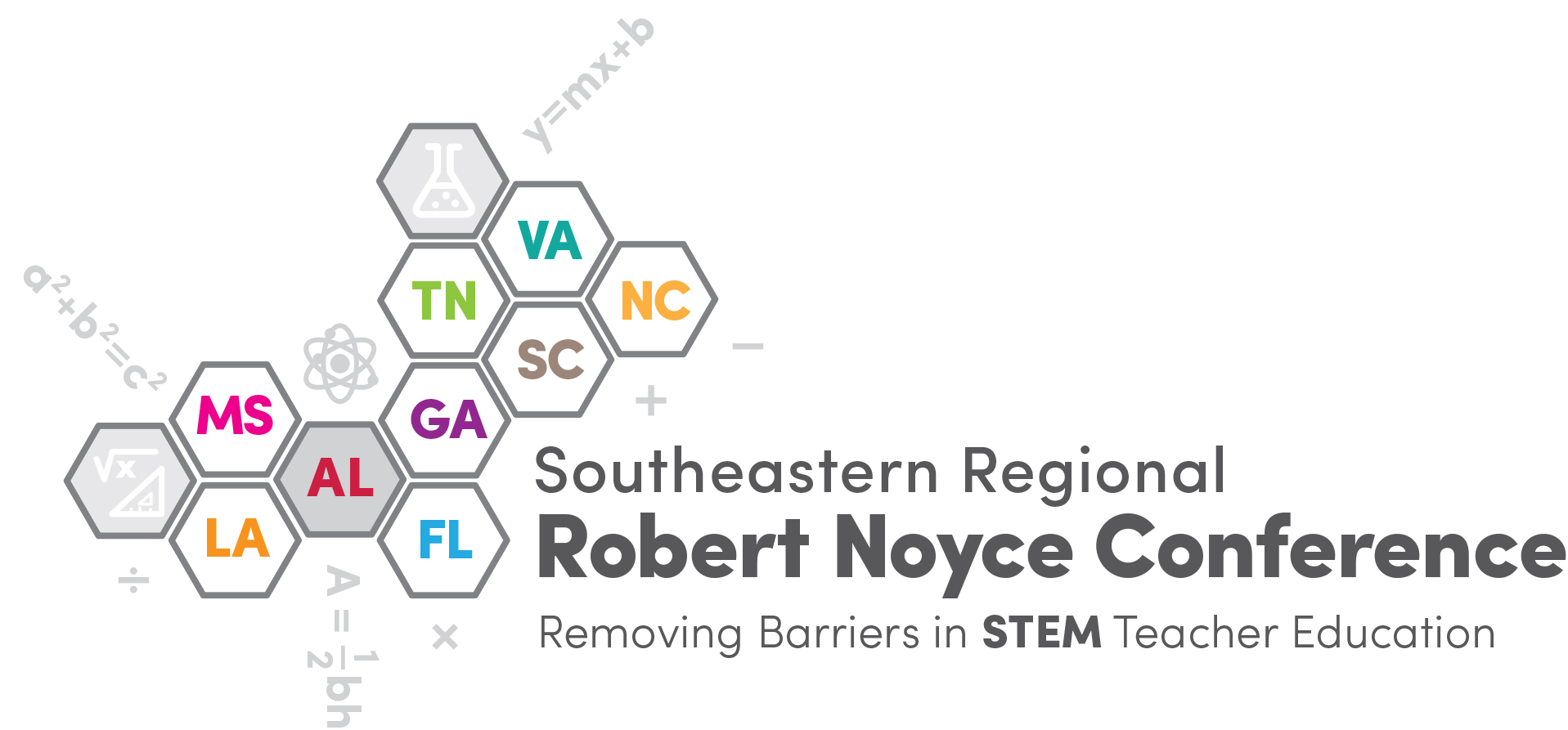 June 15 - 17, 2021 | Virtual Conference
We invite all Noyce PI's, Noyce Scholars, Noyce Teachers, and Noyce Personnel to submit a presentation proposal for the 2021 regional conference and register a project or research poster for the conference poster session.
This year's conference will center around five learning strands, identified through a needs assessment of PI's, scholars, teachers, and personnel involved with Noyce projects throughout the Southeast Region including:
Teaching STEM to Diverse Populations. Examples include but are not limited to topics that address the below:

Anti-Bias Self-Reflection
Anti-Racist Pedagogy Development
Strategies for Student Implementation of Culturally Relevant Pedagogy
Culturally & Linguistically Diverse Populations

Noyce Program Administration. Examples include but are not limited to topics that address the below:

Recruitment & Retention of Minority and Underrepresented Scholars
Pandemic-Minded Data and Programming
Incorporating College Course Content to Gap Fill for Lesser Aligned Majors
Programmatic Operations and Best Practices

Mathematics in Secondary Education. Examples include but are not limited to topics that address the below:

Pedagogy and Strategies
Conceptual Content Building for High Cognition in High School Math
Inquiry and Project-Based Mathematics Units
CER (Claims, Evidence, Reasoning) Mathematics

Science in Secondary Education. Examples include but are not limited to topics that address the below:

Citizen Science
Environmental Justice in Science
Pedagogical Approaches for Chemistry
Socio-Scientific Issues

Preparing for the Upcoming School Year. Examples include but are not limited to topics that address the below:

Transitioning from Online and Hybrid to Traditional Classrooms
Reaching Students Who Have/Had Limited Technology Access
Project-Based Learning and Data Analysis
Classroom Management for Hybrid and Traditional Classrooms
Moving Forward in Science or Mathematics While Remediating
Project & Research Posters
All Noyce projects are required to virtually present a project poster during the conference. Noyce Scholars & Teachers are welcome to present posters related to their Noyce research projects as well. To ensure we have adequate time to load all posters in the Virtual Exhibit Hall, please register your poster by May 28th, 2021. You will also need to submit a PDF of your poster, and MP4 audio file as well as a Zoom link to senoyce@southalabama.edu by May 28th, 2021, see guidelines regarding poster submission below.
Poster Guidelines
Our Brand new Virtual Exhibit Hall (VEH) is a 3D digital environment that visually replicates the experience of walking through an exhibit hall to view individual presentations. Attendees will enter the VEH in a virtual lobby in which they will find several clearly labeled, clickable doors, leading to a virtual poster hall. Next to each poster will be two clickable icons, one that plays a brief (1-2 minute) video recording explaining the project, and one that takes attendees out of the VEH to a Zoom meeting where they can interact in real time with the presenter of that poster, as if visiting the presenter at a booth in a face-to-face conference.
Logistics
Attendees will be able to view the VEH and all presentations at their leisure. You do not have to be in the VEH with attendees in order for them to view your poster or play your audio file. We will assign you a specific time to be on Zoom to engage with any attendees who have further questions about your work. During that time, you will need to be in your specific Zoom meeting to allow participants entry and interact with them after they click the link in the VEH. Zoom sessions are informal, designed for quick questions and discussions about the poster.
Guidelines
Required: Please submit your poster as 48 x 36 inches pdf, a brief MP4 audio file, and a Zoom link to senoyce@southalabama.edu. Please use this poster template to ensure accurate dimensions.
Avoid very small text or images on your poster, as doing so will make the poster hard to read. Body text should be 24pt font or larger.
Do not make the poster interactive. Participants will only be able to view the poster, not click, play, or otherwise interact with any additional features included thereon.
Speak clearly in your audio file so that listeners can understand you easily. Try not to rush or mumble.
Submit a Zoom link (resembles a url) not a Zoom ID (a 10 digit number) for the Zoom meeting.
Enable waiting rooms and do not set a password for your Zoom meeting. The waiting room protects host privacy without creating the logistical problem of disseminating passwords to attendees.
Conference Presentations
Presentations are a great way to share high quality resources, report research findings, and build a strong professional network. Do you have a professional development session that is sure to appeal to our regional Noyce community? This year we will have PD sessions geared toward impacting our preservice and early career Noyce educators. These sessions go beyond the shorter break-out sessions in that they engage participants interactively, inviting them to tie what they learn at the conference to their own classroom practices. We are currently seeking 45 minute presentation proposals that center around the five learning strands of the conference.
Presentation Proposal Guidelines
Use the online form to register your presentation by May 28th, 2021.
All proposals will be under blind review by the conference host committee.
Acceptance status will be emailed by June 3rd, 2021, and a tentative conference schedule will be available online by June 10, 2021.
Submission of a proposal is a professional commitment to present at the conference.
Presentation Logistics
Conference sessions are scheduled for 45 minutes. It is recommended that presenters allow approximately 35 minutes for presentation and 10 minutes for questions/discussion.
Professional development sessions are scheduled for 1 hour and 30 minutes and should be hands on and engaging for participants.
A moderator will be in each virtual session to assist with technology and logistics.
We will plan a rehearsal with each presenter and moderator on June 10 & 11 in advance of the conference to answer any questions and go over the structure of the sessions.