Poster Session & Presentation Proposals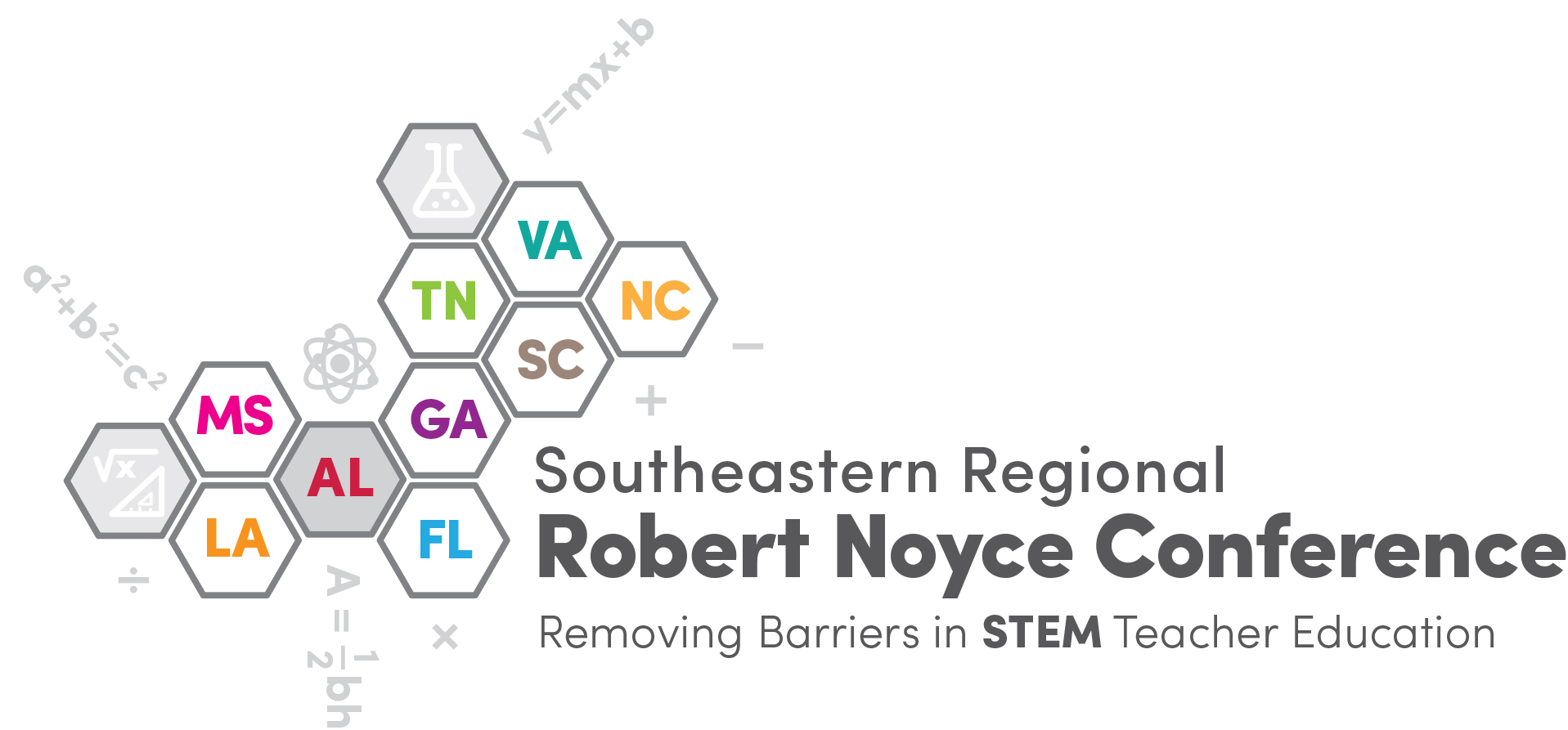 June 17 - 20, 2020 | Renaissance Montgomery Hotel | Montgomery, Alabama
We invite all Noyce PI's, Noyce Scholars, Noyce Teachers, and Noyce Personnel to submit a presentation proposal for the 2020 regional conference and register a project or research poster for the conference poster session.
This year's conference will center around five learning strands, including:
Teaching STEM to Diverse Students (Low Income, Rural, Urban, Hispanic, etc.)
Noyce Program Administration (Recruitment, Retention, Mentoring, Tracking, etc.)
Mathematics in Secondary Education (standards, content, etc.)
Science in Secondary Education (standards, content, etc.)
Social Justice and Culturally Relevant Pedagogy in Math and Science education.
Project & Research Posters
All Noyce projects are required to bring a project poster to the conference. Noyce Scholars & Teachers are welcome to present posters related to their Noyce research projects as well. To ensure we have adequate space to display all posters, please register your poster by May 1st, 2020.
Poster Guidelines
Use the online form to register your poster by May 1

st

, 2020.
A confirmation email with additional information will be sent by May 29th.
Posters should be approximately 36" x 48" in size.
Boards and fixtures will be provided so that posters may be displayed.
Conference Presentations
Presentations are a great way to share high quality resources, report research findings, and build a strong professional network. We are currently seeking 55 minute presentation proposals that center around the four learning strands of the conference.
Do you have a professional development session that is sure to appeal to our regional Noyce community? This year we will have PD sessions geared toward impacting our preservice and early career Noyce educators. These sessions go beyond the shorter break-out sessions in that they engage participants interactively, inviting them to tie what they learn at the conference to their own classroom practices.
Presentation Proposal Guidelines
Use the online form to register your presentation by May 1

st

, 2020.
All proposals will be under blind review by the conference host committee.
Acceptance status will be emailed by May 29th, 2020, and a tentative conference schedule will be available online by early June 2020.
Submission of a proposal is a professional commitment to present at the conference.
Presentation Logistics
Conference sessions are scheduled for 55 minutes. It is recommended that presenters allow approximately 40 minutes for presentation and 15 minutes for questions/discussion.
Professional development sessions are scheduled for 1 hour and 45 minutes and should be hands on and engaging for participants.
Essential equipment for presentations, such as a projector, presentation screen, and laptop will be provided.
Presenters should bring their presentation, any materials, and are allowed to bring their own laptops if desired.
Presentation rooms will accommodate up to 25 people.