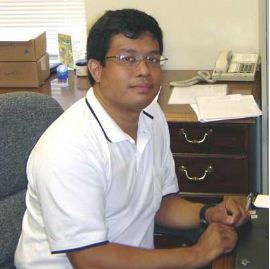 Albert Gapud
Department of Physics

---
Education
Ph.D, University of Kansas, 1999
B.S, University of Kansas, 1989
---
Research Interests
Superconductivity, dynamics of superconducting vortices, transport properties of nanowires, self-assembly and growth of film and nanostructures.
---
Selected publications
"Flux quanta drive by high-density currents in low-impurity V3Si and LuNi2B2C: Free flux flow and fluxon-core size effect," A. A. Gapud, S. Moraes, R. P. Khadka, P. Favreau, C. Henderson, P. C. Canfield, V. G. Kogan, A. P. Reyes, L. L. Lumata, D. K. Christen, and J. R. Thompson,Physical Review B Vol. 80, p. 134524 (2009).

"On narrowing coated conductor film: the emergence of granularity-induced field hysteresis of transport critical current," A. A. Gapud, D. K. Christen, R. Feenstra, F. A. List III, and A. Khan, Superconductor Science and Technology Vol. 21, No. 7, p. 075016 (2008).
See More