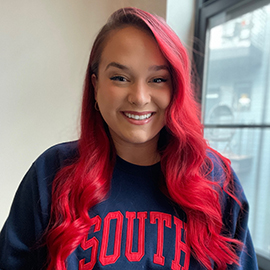 Jordan Albright, Ph.D.
Assistant Professor Department of Psychology

---
Dr. Albright will be reviewing graduate student applications for the 2024-2025 academic year.
Education
APA accredited Clinical Psychology Pre-doctoral Internship
Perelman School of Medicine, University of Pennsylvania, Philadelphia, PA
Child/Developmental Disabilities Track
Ph.D. Clinical Psychology, Virginia Tech, Blacksburg, VA
M.S. Clinical Child Psychology, Southern Illinois University Edwardsville, Edwardsville, IL
B.S. Psychology, Northwest Missouri State University, Maryville, MO
---
Research Interests
My research broadly seeks to improve access to evidence-based care for children and adolescents. Leveraging methods from implementation science, and guided by social-ecological systems theory, I aim to partner with providers and education systems to develop feasible, acceptable, and sustainable methods for implementing and integrating evidence-based mental health practices into schools.
I also study interventions aimed at addressing challenges experienced by autistic youth (e.g., social communication, social skills, emotion regulation). I am interested in the integration of neurodiversity affirming practices and self-determination theory into these interventions and in partnering with autistic individuals and their families on this work.
Recent areas of interest include:
Identifying barriers to care in rural communities and schools
Examining individual and organizational factors that impact the
uptake/delivery/sustainability of evidence-based practices in schools
Developing innovative methods for professional development and consultation as means for improving service delivery
Using team science to enhance team functioning amongst collocated school-based mental health service providers
Integrating self-determination theory and neurodiversity affirming practices into interventions for autistic youth
Improving access to quality early intervention and inclusive early childhood programming for young autistic children
---
Recent Publications
Antezana, L., Albright, J., Scarpa, A., Richey, J.A., Laugeson, E.A., &. Factor, R.S. (2022). Core autism features as predictors of outcomes in the PEERS ® for Preschoolers Program. Journal of Autism and Developmental Disorders. doi: 10.1007/s10803-022-
05724-7
Albright, J., & Williams, T. (2021). Examining national trends of teacher certification in autism: Implications for rural schools. Rural Special Education Quarterly. doi: 10.1177/87568705211031548
Albright, J., Kulok, S., & Scarpa, A. (2020). A qualitative analysis of employer perspectives on the hiring and employment of adults with Autism Spectrum Disorder. Journal of Vocational Rehabilitation, 53(2), 167-182. doi: 10.3233/JVR-201094
Scarpa, A., Jensen, L., Gracanin, D., Ramey, S., Dahiya-Singh, A., Ingram, L.M., Albright, J., Gatto, A., Scott, J., & Ruble, L. (2020). Access to Autism Spectrum Disorder services
for rural Appalachian citizens. Journal of Appalachian Health, 2(1), 25–40. doi:10.13023/jah.0201.04.
Antezana, L., Scarpa, A., Valdespino, A., Albright, J., & Richey, J.A. (2017). Rural trends in diagnosis and services for Autism Spectrum Disorder. Frontiers in Psychology, 8, 590. doi: 10.3389/fpsyg.2017.00590
McKenney, E. L. W., Stachniak, C., Albright, J., Jewell, J. D., & Dorencz, J. M. (2016). Defining success for students with Autism Spectrum Disorder: Social academic behavior in general education secondary classes. Education and Training in Autism and Developmental Disabilities, 51(3), 318-327.