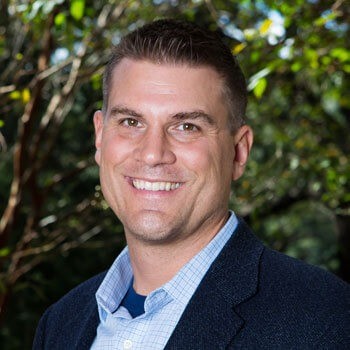 UCOM 1036
By Appointment
Ph: (251) 460-7819
Associate Professor, Director of Clinical Training Clinical Psychology

---
Dr Currier will be reviewing graduate student applications for the 2019-2020 academic year. Apply here.
Research Interests
Spiritually Integrated Mental Healthcare
Military Veteran and First Responder Mental Health
Trauma, Moral Injury, and PTSD
Peer Support and Mental Health Service Utilization
---
Education
APA Accredited Post-Doctoral Fellowship, Polytrauma and Returning Veterans (OEF/OIF) Program, Memphis VA Medical Center, Memphis TN
APA Accredited Clinical Psychology Internship, Memphis VA Medical Center, Memphis TN
Ph.D Clinical Psychology, University of Memphis, Memphis, TN
M.A. Clinical Psychology, Wheaton College, Wheaton IL
B.A. Psychology and Catholic Studies, University of St. Thomas, St. Paul, MN
---
Current Partnerships and Projects

Veterans Recovery Resources Partnership: Formed "by veterans for veterans" in 2015, Veterans Recovery Resources is a community-based organization which seeks to remove barriers to high-quality, compassionate, and affordable mental health and primary care services for military veterans, first responders and their families. With the opening of an outpatient clinic in November 2018, this mission is being fulfilled via synergistic efforts of an inter-professional team of behavioral health providers, peer support specialists, veteran peer ambassadors, community partners and stakeholders (for details, see veteransrecoveryresources.org). Funded with private donations and generous grants from the Robert Wood Johnson Foundation, Cigna Foundation, Community Foundation of South Alabama, and other foundations and philanthropic organizations, Dr. Currier has played a lead role in developing Vets Recover's clinical framework and serves as an interim clinical director in this initial implementation phase. In tandem with other CCP faculty and faculty in the College of Allied Health Sciences, Vets Recover provides unique practicum opportunities for clinical training and research for USA students in the emerging "Vets Recover Way."
Heroes to Heroes Program Evaluation Project: Heroes to Heroes is a not-for-profit organization that offers an innovative retreat- and peer-based program to promote spiritual healing and social connections among combat veterans of all conflicts and religious faiths who are on a path to possible suicide and self-destruction due to moral injury and other potential trauma-related concerns. Founded in 2011, the organization has served over 200 veterans and continues to grow in capacity, scope and impact (for details, see heroestoheroes.org). As a way of evaluating and enhancing the program's success, Heroes to Heroes partnered with Dr. Currier in August 2018 to conduct a three-year systematic evaluation of veterans' psychological and spiritual outcomes. Along with Dr. Phillip Smith and CCP students with special interests and expertise in suicide risk assessment, moral injury, and spiritually integrated care, this USA team is collaborating closely with Heroes to Heroes leadership/staff to achieve the ambitious goals of this mixed method, longitudinal, and community participatory project.
Understanding Spiritually Integrated Approaches to Counseling or Psychotherapy: A Practice-Based Evidence Project: In tandem with a local team as well as researchers and clinicians from around the world, Dr. Currier has partnered with Dr. P. Scott Richards and other faculty from Brigham Young University on a three-year initiative, entitled "Bringing Spiritually-Integrated Psychotherapies into the Healthcare Mainstream" (for details, see bridgesconsortium.com). Funded by the John Templeton Foundation, this project will examine routine practices of incorporating religion and spirituality in psychotherapy and outcomes associated with these approaches via practice-based evidence designs in geographically and religiously heterogeneous contexts. Further, given that many patients seeking mental healthcare believe in a personal God who desires an intimate relationship, Dr. Currier's local project also aims to understand the role of God imagery over the course of therapy sessions in a large sample of adults seeking care at spiritually integrated clinics in the Mobile community.
Pine Rest Christian Mental Health Services-Fuller Seminary Research Collaborative: Pine Rest Christian Mental Health Services is a non-profit behavioral health center located in Grand Rapids, Michigan that provides a comprehensive continuum of outpatient and residential treatment programs. Beginning in 2012, chaplaincy staff at Pine Rest have partnered with Drs. Currier from USA, Alexis Abernethy from Fuller Seminary, Sarah Schnitker from Baylor University, and Charlotte vanOyen-Witvliet and Lindsey Root Luna from Hope College in a series of longitudinal studies focusing on ways in which varying dimensions of spirituality help and hinder recovery from mental health conditions in acute psychiatric hospitalization units. To date, this research collaborative has yielded a number of important findings for clarifying targets for psychosocial treatments in spiritually integrated psychiatric settings (e.g., forgiveness, God imagery, spiritual struggle).

Recent Representative Publications
Currier, J. M., McDermott, R. C., Farnsworth, J. K., & Borges, L. M. (in press). Temporal associations between moral injury and PTSD symptom clusters in military veterans. Journal of Traumatic Stress.
Currier, J. M., Foster, J. D. & Isaak, S. L. (in press). Moral injury and spiritual struggles in military veterans: A latent profile analysis. Journal of Traumatic Stress.
Currier, J. M., Farnsworth, J. K., Drescher, K. D., Sims, B. M., & Albright, D. L. (in press). Development and Evaluation of the Expressions of Moral Injury Scale – Military Version. Clinical Psychology & Psychotherapy.
Currier, J. M., Foster, J., Witvliet, C.V.O., Abernethy, A., Root Luna, L., Schnitker, S., Van Harn, K., & Carter, J. (2019). Spiritual struggles and mental health outcomes in a spiritually integrated inpatient program. Journal of Affective Disorders, 249, 127-135.
Currier, J. M., McDermott, R. C., McCormick, W. H., Milkeris, L., & Churchwell, M. (2018). Exploring cross-lagged associations between spiritual struggles and risk for suicidal behavior in a community sample of military veterans. Journal of Affective Disorders, 230, 93-100.
Currier, J. M., Pearce, M., Carroll, T. D., & Koenig, H. G. (2018). Military veterans' preferences for incorporating spirituality in psychotherapy or counseling. Professional Psychology: Research and Practice, 49, 39-47.
Currier, J. M., Foster, J. D., Abernethy, A. D., Witvliet, C. V. O, Root Luna, L. M., Putman, K. M., Schnitker, S. A., VanHarn K., & Carter, J. (2017). God imagery and affective outcomes in a spiritually integrative inpatient program. Psychiatry Research, 254, 317-322.
See More