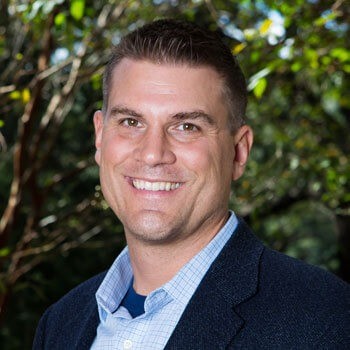 Joseph M. Currier, Ph.D.
Full Professor Department of Psychology

---
Education
APA Accredited Post-Doctoral Fellowship, Polytrauma and Returning Veterans (OEF/OIF) Program, Memphis VA Medical Center, Memphis TN
APA Accredited Clinical Psychology Internship, Memphis VA Medical Center, Memphis TN
Ph.D Clinical Psychology, University of Memphis, Memphis TN
M.A. Clinical Psychology, Wheaton College, Wheaton IL
B.A. Psychology and Catholic Studies, University of St. Thomas, St. Paul MN
---
Research Interests
Spiritually Integrated Mental Healthcare
Military Veteran and First Responder Mental Health
Trauma, Moral Injury, and PTSD
Peer Support and Mental Health Service Utilization
---
Current Partnerships and Projects

"Catalyzing a cultural shift toward integrating religious and spiritual competencies in mental health competencies in mental health through training and systems-level change": Funded with a generous grant from the John Templeton Foundation, this project seeks to identify and address barriers to equipping mental health providers to integrate clients' religion/spirituality (R/S) in their work via micro-, mezzo-, and macro-level objectives across four sub-projects: (1) develop, implement, evaluate, and disseminate an integrated curriculum approach to R/S competency training that can be incorporated into graduate courses across the four professions; (2) stimulate research on R/S competencies and produce tools for assessment and training in clinical settings; (3) conduct a national survey of graduate faculty to illuminate faculty views/behaviors as well as barriers/supports to training students in R/S competencies; and (4) coordinate a set of systems-level change activities to identify/remove barriers and promote widespread integration of R/S competencies in mental health training, research, and practice. In partnership with psychology, counseling, and social work colleagues from five universities (Jesse Fox from Stetson, Holly Oxhandler and Clay Polson from Baylor, Ken Pargament from BGSU, Michelle Pearce from UMB, and Cassandra Vieten from UC San Diego), our inter-disciplinary team aims to promote human flourishing by ensuring every mental health care provider in the U.S. acquires the basic competencies to honor clients' R/S in their practice.

Veterans Recovery Resources Partnership: Formed "by veterans for veterans" in 2015, Veterans Recovery Resources is a community-based organization which seeks to remove barriers to high-quality, compassionate, and affordable mental health and primary care services for military veterans, first responders and their families. With the opening of an outpatient clinic in November 2018, this mission is being fulfilled via synergistic efforts of an inter-professional team of behavioral health providers, peer support specialists, veteran peer ambassadors, community partners and stakeholders (for details, see www.veteransrecoveryresources.org). Funded with private donations and generous grants from SAMSHA, the Robert Wood Johnson Foundation, Cigna Foundation, Community Foundation of South Alabama, and other foundations and philanthropic organizations, Dr. Currier has played a lead role in developing Vets Recover's clinical framework and serves as an interim clinical director in this initial implementation phase. In tandem with other CCP faculty and faculty in the College of Allied Health Sciences, Vets Recover provides unique practicum opportunities for clinical training and research for USA students in the emerging "Vets Recover Way."

Heroes to Heroes Program Evaluation Project: Heroes to Heroes is a not-for-profit organization that offers an innovative retreat- and peer-based program to promote spiritual healing and social connections among combat veterans of all conflicts and religious faiths who are on a path to possible suicide and self-destruction due to moral injury and other potential trauma-related concerns (for details, see www.heroestoheroes.org). Founded in 2011, the organization has served over 250 veterans and continues to grow in capacity, scope and impact (for details, see heroestoheroes.org). As a way of evaluating and enhancing the program's success, Heroes to Heroes partnered with Dr. Currier in August 2018 to conduct a three-year systematic evaluation of veterans' psychological and spiritual outcomes. Along with Dr. Phillip Smith and CCP students with special interests and expertise in suicide risk assessment, moral injury, and spiritually integrated care, this USA team is collaborating closely with Heroes to Heroes leadership/staff to achieve the ambitious goals of this mixed method, longitudinal, and community participatory project.

Pine Rest Christian Mental Health Services-Fuller Seminary Research Collaborative: Pine Rest Christian Mental Health Services is a non-profit behavioral health center located in Grand Rapids, Michigan that provides a comprehensive continuum of outpatient and residential treatment programs. Beginning in 2012, chaplaincy staff at Pine Rest have partnered with Drs. Currier from USA, Alexis Abernethy from Fuller Seminary, Sarah Schnitker from Baylor University, and Charlotte vanOyen-Witvliet and Lindsey Root Luna from Hope College in a series of longitudinal studies focusing on ways in which varying dimensions of spirituality help and hinder recovery from mental health conditions in acute psychiatric hospitalization units. To date, this research collaborative has yielded a number of important findings for clarifying targets for psychosocial treatments in spiritually integrated psychiatric settings (e.g., forgiveness, God imagery, spiritual struggle).
---
Recent Representative Publications

Currier, J. M., Foster, J. D., Karatzias, T., & Murphy, D. (2020). Moral injury and ICD-11 Complex PTSD (CPTSD) symptoms among treatment-seeking veterans in the United Kingdom. Psychological Trauma: Theory, Research, Practice & Policy.

Currier, J. M., McDermott, R. C., Stevens, L. T., Isaak, S. L., Davis, E. B., Hollingsworth, W. G. L., Archer, G. D., & Stefurak, J. S. (in press). A practice-based evidence investigation of God representations in spiritually integrated psychotherapies. Journal of Clinical Psychology.

Abernethy, A. D., Currier, J. M., Witvliet, C. V. O., Schnitker, S. A., Root Luna, L. M., . . . . . Carter, J. (in press). Attitudes toward spiritually integrated interventions in patients seeking inpatient care. Professional Psychology: Research and Practice.

Currier, J. M., Isaak, S. L., & McDermott, R. C. (2020). Validation of the Expressions of Moral Injury Scale – Military Version – Short Form. Clinical Psychology & Psychotherapy, 27, 61-68.

Currier, J. M, Stevens, L., Isaak, S. L., Smith, T., & Zlomke, K. (2020). Understanding preferences for addressing spirituality among adults seeking outpatient mental health care. Journal of Nervous and Mental Disease, 208, 514-516.

Currier, J. M., Fadoir, N., Carroll, T., Kuhlman, S., Marie, L, Taylor, S., Smith, T., Isaak, S. L., & Sims, B. M. (2020). A cross-sectional investigation of divine struggles and suicide risk among men in early recovery from substance use disorders. Psychology of Religion and Spirituality, 12, 324-333.

Currier, J. M., McDermott, R. C., Farnsworth, J. K., & Borges, L. M. (2019). Temporal associations between moral injury and PTSD symptom clusters in military veterans. Journal of Traumatic Stress, 32, 382-392.

Currier, J. M., Foster, J. D. & Isaak, S. L. (2019). Moral injury and spiritual struggles in military veterans: A latent profile analysis. Journal of Traumatic Stress, 32, 393-404.

Currier, J. M., Rojas-Flores, L., McCormick, W. H., Hwang Koo, J., Cadavid, L., Pineda, F. A., le Roux, E., & Givens, G. T. (2019). Spiritual struggles and ministry-related quality of life among faith leaders in Colombia. Psychology of Religion and Spirituality, 11, 148-156.

Currier, J. M., Foster, J., Witvliet, C.V.O., Abernethy, A., Root Luna, L., Schnitker, S., Van Harn, K., & Carter, J. (2019). Spiritual struggles and mental health outcomes in a spiritually integrated inpatient program. Journal of Affective Disorders, 249, 127-135.