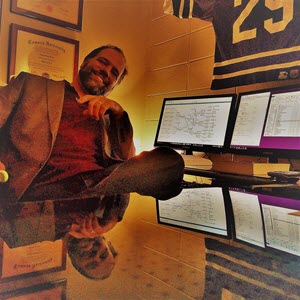 Joshua D. Foster, Ph.D.
Professor Depatrment of Psychology

---
Education
Ph.D. University of Georgia, 2005
Social Psychology
M.A. Towson University, 2000
Experimental Psychology
B.S. Old Dominion University, 1996
Psychology
---
Research Interests
Personality and individual differences
Personality assessment
Latent variable analysis
Narcissism
Psychopathy
Philosophy of science
---
Research
My research focuses primarily on the study of personality and individual differences--most notably, narcissistic personality. With regard to narcissism, my research attempts to answer the following questions: What is narcissism and how should narcissism be measured? Who is more or less narcissistic? What are the costs and benefits of narcissism to the self and others? How and why do narcissists think and act like they do? I also conduct research on topics that are related to narcissism, such as psychopathy, self-esteem, and empathy. Occasionally, when I'm feeling especially brave or foolish, I conduct studies on totally unrelated topics. Finally, I maintain active collaborations with researchers who study a wide variety of topics, such as intelligence, religion and spirituality, philosophy of science (e.g., scientific replication), evolutionary psychology, parenting, and teaching and learning.
---
Highlighted Research

Book:
Hermann, A., Brunell, A.B., & Foster, J.D. (Eds.) (forthcoming). The Handbook of Trait Narcissism: Key Advances, Research Methods, and Controversies. New York: Springer.
Three Most highly cited papers (>200 cites):
Open Science Collaboration. (2015). Estimating the reproducibility of psychological science. Science, 349, 943-951.

Twenge, J.M., Konrath, S., Foster, J.D., Campbell, W.K., & Bushman, B.J. (2008). Egos inflating over time: A cross-temporal meta-analysis of the Narcissistic Personality Inventory. Journal of Personality, 76, 875-901.

Foster, J.D., Campbell, W.K., & Twenge, J.M. (2003). Individual differences in narcissism: Inflated self-views across the lifespan and around the world. Journal of Research in Personality, 37, 469-486.
See More