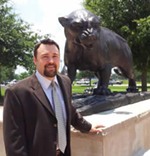 Office Hours
---
UCOM 1032
Mon 2-4pm, Wed 10am-noon
Ph: (251) 460-7081
Associate Professor Clinical Neuropsychology

---
Dr Hill will be reviewing graduate student applications for the 2019-2020 academic year. Apply here.
Research Interests
Fluid Cognition
Cognitive Disorders
Concussion/mTBI and TBI
Symptom Validity Measurement
Intra-Individual Variability
Cognitive Effects of Meta-Inflammation
---
Ph.D. Louisiana State University 2008
Clinical Psychology
M.S. Wake Forest University 2003
General/Experimental Psychology
B.S. Coastal Carolina University 1999
Psychology
---
Highlighted Research
Davis, T.D., Hill, B.D., Evans, K., Tiffin, S., Stanley, N., Fields, K., Russ, K., & Gordon-Hickey, S.(2017). P300 event-related potentials differentiate better performing individuals with traumatic brain injury: A preliminary study of semantic processing. Journal of Head Trauma Rehabilitation, 32(4), 27-36.
Musso, M., Hill, B.D., Barker, A., Pella, R., & Gouvier, W.D. (2016). Utility of the Personality Assessment Inventory for detecting malingered ADHD in college students. Journal of Attention Disorders, 20(9), 763-774.

Hill, B.D., Foster, J., Sofko, C., Elliott, E.M., & Shelton, J.T. (2016). The interaction of ability and motivation: Average working memory is required for Need for Cognition to positively benefit intelligence and the effect increases with ability. Personality and Individual Differences, 98, 225-228.
Thaler, N., Hill, B.D., Duff, K., Scott, J., & Mold, J. (2015). RBANS intra-individual variability in healthy older adults: Associations with poorer cognitive and health outcomes and earlier mortality. Journal of Clinical and Experimental Neuropsychology, 37(6), 622-629.
Hill, B.D., Womble, M.N., & Rohling, M.L. (2015). Logistic regression function for detection of suspicious performance during baseline evaluations using Concussion Vital Signs. Applied Neuropsychology, 22(3), 233-240.
Hill, B. D., Rohling, M. L., Boettcher, A. C., & Meyers, J. E. (2013). Cognitive intra-individual variability has a positive association with traumatic brain injury severity and suboptimal effort. Archives of Clinical Neuropsychology, 28(7), 640-648.
Hill, B.D., Foster, J., Elliott, E.M., Shelton, J.T., McCain, J., & Gouvier, W.D. (2013). Need for cognition is related to higher general intelligence, fluid intelligence, and crystallized intelligence, but not working memory. Journal of Research in Personality, 47(1), 22-25.
See More
---
Information for Prospective Graduate and Undergraduate Students
Dr Hill is accepting students for the 2018-2019 academic year
---