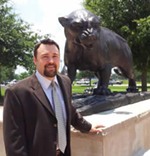 Benjamin D. Hill, Ph.D.
Professor Department of Psychology

---
Education
Ph.D. Louisiana State University 2008 - Clinical Psychology
M.S. Wake Forest University 2003 - General/Experimental Psychology
B.S. Coastal Carolina University 1999 - Psychology
---
---
Research Interests
Fluid Cognition
Cognitive Disorder
Concussion/mTBI and TBI
Symptom Validity Measurement
Intra-Individual Variability
Positive Neuropsychology
---
Recent Publications
Aita, S., & Hill, B.D. (2022). Effort is more than suboptimal: Positive aspects of motivation and engagement in neuropsychological assessment. In J.J. Randolph (Ed.), Positive Neuropsychology: Evidence-based Perspectives on Promoting Cognitive Health. New York, NY, US: Springer.
Toups, K., Hathaway, A., Gordon, D., Chung, H., Raji, C., Boyd, A., Hill, B.D., Hausman-Cohen, S. Attarha, M., Jarrett, M., & Bredesen, D.E. (2022). Precision Medicine Approach to Alzheimer's Disease: Successful Proof-of-Concept Trial. Journal of Alzheimer's Disease, 88(4), 1411-1421.
Roye, S., Calamia, M., Castagna, P.J., Aita, S.L., & Hill, B.D. (2022). Normative and maladaptive personality traits and self-reported executive functioning. Assessment, 29(3), 499-507.
Aita, S. L., Borgogna, N. C., Aita, L. J., Ogden, M., & Hill, B.D. (2020). Comparison of clinical psychologist and physician beliefs and practices concerning malingering: Results from a mixed methods study. Psychological Injury and Law, 13, 246-260.