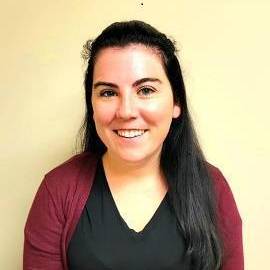 Jamie Spiegel, Ph.D.
Associate Professor Department of Psychology

---
Dr. Spiegel will be reviewing graduate student applications for the 2023-2024 academic year.
Education
Ph.D. Clinical Psychology, Florida State University, Tallahassee, FL
APA accredited Pre-doctoral Clinical Internship
Cincinnati Children's Hospital, Cincinnati, OH
O'Grady Clinical Psychology Resident
Rotations: ADHD, Epilepsy, Mayerson, Sleep Disorders, & TKOC clinics
MS Clinical Psychology, Florida State University, Tallahassee, FL
MA Psychology, Stony Brook University, Stony Brook, NY
BA Psychology, Adelphi University, Garden City, NY
Honors degree: Summa Cum Laude
---
Research Interests
Developmental Psychopathology
A large portion of my work has focused on the impact of executive functions on the presentation of impairments in academic functioning in children who are neurotypical and those diagnosed with ADHD.
Individual differences in functional impairments associated with externalizing behavior disorders (emphasis on ADHD).


Cognitive, temperamental, and parental factors which may moderate or influence the heterogeneity in presentation of functional impairments.

Psychopathology and Intervention in Minoritized Populations


Examine the efficacy of evidence-based intervention protocols (e.g., behavioral parent training, cognitive behavioral therapy) when utilized with minoritized populations.



Develop culturally sensitive adaptations for intervention protocols to better address the needs of minoritized groups, who have been largely underrepresented in previous intervention trials.
---
Honors and Rewards
2021 CASE Faculty Award for Research Excellence
---
Recent Publications
Hernandez, M., Spiegel, J.A., Dick, A., & Graziano, P. (2022). Individual differences in germ spreading behaviors among children with Attention-Deficit/Hyperactivity Disorder (ADHD): The role of executive functioning. Pediatric Psychology.
Spiegel, J.A., Graziano, P.A., Arcia, E. & and Sundari Foundation (2022). Addressing mental health and trauma-related needs of sheltered children and families with Trauma Focused Cognitive Behavioral Therapy (TF-CBT). Administration and Policy in Mental Health and Mental Health Services Research.
Lonigan, C. J., Hand, E. D., Spiegel, J. A., Morris, B. M., Jungersen, C. M., Alfonso, S. V., & Phillips, B. M. (2022). Does preschool children's self-regulation moderate the impacts of instructional activities? Evidence from a randomized intervention study. Journal of Experimental Child Psychology, 216, 105321.
Soto, E.F., Irwin, L.N., Chan, E.S.M., Spiegel, J.A., & Kofler, M.J. (2021). Executive functions and writing skills in children with and without ADHD. Neuropsychology, 35(8), 792.
Spiegel, J.A., Goodrich, J.M., Morris, B.M., Osborne, C.M., & Lonigan, C.J. (2021). Relations between executive function skills and academic outcomes in elementary school children: A meta-analysis. Psychological Bulletin, 147(4), 329.
Singer, J., Spiegel, J.A., Papa, A. (2020). Pre-Loss Grief in Family Members of COVID-19 Patients: Recommendations for Clinicians and Researchers. Psychological Trauma: Theory, Research, Practice and Policy, 12(S1), S90.
Kofler, M.J., Singh, L.J., Soto, E.F., Chan, E.S.M., Miller, C.E., Harmon, S.L., & Spiegel, J.A. (2020). Working memory and short-term memory deficits in ADHD: A bifactor modeling approach. Neuropsychology, 34(6), 686.