South Sophomore Solves Cold Cases Using DNA, Forensic Genealogy
---
Posted on January 19, 2021 by Thomas Becnel
Thomas Becnel
---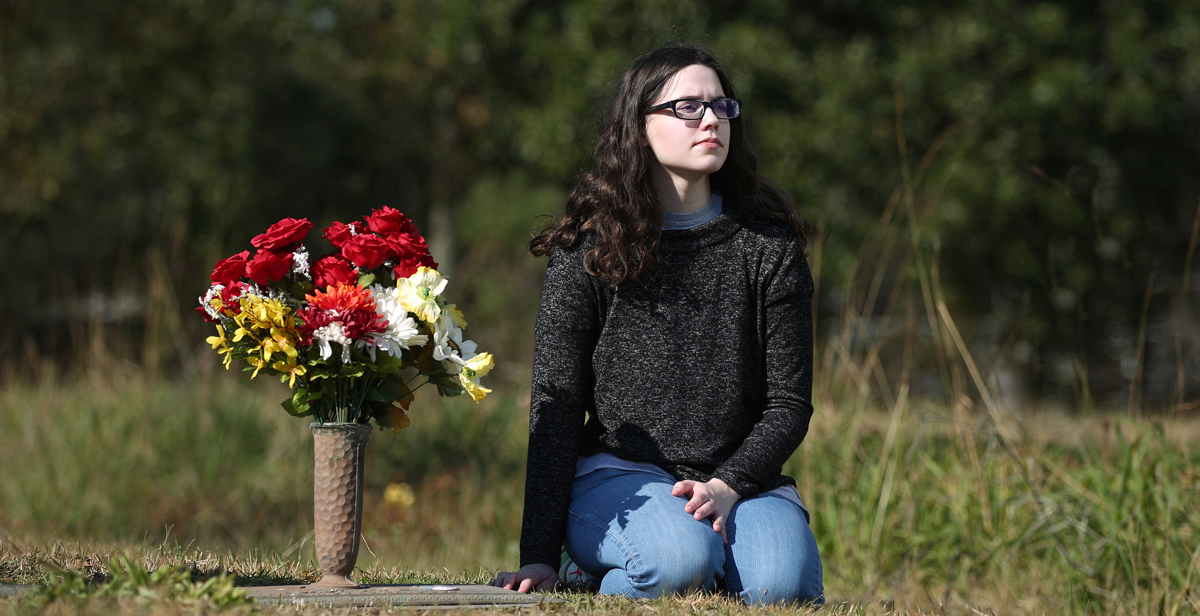 Olivia McCarter still visits the grave at Jackson County Memorial Park of Alisha Ann Heinrich after helping identify her using DNA samples and genealogy records. Next to the plot is the grave of another baby girl whose body has never been identified.
---
From a Grand Bay bedroom decorated with posters from forensic TV shows such as "Bones" and "Dexter," Olivia McCarter spends long hours on her laptop working to identify people and solve crimes.
Though just a sophomore at the University of South Alabama, where she's studying anthropology and criminal justice, the 19-year-old is a senior intern with a Massachusetts company called Redgrave Research Forensic Services. Her team uses DNA analysis and online genealogy databases to match chromosomes, build family trees and identify suspects and victims.
Just in the last year, McCarter helped solve three cases.
In April, she joined a Redgrave team that identified the body of a man found along the Missouri River back in 1979.
"That was Harry – Harry was my first forensic case," she said. "We worked nonstop for three days and solved it on the fourth day, which is really fast. I basically did not go to sleep, because I didn't want to miss anything. It was exciting because we had such great matches. We found this man and he was perfect. He fit into the tree so perfectly. We knew it had to be him."
Her second case was the 1984 rape and murder of Christine Jessop, a 9-year-old girl from Queensville, Ontario. Years before, DNA evidence freed the man charged with her death in one of Canada's most notorious wrongful conviction cases.
Redgrave researchers worked for months this summer before genealogy and DNA records pointed to Calvin Hoover, a man who had been a friend of the Jessop family, as the likely killer. Hoover committed suicide in 2015.
"I found his name at 2 a.m. one night," McCarter said. "That genealogy was so hard, compared to Harry's. All of these people had 12 kids, and their kids had 12 kids, and then I had to keep going until I found Calvin. I knew he had to be from these parents, but I could not find any kids until I found three, all at once. I found them through a voting record, because they all lived in the same household in Ontario."
Her third case was the one that hit closer to home.
In 1982, the body of an 18-month-old girl was discovered in the Escatawpa River just across the state line in Mississippi. The girl became known as "Delta Dawn," or "Baby Jane Doe," but she was never identified and what happened to her remained a mystery.
When the case was reopened last year, the Jackson County Sheriff's Department turned to the Othram DNA laboratory, where a team of Redgrave forensic genetic genealogists worked. A fresh DNA sample and genealogy records led police to a child and mother reported missing from Joplin, Missouri. Family there said the mother had met a man and was moving to start a new life in Florida. She remains missing and her body has never been found. Her child was identified as Alisha Ann Heinrich.
While working to identify the girl, McCarter would visit her grave in Jackson County Memorial Park. She would clean the gravesite marked "Baby Jane, Known Only to God." She would bring flowers.
"Somebody had to remember," she said. "Until her name was returned to her."
The "Delta Dawn" case helped her make contacts in Mississippi law enforcement. She met everyone from FBI agents to sheriff's officers.
Lt. Eddie Clark, one of the Jackson County investigators, remembers when McCarter visited the department to explain what Redgrave Research had found and how they had found it.
"We were floored by her skill set and how deep she could dig," Clark said. "Excellent job, she did an excellent job. It was crazy how they did this, how they went back and built a family tree. I didn't think it was going to be a college-age student who broke this case. Thank God for her."
The 'Wizard' and the Intern
McCarter was born in Texas but grew up in Alabama. Her parents own several feed stores near Grand Bay, where she works part-time and saves money to pay her own tuition at South.
Olivia – "Liv" to her friends – was home-schooled by her mother. Her independent study included genealogy and then forensics, though no one in the family expected her research to go so far and so fast.
"We're extremely proud of our daughter," said Tracy McCarter. "She showed an aptitude very early on. She's an excellent online researcher. What's she's doing now is outside our experience, our areas of expertise, so we're kind of learning right along with her."
She describes Olivia as an introvert who goes her own way. After years of home school, the McCarters were worried that she might have trouble adjusting to college in Mobile. Instead, she thrived.
"It was very different," she said. "I didn't think I would acclimate, but I did. I met so many amazing professors, and I made a lot of friends."
Dr. Philip Carr, professor of anthropology and the Chief Calvin McGhee Endowed Professor of Native American Studies, taught McCarter in several classes. She is quiet and unassuming, but often winds up leading her class team. Then she started telling him about her extracurricular work in forensic genealogy.
"That came as a complete surprise," Carr said. "You don't expect a student to already have these kinds of experiences. We hope that our students have an internship by their senior year."
When the coronavirus pandemic arrived, McCarter began spending more time at home in Grand Bay. She studies, works at the feed store business and spends hour after hour online.
She likes to wear jeans, Air Jordans and a pink cap that says "SOUTH." She has several tattoos on her left arm. She wears glasses that fog up behind a face mask decorated with pictures of cats.
McCarter talks with her forensic research colleagues almost every day. Her mentor, Anthony Redgrave, is a co-founder of the company and a pioneer in the field.
"He's basically a wizard," she said. "I owe everything to him."
Redgrave, who's trained law enforcement officers, often works on cold cases with DNA samples provided by police departments across the country. He teaches his team members how to compare DNA records and genealogy records to triangulate relationships within a family tree. The latter has been made easier in recent years with commercial genealogy websites, along with organizations such as NamUs, an information clearinghouse and resource center for missing person cases.
McCarter was a quick study. He first met her on genealogy websites and forums, where he noticed that her hypotheses and educated guesses usually turned out to be correct.
"She just got it, you know?" he said. "She really fit the bill of exactly what we wanted in an intern."
Redgrave has been impressed with her teamwork on investigations this year. She's shown the patience and perseverance to see cases through. She's taken the lead in some projects.
"Her memory and attention to detail really set her apart," he said. "She's really good at analyzing things off the cuff and then remembering something important from months ago."
Unfinished Business
McCarter is looking forward to her next semester at South, where she's a member of the Student Anthropological Society. She hopes to graduate in 2023. She's already planning to earn a master's degree and Ph.D in forensic anthropology.
"I don't want to teach, though," she said. "I want to work with law enforcement."
McCarter is the kind of a dogged researcher who also has the people skills to talk with family members. She still keeps in touch with Harry's children from her first case.
"I talk to them often," she said. "They follow my genealogy stuff. I guess we'll always be connected."
At Redgrave Research, she remains the youngest intern, but has become a team leader. She says she still has a lot to learn. She's looking forward to new cases.
"I get emotionally tired because of how terrible the cases are sometimes, but I don't get tired of the puzzles," she said. "I haven't yet, at least."
In her bedroom, McCarter keeps a framed photograph of Alisha Ann Heinrich from the "Delta Dawn" case. She still visits the girl's memorial in Jackson County Memorial Park.
Next to her plot is the grave of another baby girl whose body has never been identified. For McCarter, this is unfinished business.
"Definitely," she said. "I won't give up on that until it's solved, too."
---
---
The University of South Alabama and Mobile-area communities will have ...

Tiffany Pogue, a Gilman Scholar and psychology graduate, traces he fam...

The University of South Alabama has been selected to host a Fulbright ...

What are the most important factors for students deciding on a social ...