Psychology Graduate Traces Connections in Africatown Documentary
---
Posted on May 16, 2023 by Thomas Becnel
Thomas Becnel
---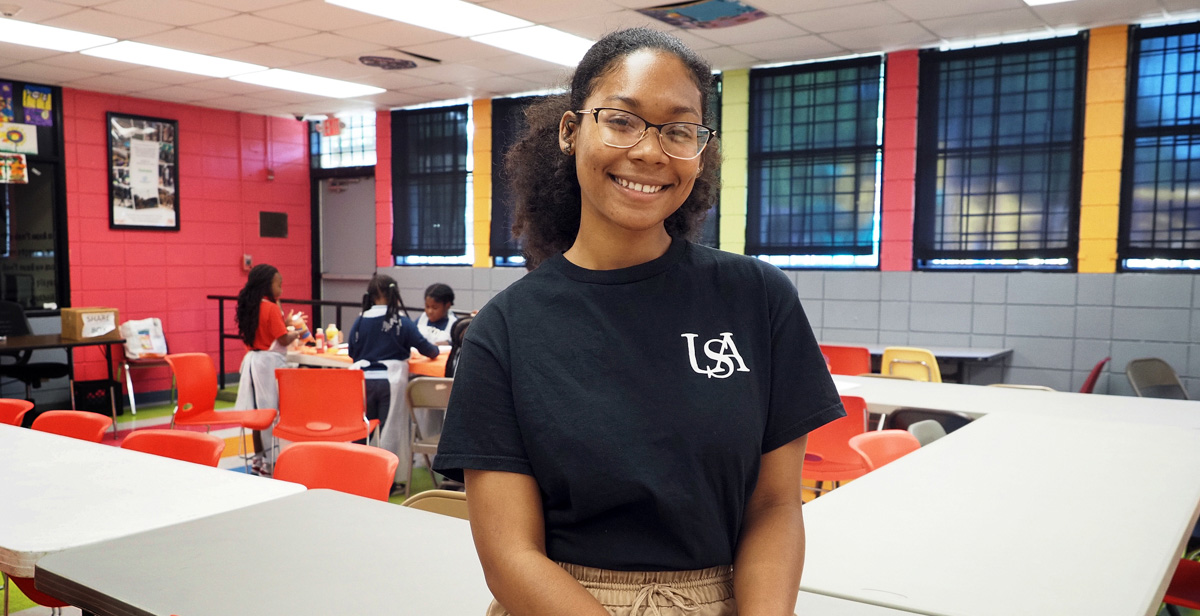 Tiffany Pogue, a spring graduate of the University of South Alabama, often visits the same Kiwanis Boys & Girls Club where she was introduced to everything from public speaking to photography.
---
Tiffany Pogue describes her life as a journey and her education as a process that pulls her in different directions.
She's an artist and a poet. She's a voting rights advocate who hosts open mic nights for local nonprofits. She's critiques conventional wisdom in business, politics and culture.
"I'm definitely rebellious," she said. "I question everything about society."
A spring graduate of the University of South Alabama, Pogue grew up attending the Kiwanis Boys & Girls Club for after-school programs that introduced her to everything from art and aviation to photography and public speaking. As a University student, she worked part-time as social media director for all the Boys & Girls Clubs of South Alabama.
"It's part of my path," she said. "It's who I'm supposed to be. I was a club kid growing up and it gave me so many opportunities. I wouldn't be the person I am today, or have the ambition I have today, if it wasn't for the Boys & Girls Club."
A high school summer internship in USA's Study Abroad program opened her eyes to travel and education. Five years later, she won a Gilman International Scholarship. She worked as a photographer and videographer during an internship with a theater company in Madrid, Spain.
"It's the most challenging and liberating thing I've ever done," she said. "I worked for a company that taught English to children through theater. So cool. What a concept."
Pogue, 23, who majored in psychology and minored in sociology, tries to make the most of her opportunities. Sometimes her hard work pays off. Sometimes she gets lucky.
Last year, while walking across campus one day, she ran into Dr. Kern Jackson, director of the African American Studies Program. He served as co-writer and co-producer of "Descendant," the 2022 documentary about the families of survivors from the Clotilda, the last ship to carry enslaved Africans to the United States.
They had never met, but Kern offered an invitation.
"He said, 'Do you want to watch a movie about Black people in Mobile?'" Pogue recalled. "I said, 'Sure, why not?' When he said it was about Africatown, I said, 'Oh, that's my family.' Then I walked into the room and I saw my cousin, Veda Tunstall, and we hadn't seen each other in a long time, but we reconnected, and connected all the dots, and she called up her mom, who held the history in her heart. It was crazy to have this revelation.
"Then I watched the movie and I thought it was powerful. It really got the message across that descendants are here now and facing so many obstacles, especially environmentally, and there's a fight there that has to be fought. It was a real call to action for Africatown and for myself."
Pogue wound up working with Joycelyn Davis, one of the community activists in the documentary, on the Spirit Of Our Ancestors Film Festival. She joined the Clotilda Descendants Association and organized an open-mic fundraiser that raised $1,600 for the organization.
In some of her own poems, Pogue talks about her parents and her multiracial family. Her father, Wendell Pogue, died in a traffic accident when she was 2 years old. He had served in the Navy and met her mother, Rhemie Pogue, in the Philippines.
Tiffany Pogue grew up shy but outspoken. She doesn't mind saying things other people wouldn't say. She doesn't fear doing things other people wouldn't do.
During high school, for instance, Pogue decided she would stop straightening her hair and wearing makeup regularly.
"My crush at the time, he asked, 'Are you sick?'" she said, laughing, "but that's been me ever since. I decided I can't truly love myself if I don't love myself at my most natural. The way I was made is perfect, and I like to see myself as perfect at my worst and if anyone else sees me that way, that's a plus."
Making an Impression
Jarmora Valrie, director of the Multicultural Leadership Center at South, has known Pogue for three years. She is a regular at Thursday lunches attended by more than 50 students and leaders on campus.
"Most students just sit with other people they know, but Tiffany works the room," Valrie said. "She's going to engage you. She talks with everyone, spends a little time with everyone. She has this understanding about people. That's unusual.
"Whenever we have events, we like to put Tiffany out front, because she's a storyteller. She likes to tell stories and she's thoughtful about the way she does it. Her perspective is head and shoulders above a lot of her peers."
At the downtown offices for the Boys & Girls Club of South Alabama, Pogue makes an impression even when she's not around. The hallways are lined with her photos of children in Mobile.
"She's a phenomenal photographer," said Brenda Carlisle, chief philanthropy officer for the Boys & Girls Club. "She has this energy and a great personal story. She's the epitome of a club kid. I can't say enough about her."
As social media director, Pogue visits local clubs for meetings and events. She started the "More Than Enough" Advocates for Girls Empowerment Conference, a program for middle school students, which features activities and motivational speakers.
"She's mature beyond her years," said Carlisle. "She's talented and passionate. She could do anything in life."
Art and History in Mobile
Pogue isn't sure what she's going to do after graduation. She's thinking about taking a year off to work, save a little money and contribute to the Mobile community. Then she plans on returning to graduate school for a master's degree in educational leadership.
Her creative work has included paintings and art projects. On Dauphin Street, she helped Devlin Wilson, a Mobile artist, paint a mural of a historic downtown scene. Along Airport Road, one of her abstract canvases is on display at a store in the Shoppes at Bel Air.
Pogue isn't a film or TV fanatic, but she has watched every episode of "The Good Place" five times. She enjoys a quirky comedy that discusses ethics and philosophy in a heaven-like utopia.
"I like the concept and the moral appeal of it all," she said. "I'm learning something and I'm being entertained. I think that describes me pretty well."
When Pogue was a young girl, she made two trips to her mother's hometown in the Philippines. Before her internship in Spain, she visited one of her cousins living in Switzerland. The girl's family was making a trip to Rome, so she tagged along for that, too.
She's always meeting people and making connections. At South, Pogue celebrates the positive and speaks out for her interests.
When she didn't enjoy one of her sociology classes, for example, Pogue asked her professor if he could restructure the course. That was an awkward conversation, but it had a positive result.
"One day he let me teach the class and I loved it," she said, laughing. "I got to make my own PowerPoint and ask critical questions. I consider that one of my greatest accomplishments."
Tiffany jokes that she takes after her grandfather, Jerry Pogue, who was a lawyer and Civil Rights activist. There's a picture of him in a Marx Library display carrying a flag during a protest march in Mobile.
"He was a very strong man, he had a very strong voice," she said. "I remember he would take me and my cousins to McDonald's, buy us all cheeseburgers, and have us repeat after him: 'I am somebody. I will go to college. I will make good grades. I will uplift my community because I am somebody.
"He would say a lot of different things as an affirmation. At the time, I thought it was annoying, but now I think it was super powerful. I look back and think that contributed to my character and how I encourage other people."
When she's not advising others, Pogue tries to manage her own life.
She needs to be self-aware. She wants to understand what she's doing and why. That's part of her journey.
"Every year, I give myself a word to reflect on," Pogue said. "Last year, I noticed that I would shut down and not be open to other people, so I made my word vulnerability. This year, it's 'intention.' Making decisions and paying attention to what that means. I think next year it's going to be 'balance.'"
---
---
The University of South Alabama and Mobile-area communities will have ...

Tiffany Pogue, a Gilman Scholar and psychology graduate, traces he fam...

The University of South Alabama has been selected to host a Fulbright ...

What are the most important factors for students deciding on a social ...