Students Hone Research Skills, Examine Skeletal Remains
---
Posted on July 23, 2019 by Alice Jackson
Alice Jackson
---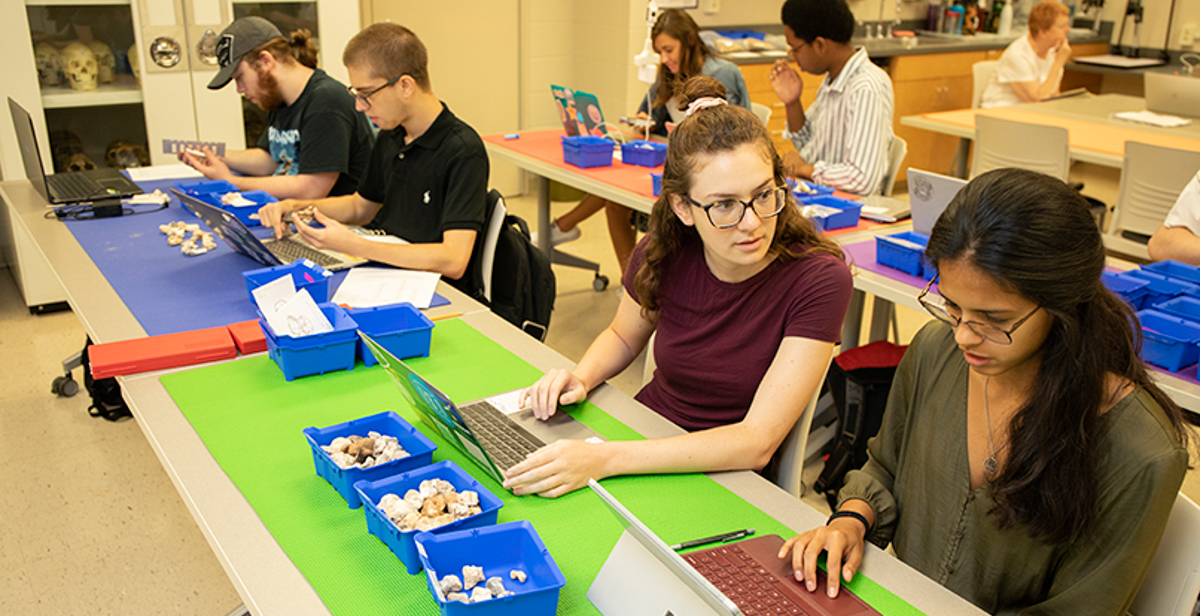 Participants in a summer forum, financed by a $293,914 National Science Foundation REU grant, study pieces of a skull loaned to Dr. Lesley Gregoricka, associate professor of anthropology at South, by the government of the Emirate of Ras al-Khaimah in the UAE. The students collaborate with an interdisciplinary group of dynamic scientists while conducting original research over an eight-week period.
---
Sitting at a table with student colleagues from around the country, University of South Alabama senior Victoria Calvin carefully studied pieces of the skull from residents who lived 4,500 years ago in what is now the United Arab Emirates.
"This is the temporal bone," Calvin said, pointing to one. "This is from a male because this mass of bone behind the ear is larger." Picking up a similar bone, the anthropology major points out that the bone mass is noticeably smaller. "The smaller projection of bone tells us this is from a female. Eventually, these bones will tell us a lot about the society these people lived in."
Calvin and seven other students around the lab's tables are the first participants selected for a three-year research project headed by Dr. Lesley Gregoricka, associate professor of anthropology at South, and Dr. Jaime Ullinger, associate professor of anthropology at Quinnipiac University in Connecticut. Financed with a $293,914 Research Experiences for Undergraduates (REU) grant from the National Science Foundation, the summer program gives students from two-year community colleges and four-year universities research experience for their future careers. The bones they are studying are from two ancient tombs. They were loaned to Gregoricka and housed at South's Center for Archeological Studies through a special agreement with the government of the UAE's Emirate of Ras al-Khaimah in the UAE.
The other students are from Louisiana State University; Albion College, Michigan; California State University, Fullerton; Quinnipiac University; University of Notre Dame; College of Southern Nevada; and the College of William and Mary. The grant gives the students opportunities to collaborate with an interdisciplinary group of dynamic scientists while conducting original research over an eight-week period. As part of the program, students:
Conduct hands-on bioarchaeological research on archaeological human skeletal remains using cutting-edge techniques and technology.
Engage with guest scientists in bioarchaeology who will provide guidance and mentorship throughout the research process.
Investigate and applying theoretical concepts involving social complexity, agency and identity to research results.
Undergo training on how to effectively disseminate research to both academics and the broader public.
Communicate with members of the local community in the United Arab Emirates to share their projects' findings using weekly blogs, social media posts, posters and digital stories.
Receive mentorship in professional development via guest scientists and with established summer undergraduate research workshops at USA.
Critique scholarly discussions and engaging in debate surrounding the ethics of working with human remains.
Design and present a conference poster detailing research results at the American Association of Physical Anthropologists' annual meeting.
Quentin Burke, one of Ullinger's students, is a senior biology major from Quinnipiac. Like South Alabama's Calvin, he aims for a career in anthropology.
"This is good experience to put on my resume, or CV," he said. "Since we've been here, I've learned more about statistical methods, as well as other things to prepare me for a career."
For Gregoricka and Ullinger, the summer research program is close to the starting point in their joint studies of the bones, which Gregoricka said "will take decades." The pair, who both earned their doctoral degrees at Ohio State University, have long-term goals for the bones, including finding out how many individuals were in the two tombs, the foods they ate and the societal practices surrounding how they were buried.
"Studying these remains is critical to improving our understanding of the ways in which Bronze Age peoples interacted with the landscape and with one another, and how that may have changed over time," said Gregoricka. "These skeletons help us to bring the stories of these communities back to life."
"Students are engaging with top scholars in bioarchaeology, learning how to conduct research from hypothesis formation through public dissemination," said Ullinger. "What they learn from the skeletons will give us insight into sociopolitical and environmental issues these people faced."
Besides what the students have learned on campus, they have enjoyed field trips, including to the Moundville Archaeological Park in central Alabama, one of the nation's most important Native American heritage sites. They have also kayaked by moonlight in the Mobile-Tensaw Delta.
---
---
The University of South Alabama and Mobile-area communities will have ...

Tiffany Pogue, a Gilman Scholar and psychology graduate, traces he fam...

The University of South Alabama has been selected to host a Fulbright ...

What are the most important factors for students deciding on a social ...