Dr. Lesley Gregoricka's Vampire Research Attracts National Attention
---
Posted on December 9, 2014 by SYANSW
SYANSW
---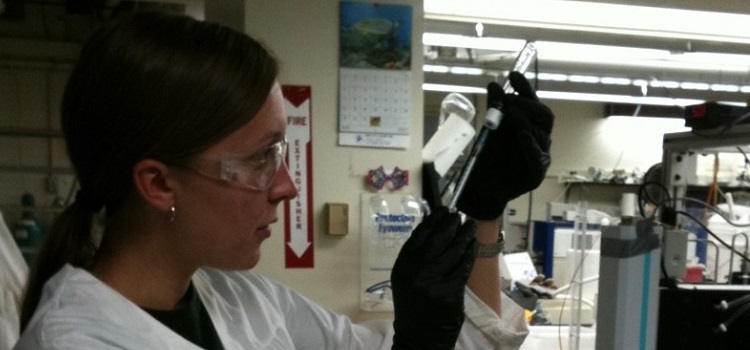 Dr. Lesley Gregoricka, assistant professor of anthropology, does her research at archaeology sites around the world and inside her lab at the University of South Alabama.
---
Dr. Lesley Gregoricka, assistant professor of anthropology, is receiving national media attention with groundbreaking research into why residents of a Polish village during the 17th and 18th centuries targeted others as vampires.
In a research article published recently by the Public Library of Science in PLOS ONE, Gregoricka described how she and collaborators from the Slavia Project have investigated the excavated remains of six supposed vampires from a graveyard in northwestern Poland. Each was buried with either a sickle laid across their necks or stones placed beneath their jaws.
"We wanted to know what had caused villagers to inter these individuals as potential vampires," said Gregoricka.
Based on earlier research of written records, the collaborators had hypothesized that outsiders were labeled as vampires by local villagers.
Gregoricka is a bioarchaeologist, which means she works on ancient human bones in both the field and her laboratory on the University's main campus. After spending the summer of 2013 examining these skeletons in Poland, she returned to campus with teeth from some of the corpses. Inside her lab, she compared the ratio of strontium isotopes in their dental enamel to that of local animals in the same area of Poland. The results convinced researchers all the supposed vampires were local.
"Once we figured out they were local to the region, we began to look for alternative explanations as to why these people were selected for deviant burial, and found that they may have been the first to die in a cholera epidemic. During that time, people believed that cholera was spread by supernatural means," Gregoricka explained.
Gregoricka and her colleagues will continue their research, but for now they are focusing on media interviews with at least 15 national publications, including:
New York Times:
http://www.nytimes.com/2014/12/02/science/where-a-vampire-threat-hit-close-to-home.html?_r=0
NPR (radio interview):
http://www.npr.org/2014/11/27/366956628/scientists-analyze-skeletal-remains-from-vampire-graveyard
Newsweek:
http://www.newsweek.com/polish-vampires-may-have-actually-been-choleras-first-victims-287316
USA Today:
http://www.usatoday.com/story/news/nation/2014/11/29/vampire-undead-graves-poland/19639307/
LA Times:
http://www.latimes.com/science/sciencenow/la-sci-sn-vampire-burials-20141125-story.html
http://www.huffingtonpost.com/2014/12/02/vampires-cholera-poland_n_6248424.html
http://www.salon.com/2014/12/01/archaeologists_may_have_solved_polish_vampire_mystery/
---
---
The University of South Alabama and Mobile-area communities will have ...

Tiffany Pogue, a Gilman Scholar and psychology graduate, traces he fam...

The University of South Alabama has been selected to host a Fulbright ...

What are the most important factors for students deciding on a social ...