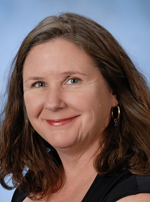 Katherine Bydalek, MSN, FNP-BC, PhD
Interim Associate Dean for Academic Affairs and Associate Professor

---
Research Interests
Dyslipidemia
Family Practice
Self - Injury Behavior
Metabolic Syndrome
Underserved Populations
Vulnerable Populations
Infectious Disease
Geriatric Populations
Death, Dying, and Grief
Interprofessional Education
Mentoring Future Nurses and Nurse Practitioners
Food Insecurity
Resilience
---
Education
PhD, Touro University, 2005
MSN, University of South Alabama, Family Nurse Practitioner, 1997
BS, University of St. Francis, 1994
ADN, Shelton Community College, 1988
---
Selected Publications
Swanzy, D. M., Bydalek, K. A., Wright, T. F., Moore, L. P. A Simulated Communication Enhancement Experience for Nursing Students. Journal of Transcultural Nursing. (Submitted 2016).
McCurry, V., Bydalek, K., Norman, V., & Bach, P. (2015). The clinician's guide to the diagnosis & management of Frontotemporal Dementia (FTD). The Deep South CME Network, UAB Division of CME, Geriatric-Focused CME Courses. http://www.alabamacme.uab.edu/geriatrics.aspx.
See More
---
Completed Research Support
Bydalek, K. (2017). Simulation and Learning Lab, Wound Closure Skills Lab. Funded by Johnson and Johnson Ethicon Grant, # 280486, suture material, Dermabond, and skin staplers.
Bydalek, K., McAdams, E., Sawyer-Bentley, E., Pelekanos, S., Farmer, J., & Howard, C. (2017). Simulating Telemedicine Patient Experiences in the Online Learning Environment: An Interprofessional Approach. University of South Alabama, The Division of Academic Affairs, Grant.
See More
---
Teaching
Doctoral Courses Taught
AHN 604-801 DNP Project Planning and Management
NU 608 Evidence-based practice and Quality Improvement in Health Care Systems
NU 613 Organizational Systems Analysis, Leadership and Change
NU 617 Residency in Systems Change I
NU 618 Residency II
NU 619 Residency III
AHN DNP Progression Course
CMN 683 Residency III
See More
---
Honors and Awards
Certificate of Appreciation for dedicated service to students, faculty, and community. Awarded by Moss Point School District, Lt. Col. K. Staley,
Superintendent. 2007
Most Valuable Player Award (Nursing Practice Award) Emergency Department, Ocean Springs Hospital, Ocean Springs, MS. 1995