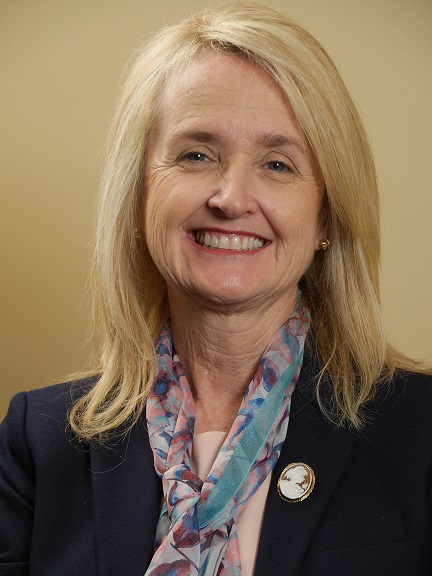 Theresa Wright, RN, DNP, CCRC
Associate Professor Adult Health Nursing

---
Research Interests
Obesity prevention and health promotion in college settings
Improving college student success and retention
Quality Improvement in health care systems
---
Education
DNP, University of South Alabama (Nursing), 2009
MS, University of South Alabama (Nursing), 1990
BS, University of South Alabama (Nursing), 1982
Specialized Training
Certification, Association for Clinical Research Professionals, Certified Clinical Research Coordinator, 2000
---
Selected Publications
Swanzy, D. Bydalek, K., Wright, T. Moore, L. (2017) A Simulated Communication Enhancement Experience for Nursing Students. Clinical Simulation in Nursing (submitted).
Goode, S., Beshears, J., Goode, R., Wright, T., King, A., Crist, B. (2017) Putting the Brakes on Breaks: Osteoporosis Screening and Fracture Prevention. Geriatric Orthopaedic Surgery & Rehabilitation (accepted for publication).
Rudd, A., Estes, J., Pruitt, B. & Wright, T. (2015). Interprofessional Simulation-Based Education Enhances Student Knowledge of Health Professional Roles and Care of Patients with Tracheostomies and Passy-Muir Valves. Journal of Nursing Education and Practice,5 (6), 123-128.
Wright, T.F. & Swanzy, D.M. (2011). A pathophysiology bank: Investing in nursing education. Nurse Educator, 36, 142-143.
---
Ongoing Research Support
Wright, T., Lynch, C., Swanzy, D. & Jordan, K. (2017). Integrating clinical situations to improve students' attitudes toward the elderly population and identification of common healthcare needs of a vulnerable population. Funded by TeamUSA at $1,980. Role: Principal Investigator.
See More
---
Teaching
Doctoral Courses
Evidence-Based Practice and Quality Improvement in Health Care Systems
Organizational Systems Analysis, Leadership and Change
Translating Evidence into Practice
See More
---
Honors and Awards
Team USA, University of South Alabama, Recognition for Outstanding Achievements in Team-Based Learning as QEP Pedagogical Scholar, May 2016
Team USA, University of South Alabama, Recognition for Outstanding Achievements in Team-Based Learning as QEP Pedagogical Scholar, April 2016
The Azalea Chapter of Mortar Board "Top Prof", 2015
College of Nursing Excellence in Teaching, 2015