Business Grad Turns Logistics Internship into Supply-Chain Position
---
Posted on September 13, 2023 by Thomas Becnel
Thomas Becnel
---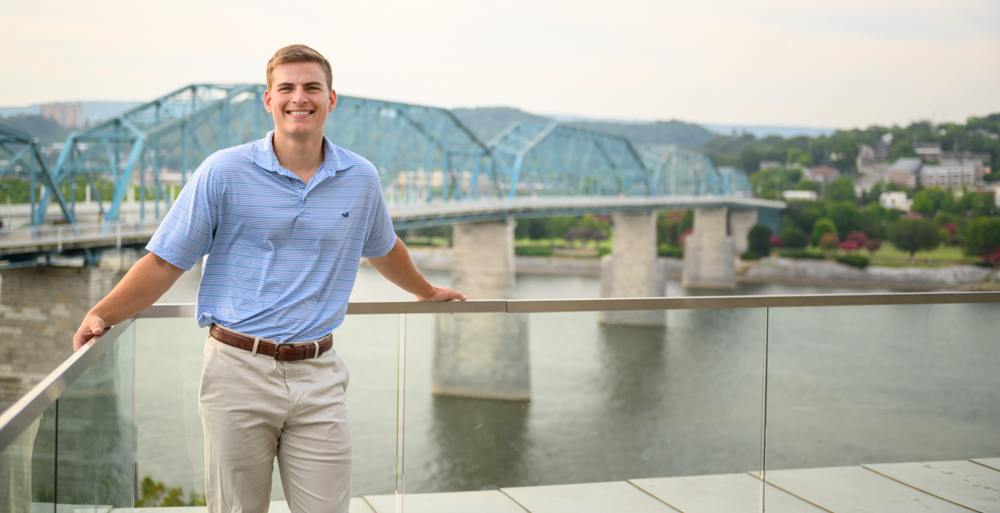 Matt Simm chose to work remotely in Chattanooga, Tennessee, because of the relatively low cost of living and the natural beauty of the mountains and the Tennessee River, shown here from the Walnut Street Pedestrian Bridge.
---
#MyFirstJob is a series focused on recent graduates of the University of South Alabama.
Matt Simm completed his business education at the University of South Alabama with a series of internships that ranged from Austal USA, the Mobile shipbuilder, to Amazon, the online sales giant, and finally Crowd Cow, a small company that ships meat directly to customers.
His last stop turned into a full-time job before he even graduated in May, thanks to good luck and better timing.
After majoring in supply chain and logistics management at South, he began work as a logistics intern at Crowd Cow. A perfect match. In December, when his supervisor left the Seattle-based company, Simm filled her position.
"What I studied in college was directly what my boss was doing," he said. "Both semesters of my senior year, I was working 40- and 50-hour weeks on top of school. There was definitely a learning curve. It's probably one of the most difficult things I've ever done."
After graduation, Simm moved from Mobile to Chattanooga, Tennessee, because of the high mountains and the relatively low cost of living.
There, Simm enjoys hiking. He's been whitewater rafting. And he's taking up golf. "Basically, anything outdoors," he said.
Crowd Cow is an online business with fewer than 100 employees. Simm reports directly to the chief operating officer. After nearly a year of remote work for the company, he finally met his managers and colleagues when he traveled to Seattle for orientation.
"It was pretty surreal," he said, laughing. "I was like, 'You guys are real people.'"
One of Simm's mentors is Dr. Alvin Williams, professor of marketing and quantitative methods in the Mitchell College of Business at South and an international authority on supply chain management. While teaching this summer in Denmark, he found time to call Mobile for a story about Simm.
"When I first met Matt, we had an extended conversation about everything," Williams said. "He's well-traveled and he's well aware of what's going on in the world. I knew early on he was destined for really big things.
"He was a fantastic student. I had him for several directed research projects and he rose above and beyond the call in all of them. His work ethic and his attitude make him a great hire for any company."
Finding His Way in Business
Simm, 22, was born and raised in Mobile. His mother, Kristina Busse, is a philosophy instructor at South. His older brother, Gabriel, earned a degree in electrical engineering. His father, Ryan Simm, is a software executive in Mobile.
After deciding on South for college, Simm wasn't sure what to study. He thought about becoming a physical therapist, but changed to business just before enrolling. He switched from accounting to finance and then found his way into supply chain management.
"It was a new degree and I thought it would be interesting to learn," he said. "During the pandemic, I was learning about why supply chains were failing, with every little part feeding into the end product. Seeing how if one thing doesn't work, it causes this ripple effect."
At South, Simm joined the Kappa Alpha fraternity, where he served as chairman of philanthropy and alumni relations. He also became an informal recruiter for the Mitchell College of Business.
"I got four or five of the guys to study supply chain management as a degree, because it worked out well for me," he said. "I talk to Alvin a lot and we're always trying to get new students."
During his time at South, Simm focused on business internships and gaining practical experience.
"The first one I had, at Austal USA, was a great introduction to how the real workplace is, and it helped me apply basic knowledge from classes," he said. "My next one, at Amazon, was a 10-week internship over the summer as an operations management intern. So that really helped me with people. I led a 50-person team and actually had a project where I tried to improve scan rates and efficiency at the warehouse."
From Amazon, one of the biggest and most profitable companies in the world, Simm moved on to an internship at Crowd Cow, which is more of a niche business.
"I'm big into grilling," he said, "so I had heard of them."
Simm began as a logistic intern scheduling inbound freight trade shipments and talking to brokers and truckers. His says his job is all about getting products from Point A to Point B. He enjoys the small company atmosphere.
He works out of an apartment overlooking the Tennessee River. He has a roommate, a Kappa Alpha friend from South, who also started work in Chattanooga.
"We're actually right by a marina," he said. "There's not a lot of traffic, but sometimes I'll be in a meeting and I'll look over and there'll be a yacht cruising by. And I go, 'Man, one day, one day.'"
---
---