Mitchell Scholars 'Pay It Forward' Through Scholarship
---
Posted on October 1, 2018 by Joy Washington
Joy Washington
---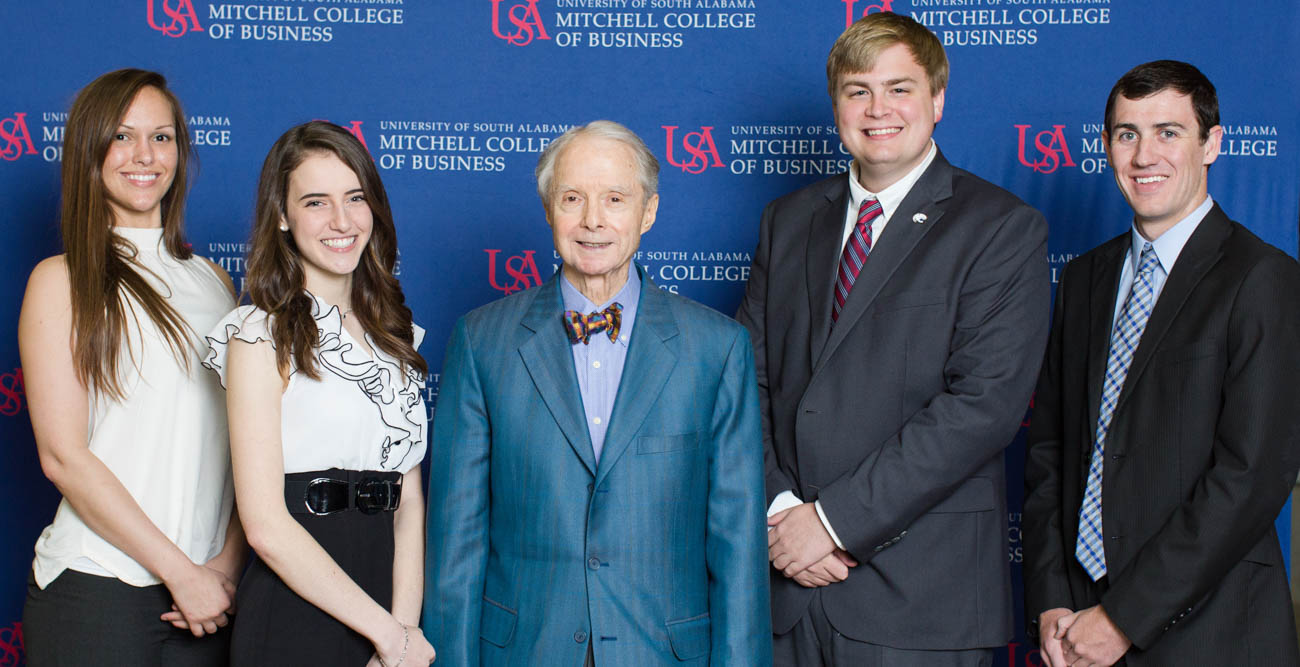 The Mitchell Scholars Class of Spring 2018 endowed a scholarship in tribute to supporter Abraham "Abe" Mitchell, center, for his philanthropic efforts. Members of the Mitchell Scholars Class of Spring 2018 are, from left, Avril McRae, Lizzie Rodin, Josh Crownover and Alex Wentz.
---
The Mitchell Scholars Class of Spring 2018 has left a special gift to support students in the Mitchell College of Business at the University of South Alabama. They have established a $10,000 endowed scholarship in tribute to longtime South Alabama supporter Abraham "Abe" Mitchell for his extraordinary philanthropic efforts.
"This scholarship was created by senior students of the Mitchell Scholars program to show their appreciation to Abraham Mitchell," said Avril McRae, an accounting graduate who is now employed as a staff accountant at Wilkins Miller LLC. "Just as Mr. Mitchell provided scholarships for us, we want to pay it forward by providing the students additional resources to obtain higher education in the Mitchell College of Business."
The Mitchell Scholars program, launched in 1999, allows elite business students to develop to their full potential. Through faculty mentorship and a four-year, $50,000 scholarship that includes a laptop computer, scholars pursue challenging programs while developing stewardship and civic responsibility. And, all scholarship donations are matched by the Mitchell-Moulton Scholarship Initiative.
McRae, along with Josh Crownover, former South Alabama student government president and current University of Mississippi law school student; Elizabeth Rodin, a staffing coordinator at Remedy Staffing; and Alexander Wentz, an entrepreneurial management and finance graduate student at South, decided to create the Pay It Forward Scholarship after attending the Mitchell Scholars banquet.
"While listening to the guest speakers expressing their love for the University and watching the proud families of the scholarship recipients while they accepted their awards, we knew by creating this scholarship, others would be encouraged to give back also." McRae said. "To see people so grateful for what they received when we as Mitchell Scholars have been given exponentially more, really put things in perspective for us."
Dr. Bob Wood, dean of the college, said the Mitchell Scholars Pay it Forward Scholarship will greatly benefit many students in the Mitchell College of Business.
"Many people underestimate the importance of scholarships to our students. Many of our students would not be enrolled if it were not for the generosity of our alumni and other friends," Wood said. "Gifts to the scholarship fund affect not only the currently enrolled students but students for years to come."
The alumni donors are hopeful other students will join forces and leave a gift to support their fellow students.
"Giving back helps provide others with great opportunities," Crownover said. "This endowment was a combined effort from our personal funds, and we are grateful to be able to pay it forward."
---
---