Alumni Spotlight: Josh Crownover
---
Posted on February 1, 2023 by MCOB Outreach
MCOB Outreach
---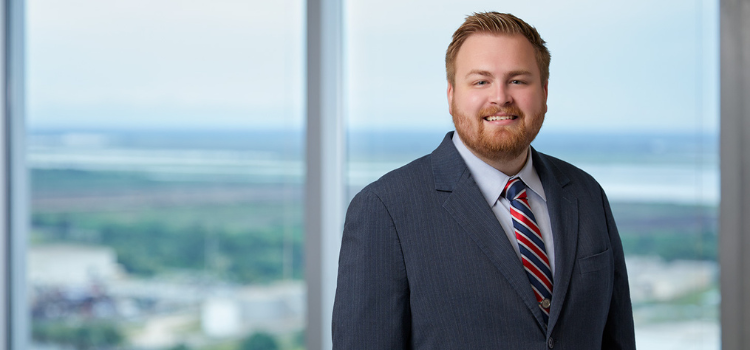 ---
Alumni Josh Crownover dedicates himself to the service of others and maximization of every opportunity he encounters.
A first-generation college student from Satsuma, Alabama, Crownover arrived at South Alabama in 2014 as a Mitchell Scholar. His first major encounter with the University occurred just months before when Mobile-area high school students were granted an opportunity to take a tuition-free class on campus.
"I took an English night class on campus and loved it; I appreciated that I could receive 'reverse-dual enrollment credit' in the sense that my high school would accept the South coursework as my senior level English requirement. It didn't take long for me to realize that South Alabama– and specifically the Mitchell College of Business– was where I was supposed to be. "
With intentions to declare a double major in political science and business, Crownover spent his first two semesters on campus taking general education courses and getting involved with the Honors College, First Year Council and Student Government Association.
Following completion of most of his gen-ed requirements, Crownover spent a large portion of his time in the Mitchell College, where he declared a major in finance, served as a Mitchell Ambassador and Jaguar Investment Fund analyst, and conducted research presented at the annual SOBIE conference. He also assisted– along with several other Scholars– in the development of the Mitchell Scholars Pay It Forward Scholarship.
"Into my senior year, I often took advantage of the space in the JIF lab and would spend hours studying for the LSAT (Law School Admissions Test). Dr. Sonja Clark would drop by and ask if I was glued to the chair; it became a running joke in that wing of the building, but I really appreciated the space!"
Four short years later, Crownover graduated having served as Student Government Association President, assisted in the chartering of Alpha Tau Omega Fraternity, established an international higher education student leader partnership with students in Stirling, Scotland, and accepted the Dean's Scholarship to the University of Mississippi School of Law.
While in law school, Crownover continued to invest where he was and assumed leadership roles within the college, completed multiple rigorous legal internships, and most importantly to him met his wife Angelina. He graduated top of his class in May 2021 and turned his attention back to the Mobile community.
Today, an Associate with Burr & Forman, Crownover handles a variety of litigation and transactional issues for the firm's Mobile office. He and his wife Angelina are expecting their first child– a baby girl– this April.
Crownover is a testament to pursuing opportunities and leaving every place better than it was found. His legacy continues within the Mitchell College of Business and the University of South Alabama as a role model for incoming students; your education, experience, and career can be everything that you make it.
---
---