Alumni Spotlight: Angela Dunn
---
Posted on April 1, 2018 by MCOB Outreach
MCOB Outreach
---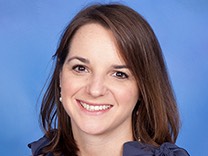 Angela Lyda Dunn grew up with South. Originally from Mobile, Ala. she felt drawn to South after growing up with a mother who was an employee on campus. "South just felt like home," said Dunn. The decision to come to South was made even easier when she was awarded a scholarship. After completing her Bachelor's of Accounting degree in 2003 Dunn went on to complete a Masters in Accounting in 2006.
When asked what South means to her, Dunn says, "I am the definition of why South was founded in 1963: to give the citizens of the upper Gulf Coast access to higher education." She went on to say, "South is the reason my mom was able to become the first in her family to ever attend college despite being a mother of two small children." Dunn's mother began her career as a nurse at the USA Hospitals. Her mother's experience led her to see the importance of higher education first-hand. Dunn recalled, "She instilled this value in my sister and me at a very young age. Without South, it is very likely I would have never attended college. I feel so blessed to work here and help make higher education more easily accessible to our students." For Angela, South provided an opportunity.
Angela loved the sense of deep community, small class size and rigorous, yet rewarding, curriculum the Mitchell College of Business provided. "MCOB fostered collaboration among students and some of my classmates remain my closest friends today," says Dunn.
After Graduation, Dunn worked as a full-time staff accountant at Cooper/ T. Smith. A few years later, she transitioned into the banking industry as a commercial credit analyst and then a lender for a regional bank. Although she no longer works in the accounting industry, she gives credit to the Mitchell College of Business for the superb quality education she received, "When I entered the workforce, it was evident to me that my education and career preparedness surpassed that of my peers who graduated from different institutions. Through my education, I was able to pass the CPA exam on the first sitting, despite no longer working in the accounting industry." Dunn's work history is a great example of the versatility of an accounting degree. She noted, "While I may no longer do taxes or bookkeeping, my education is still very pivotal in my day to day job."
Dunn is currently back at USA serving as the director of planned giving. She works with some of USA's most loyal supporters. "One of my favorite things about working at USA is also the student interaction. When you introduce a donor to the student who is receiving a scholarship they established, the moment is nothing short of magical." Dunn's advice to current students is, "Take initiative. Don't let the phrase, That's not my job,be in your vocabulary, no matter what position you're in. Those who excel are the ones who take initiative in everything they do. Taking on other responsibilities may bring joy and new hidden talents. It also makes your manager's life a lot easier if you take initiative and get things done without being asked!"
---
---