Alumni Spotlight: Lucas Brunson
---
Posted on February 24, 2022 by MCOB Outreach
MCOB Outreach
---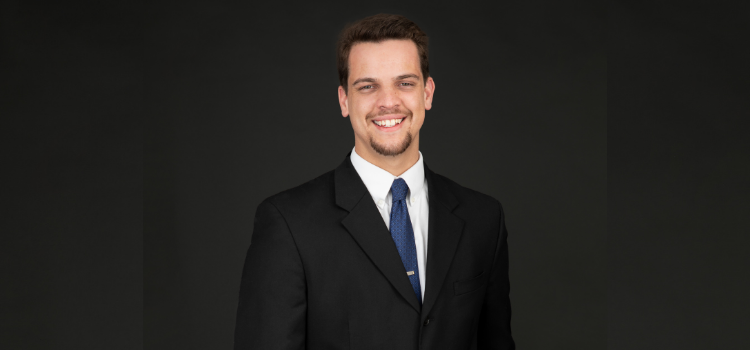 ---
For Mitchell College of Business alumnus Lucas Brunson, an unexpected internship opportunity–in conjunction with his South Alabama education– has propelled enthusiastic investment toward a career in his hometown community of Mobile. The 2020 graduate received a full-time job offer with local accounting firm, Wilkins Miller, after his completion of their internship program in his senior semester. Brunson accepted and started full-time for the firm after graduation and is now part of the WM audit team. His momentum and hard work didn't end there; Brunson recently passed the CPA exam and is preparing to pursue a Master of Accountancy program this fall.
While South was always a place Brunson considered for his higher-education, studying accounting wasn't always on his radar. "I had been around South my whole life…when I applied to the University, I was offered better scholarships than anywhere else and could live at home," he said. After applying to the university as a psychology major, Brunson changed his mind during an orientation session before his freshman year started. "I decided to major in business last minute, but when I took Business 150, accounting piqued my interest…once I took the intro level accounting classes, my decision was solidified."
Accounting turned out to be a great match for Brunson and he excelled in his academic work. During his senior year, Brunson prepared to fulfill the college's experiential learning requirement and– through a network of connections– was introduced to Wilkins Miller. "I got connected to Wilkins Miller almost entirely by chance my senior year after another internship fell through…After going to one of their events, I applied for their internship program. Ever since I attended that first event with Wilkins Miller, I knew it was where I wanted to be." While a part of the internship program, he gained new exposure, different perspectives to his major of study, and was challenged in his work. "I was a tax intern. Every day was different. I was able to go back-and-forth with full-time accountants on different returns every week. I was working 30-35 hours a week…It was busy for also being in school full-time, but the entire experience was extremely enjoyable because there was always something different to learn." Just prior to graduation and the conclusion of his internship, Wilkins Miller extended a full-time offer to Brunson. He joined the team just one month after graduation. Now at Wilkins Miller, he enjoys working in audit, giving back to the community with the company, and has been transitioning back to their office from an at-home format.
As Brunson continues to excel in his profession, he's also enjoying family life. He met his now-wife, Julia, at South during their sophomore year and the two married shortly after graduation. "We're enjoying getting settled down– we've moved into our house with our dogs and are looking forward to starting our own family. I'm looking forward to a long-term career with Wilkins-Miller. As we get settled I'll be looking forward to giving back to Mobile for so many of the things it's done for me," Brunson said. The recent graduate and Mobile native certainly has a bright future ahead of him; Brunson is a testament to diligence and taking advantage of the opportunities available.
---
---