Alumni Spotlight: Victoria Wheeler
---
Posted on May 1, 2018 by MCOB Outreach
MCOB Outreach
---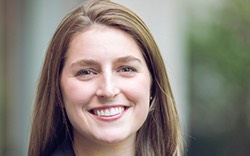 The importance of a college education was not stressed in Victoria Wheeler's household. This limited her options; after working with the Admissions Office at South to ensure she had the educational foundation needed, Victoria began her journey to obtain a Bachelor of Arts in Communication and a minor in Business Management.
To her, South was more than just a school. It offered her a place to build a community with classmates, professors, and staff. "My experience at South was great! It gave me the opportunity to explore my interest in courses, discover my strengths and weaknesses and build meaningful relationships."
Victoria didn't waste a minute. The day after graduation, she moved to Atlanta to explore options and soon accepted a position in the Governor's Office. She worked for Nathan Deal of the Governor's staff in his Executive Floor Leaders Office where four State Senators and four State Representatives were housed.
Today she works in a dynamic role serving as the Communications Project Manager for HNTB, an engineering firm. She has been with HNTB since April 2015 and is currently managing the Transform 285/400 project. In addition to the Transform 285/400 project she also acts in a support role for many other projects with Georgia Department of Transportation and MARTA.
"My experience in courses at South and the Mitchell College of Business helped me launch new development opportunities at work and work on different tasks that wouldn't normally fall in my realm of activities." In a short period of time, her career has evolved from doing graphics, social media and website support to being a project manager. She says, "Becoming a Project Manager is an important role and a role that is not just given out, I credit much of my success to the university."
When asked to give advice to students, she recommends taking time to know your professors and their backgrounds and to engage with them because they can be great resources. She then goes on to say "get experience in your field of interest. Do an internship or co-op, something to get your foot in the door in the industry you want to work in."
---
---