Aidan Oetken awarded AMA Foundation Social Impact Scholarship
---
Posted on April 20, 2021 by MCOB Outreach
MCOB Outreach
---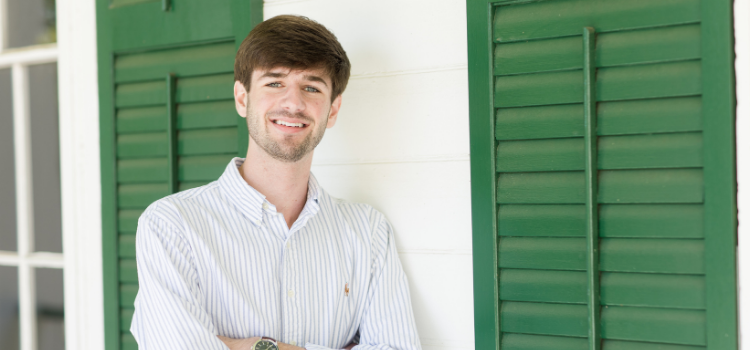 ---
Aidan Oekten, freshman marketing major and President of the South Alabama's Chapter of the American Marketing Association, was selected as the recipient of the AMA Foundation Social Impact Scholarship. This award recognizes members who are creating positive changes in the marketing profession and in the world. The AMA website defines social impact as "making a positive difference at the local, regional, or larger community in terms of the environment, social justice, economic fairness, health conditions, quality of life, or other social concern."
Oekten is no stranger to making positive contributions to his community and is well deserving of this scholarship. Oekten owns and operates two socially responsible businesses, Rerack Vintage and Oaktree Media Management. Rerack Vintage focuses on recycling and repurposing clothing from past decades for sustainable redistribution into the fashion. His other endeavor, Oaktree Media Management, is a direct result of the COVID-19 pandemic, when Oekten realized the need for small business social media management. At the core, these businesses embody the meaning of the Social Impact Scholarship from the AMA Foundation.
With a gleaming recommendation from the Dean of the Mitchell College of Business, Dr. Alvin Williams, Oekten states that this scholarship has shown him "that no matter your age, you can make an impact in your community." Dean Williams credits the revitalization of the University of South Alabama's chapter of AMA to Oekten. In his recommendation, Dean Williams says, "He has led a rather moribund AMA chapter into a more energetic, disciplined, and goal-oriented unit, with some programming that is decidedly titled toward social responsibility. To accomplish all of this as a freshman is quite laudable."
The Mitchell College of Business congratulates Aidan Oekten on this achievement.
---
---