Brenda Landa-Silva: Building Bridges and Breaking Boundaries
---
Posted on July 2, 2021 by MCOB Outreach
MCOB Outreach
---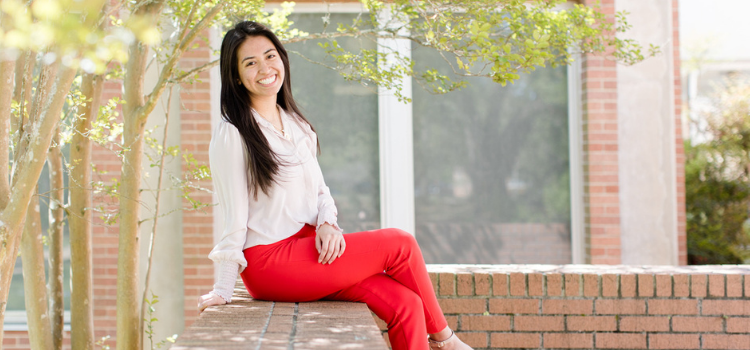 ---
Born in Mexico and raised in Mobile, Brenda Landa-Silva applied her love of different cultures, people and business to an impressive four years at the University of South Alabama. "I decided to study international business because I love how every country is different, how everyone is different, but yet we're all still so alike. I love how we can all come together in that."
Throughout Landa-Silva's childhood, she traveled back to Mexico to visit their family. "We would pass through cities when I was young," she said, "and I would point to the tops of skyscrapers and tell my family that I was going to work there one day." That dream developed further as she went through high school at Mary G. Montgomery, where she began to look into South's Mitchell College of Business as an option for continuing her education. After receiving the Presidential Scholarship, she decided to remain in Mobile for college as a commuter student, just 15 minutes from home.
At South, Landa-Silva worked to involve herself in organizations that combined her passion for people and unique aptitudes. As a volunteer with Passage USA, a program designed to assist students with disabilities through their college endeavors, she learned to communicate in an entirely new way. "I was matched with a student who was largely non-verbal," she said. "At first, I wondered, 'Goodness, how am I going to do this?.' I slowly learned how to communicate with her; you have to make her laugh and she will answer. I learned so much from her." While also involved in CEO as the VP of Marketing and working as a server throughout her college career, Landa-Silva further expanded her ability to embrace and interact in diverse environments.
As a junior, she began to take advantage of experiential learning opportunities through the Mitchell College internship program. Austal, USA, is a leading corporate partner in the program and provides many students with internships every semester. Landa-Silva chose to pursue an opportunity in supply-chain management with the shipbuilding company and joined a team shortly after a successful interview process. The experience bridged the gap between the classroom and workplace. "When she was out for two weeks, my team leader gave me projects and trusted me with nearly all of her work. I've been given a lot of responsibility. My statistics and supply-chain management classes helped with those projects. I also learned to ask a lot of questions."
Since the completion of her internship with Austal, USA, Brenda has received a degree in international business and accepted a management internship with APM Terminals. She is studying for the LSAT and has plans of attending law school in the future. Following her schooling, Landa-Silva hopes to travel the world in her career.
---
---