15 Years and Counting
---
Posted on July 2, 2021 by MCOB Outreach
MCOB Outreach
---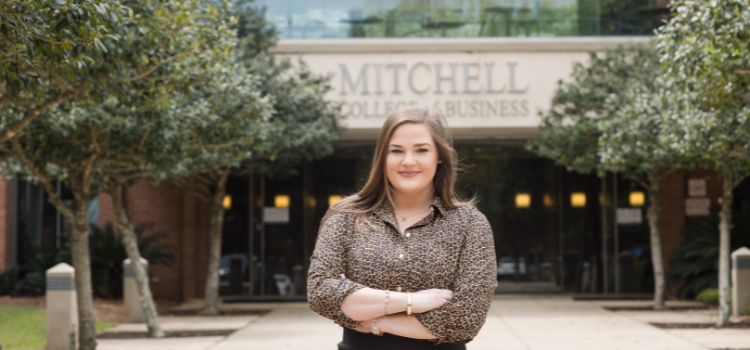 Image of Margaret "Hails" Burnette
---
The University of South Alabama's Financial Management Association has recently received its 15th consecutive Superior Chapter Award. This prestigious recognition is awarded to less than ten percent of FMA chapters with each candidate chapter being examined against specific criteria and required to meet high standards.

Over the past 15 years, South Alabama's FMA chapter members have been supported by excellent faculty and given a multitude of opportunities to enhance their education and skills through the organization. Member students are provided speaker programs with financial professionals, field trips to area businesses and the opportunity to participate in the annual FMA Leaders' Conference in New York City, compete in a quiz bowl against other universities and connect with other finance students and experts throughout the nation.

Club president and recent graduate Margaret "Hails" Burnette reflected on the value of her time in the organization saying, "Being a member of FMA allows students the opportunity to meet and hear from speakers who work in their field of interest. This grants students the opportunity to ask questions and get an idea of their future careers and how to pursue them. Being president, as well as being an honors society member, has allowed me to get more involved in the community at South and within MCOB and to hear from (and be introduced to) speakers that I wouldn't have had access to otherwise."

The Financial Management Association chapter at South Alabama has an impressive record of providing experiential learning opportunities for student success. Even more notably, the South Alabama FMA chapter has and continues to set the standard for FMA chapters worldwide and highlight the level of excellence achieved by Mitchell College students.

Dr. Ken Hunsader, faculty advisor for the club for the past eight years, urges students with an interest in finance to join. He said, "The opportunities provided by FMA are exceptional, not only with what we do on campus as a chapter, but with the benefits FMA International provides to members such as job boards, resume banks, and career tips." For more information on FMA or to join, visit their website https://www.southalabama.edu/colleges/mcob/student_orgns/fma.html
---
---