Dr. Joseph Hair Jr. Receives Prestigious Award
---
Posted on December 1, 2018 by MCOB Outreach
MCOB Outreach
---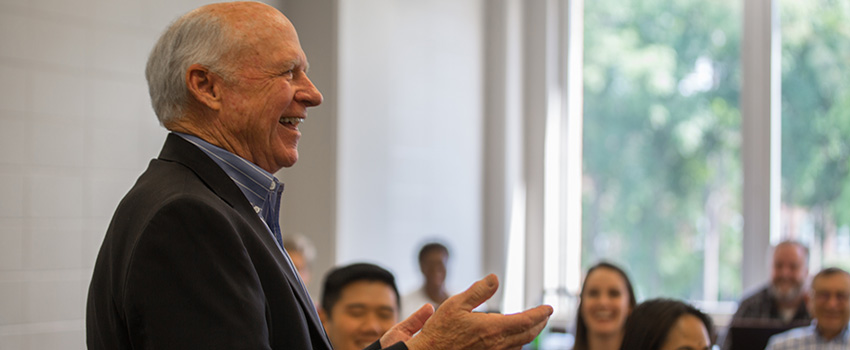 ---
The Mitchell College of Business would like to congratulate Professor Joseph F. Hair Jr. for being identified in a global listing of the top 100 Highly Cited Researchers for 2018 by Clarivate Analytics. Hair currently serves as the Cleverdon Chair of Business and DBA Director at the Mitchell College of Business at the University of South Alabama.
Highly Cited Researchers are selected for their exceptional research performance, determined by production of multiple highly cited papers that rank in the top 1% by citations. Of the world population of scientists and social scientists, the Clarivate Analytics Highly Cited Researchers really are one in 1,000.
The Clarivate Analytics list of Highly Cited Researchers for 2018 identifies scientists and social scientists who have demonstrated significant influence through publication of multiple highly cited papers during the last decade. Researchers are selected for their exceptional performance in one or more of 21 fields (those used in Essential Science Indicators (ESI)) or across several fields.
Hair is no stranger to academia. Before joining South, Joe was Senior Scholar, DBA Program at the Coles College of Business at Kennesaw State University and held the Copeland Endowed Chair of Entrepreneurship and directed the Entrepreneurship Institute at the Ourso College of Business Administration at Louisiana State University. He began his academic career at Ole Miss.
Hair is the author of three market leading and 11 other textbooks including Multivariate Data Analysis (8th edition, 2018, cited 140,000+ times), MKTG (10th edition, 2016), Essentials of Business Research Methods (2016) and Essentials of Marketing Research (4th edition, 2017). His textbooks are published in more than 20 countries. He has also published numerous articles in scholarly journals (162,000+ citations) and was recognized as the Academy of Marketing Science Marketing Educator of the Year. A coveted guest speaker, Joe has presented seminars on six continents.
---
---