Interning in the Time of COVID
---
Posted on January 15, 2021 by Mitchell Magazine
Mitchell Magazine
---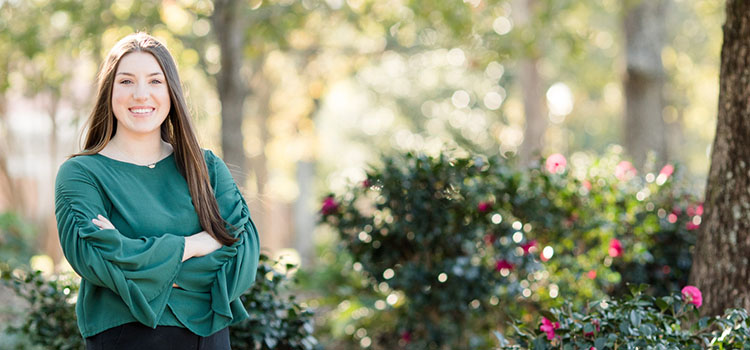 Bri Swaller spent the summer interning for Vi-Jon, an employee owned LLC in St. Louis, MO
---
Introduction:

Vi-Jon, an employee owned LLC, specializes in manufacturing private-labeled products such as: hand soap, dish soap, body wash, etc. Headquartered in St. Louis, Mo., Vi-Jon is the owner and founder of the Germ-X brand. Bri Swaller, a senior marketing management major at the Mitchell College of Business, is no stranger to the Vi-Jon team. What started as a simple internship her sophomore year has since led to three summers of experience she could never have anticipated. Swaller's first internship led to a second internship working with the quality assurance team. Most recently, Swaller had the opportunity to work directly with the marketing department.
How did you find the opportunity to intern with such a unique company?
My dad has been with Vi-Jon for 27 years. He put me in contact with Human Resources, and we went from there. Most recently, I was able to get an internship with their marketing team through a connection with the Category Marketing Director, Sheila Vita. I knew Sheila from previous summers with Vi-Jon. I was excited to spend another summer with Vi- Jon, interning with their marketing team.
What did a typical work day as an intern look like?
I worked 40 hours a week for six weeks. I went into Vi-Jon at 8:30 a.m. and worked until 5:00 p.m. on weekdays. The tasks were different and often varied every day. The marketing team would always meet at the beginning of the week and communicate with me daily if they needed extra help with tasks. The team wanted me to assist with Germ-X and the consumer marketing correspondence. While in this role, I received letters that consumers sent to the office asking for Germ-X product donations, and I replied as the temporary "brand manager." I also assisted with Vi-Jon's e-commerce business through Amazon by helping to manage A+ content and vendor central requests. My main project for the internship was to organize and create new shelves that showcase national brand products along with Vi-Jon's private-label offerings. These shelves are important because they are a showcase to the entire company and also provide a visual resource for Vi-Jon employees and anyone visiting.
What was your favorite thing about interning for Vi-Jon?
The people! I love everyone there, and everyone really cares about each other. It's also been fun to go back each summer and see familiar, friendly faces and all the changes going on in the company. Working this summer, during COVID, it was interesting to see how everyone adapted in order to keep up with all of the craziness while still staying positive.
How has the Mitchell College of Business prepared you for this internship?
The Professional Readiness Engagement Program (PREP) definitely helped prepare me for going into a professional workplace. My digital marketing class actually tied into my internship at Vi- Jon because I worked with e commerce through their Amazon product pages.
What was your biggest Challenge at Vi-Jon?
My biggest challenge at Vi-Jon was interning during COVID. A lot of things were modified because of COVID; for example, all of the meetings were on Zoom, everyone ate lunch at their desks, and everything was isolated. We had a trade show I was looking forward to, which was moved online. While it was still a great experience, it looked quite different from what I anticipated work would look like after graduation.

What is a new skill or experience you have taken from interning at Vi-Jon that you will use for the rest of your career?
I think I'll take a lot of my experiences at Vi-Jon with me for the rest of my career. These were my first real work-life experiences and being there for a few summers has taught me a lot. I would say I will take the overall communication and attitude with me. Everyone there was respectful and thorough in every decision made, which I think is critical to overall success. The way they all work together towards a common goal is admirable and something I want to bring with me in every experience I have in the future.
What is a fun fact about your internship?
One manufacturing line in St. Louis runs 270 bottles of Germ-X per minute (so that is 300,000 bottles per day on just one line). Vi-Jon has over 20 lines at just one location. Germ-X sanitizer is now rated the #1 brand sanitizer in the nation based on recent Neilsen data. Also, Vi-Jon is now 100 percent employee- owned.
What has interning at Vi-Jon during COVID been like?
Interning at Vi-Jon was extremely busy since everyone is trying to get their hands on hand sanitizer. There is a supply chain challenge that many companies are involved in — trying to get bottles and caps for sanitizer. Vi-Jon employees are working longer hours and doing everything they can. Manufacturing line workers are working hard to make sure Vi-Jon not only produces their products quickly but also maintains the same quality they have for over 100 years. The environment is more fast-paced in producing Germ-X. There used to be only a few lines of Germ-X consistently being run at the manufacturing plants (since Vi- Jon has other products to get out to customers) but with COVID, they are now producing hundreds of thousands of Germ-X bottles in all shapes and sizes every day. Now, most lines are straight Germ-X, and this is required in order to meet demand. It was really interesting to see how every team involved in the organization worked together to meet demand and brainstorm changes in order to adapt to the market.
How have you been affected by the Internship Program?
I appreciate the Mitchell College of Business requiring us to graduate with real internship experience. I think it has really helped prepare me for life after graduation, and it looks good on a resume (while preparing us for what to expect in our respective industries). I have been able to learn and meet a variety of people through the opportunities MCOB provides or its students. I have grown both academically and personally by being encouraged to get out of my comfort zone and get concrete experience before going into the work world after graduation. I am grateful for all MCOB has offered me throughout my years here at South, and I feel more than adequately prepared for professional life as I look to graduate in the spring.

For more information about the Mitchell College of Business Internship Program, or to set up an internship, please contact Megan Bennett at mebennett@southalabama.edu
Read more from Mitchell Magazine Fall 2020
---
---