Alumni Spotlight: Matt Mayo
---
Posted on January 16, 2020 by MCOB Outreach
MCOB Outreach
---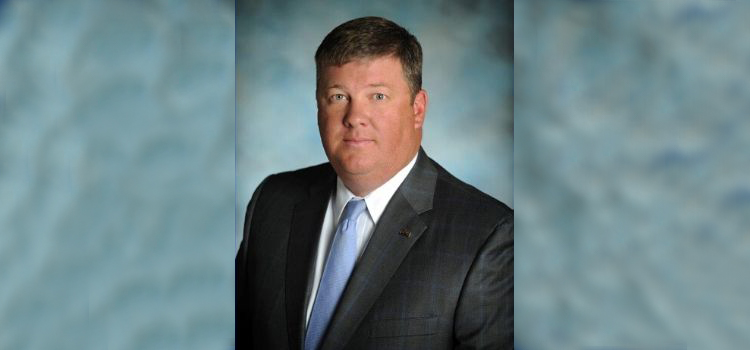 ---
From Hattiesburg, Mississippi, Matt Mayo's decision to attend South was a very last minute one. "I had a couple of friends who had decided to attend and I was interested in Pre-Med at the time. The scholarship that I was offered was pretty good, so I became Southbound," states Mayo. He had no idea that this last minute decision would shape his life the way it has over the last twenty-two years. He left South with a B.S. in Banking/Depository Institution Management, his now wife, and long-lasting friendships he will never forget.
South provided an avenue for Mayo to discover his industry of interest and help pave the way for a successful career. Mayo went through a few majors before he landed on business, where he further developed an interest in banking. Though he had not previously considered banking as a career, a certain professor made it interesting for him: Dr. Moak. With the encouragement from Dr. Moak, Mayo began to take several banking classes. These classes prepared him for an interview for a training program which he accepted. He quickly discovered just how prepared he was for the program because of his experience at South: "It was evident during the first week in my training program that I had a better base of knowledge than anybody else in my program,'' Mayo says. He soon realized that while in school, he took for granted the value of the professor's experience in the workforce combined with his academic pursuits. "More than any other professor, Dr. Moak shaped my career choice and made a lasting impression that truly helped guide me to the person I am today."
While attending South, Mayo made it a goal to accelerate his leadership development by being involved in many different organizations. He was the president of multiple organizations including Sigma Chi Fraternity and the Student Government Association while also being a Resident Assistant. Through these organizations, he developed relationships that he will never forget. "Personal relationships with administrators like Sally Cobb, Dean Adams, Dean Sterns, and President Whiddon helped me understand the power of having someone invest in me," believes Mayo.
Upon graduating in 1998, Mayo accepted a job offer with SouthTrust Bank in the commercial lending training program located in Birmingham, Alabama. Although he did not have an outstanding GPA, his personal relationship with Dr. Moak helped Mayo to land an interview on campus. Out of over 500 people interviewed, Mayo was one of 13 from across the Southeast that was hired into the program. Mayo later decided to further his career by earning his MBA at Samford University and continued to the Graduate School of Banking at LSU.
Throughout his career, Mayo has worked as a high-performing commercial lender for several banks. Along the way, he was given the opportunity to leave a lending role and expand his skill set. One of these roles was as an internal consultant for the executive management team of a large publicly traded bank. Mayo was able to manage and lead enterprise-wide initiatives. This provided the opportunity for him to learn more about the strategic management of the overall bank. That role also led to a position where he managed all business marketing for the institution, further developing the strategic thinking and management skills that he believes elevated his career.
Mayo is currently working at Community Bank in Hattiesburg, Mississippi as Executive Vice President and Chief Lending Officer – Pine Belt Region. Community Bank is a privately owned bank with over $3.2 billion in assets, operating in Mississippi, Alabama, Florida and Tennessee. Mayo is responsible for working with the 30+/- lenders in the region to maintain the overall quality of the loan portfolio. Additionally, Mayo has served as a member of multiple internal committees, and on the bank's board of directors.
When asked what advice to give students, Mayo shared, "College provides a chance to interact with people and professionals from all walks of life. This is when students learn how to resolve conflict and develop emotional intelligence. These people skills are in high demand. The current students that can interact in-person, versus through a text message or social media, will find themselves very employable and can rapidly advance compared to their peers."
Matt Mayo is married to wife Rachael Bertucci, his college sweetheart that he met during his time at South Alabama. They married the week Mayo graduated from South and recently celebrated twenty-one years. Together they have three children – Allison, Anna Ryan, and Landon. Mayo is a Lifetime member of South Alabama Alumni Association.
Back to Mitchell Report | February 2020
---
---