MCOB Goes Global
---
Posted on September 26, 2022 by MCOB Outreach
MCOB Outreach
---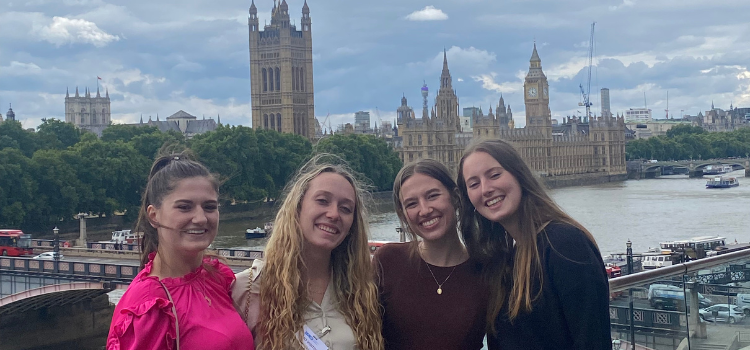 ---
This past summer, four Mitchell College students pursued learning opportunities across the globe. Ethan Flowers, a senior finance major, studied Latin American culture and Spanish in Buenos Aires, Argentina. Sophomore Mitchell Scholars CC Annulis and Macy Adams broadened the scope of their business education in London, United Kingdom with faculty adviser Dr. Reid Cummings. Josie Albin, a senior finance and marketing double major, leveraged her business education while studying international relations in Oxford, United Kingdom. Hear what they have to share about their experiences below!
CC Anulis: "The London Study Abroad Program created a perfect platform for students to appreciate a new culture and pursue a deeper understanding of international business. This experience taught me many lessons in overcoming challenges, embracing new experiences, and inspiring new career opportunities!"
Ethan Flowers: "Experiencing the interesting language, delicious cuisine, and fascinating culture while studying abroad in Buenos Aires, Argentina this summer was a better experience than I could have hoped for!"
Josie Albin: "My experience in Oxford, UK was more rewarding than I could have imagined; I was challenged to think and learn in new ways and will bring everything I learned back to campus this fall."
The Mitchell College of Business is proud to support both international education and the experiential learning endeavors of students. If you are a student interested in studying abroad, visit the Study Abroad Office on campus in Meisler Hall today!
---
---