Williams Named Interim Dean of Mitchell College of Business
---
Posted on February 26, 2015 by MCOB Marketing and Communications
MCOB Marketing and Communications
---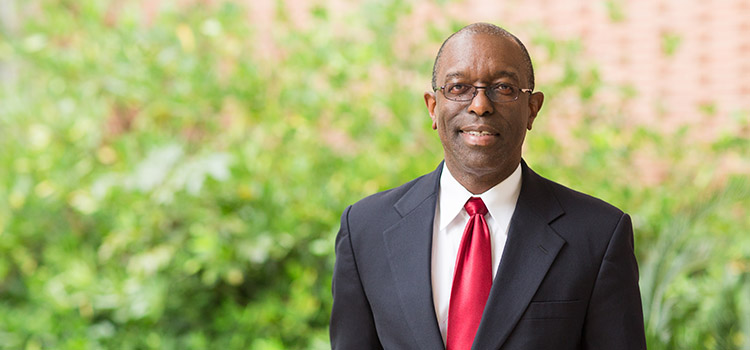 ---
Dr. Alvin J. Williams, who was recently named interim dean of the Mitchell College of Business at the University of South Alabama, wants to lead students and faculty on what he calls "Our New Journey."
"The most important thing right now is to reassure all of our relationships – students, faculty, staff, alumni and donors – that the Mitchell College of Business is in good shape, we're moving forward and the foundation is strong," he said. "We're already doing a lot of good things. We want to leverage the success we already have in place."
At South, Williams is chair of the department of marketing and quantitative methods. He is a past president of the Society for Marketing Advances and a past editor of the Journal of Supply Chain Management. He has presented academic papers and led professional seminars at more than 300 conferences in the United States, Europe, Africa, Asia and South America.
Williams spoke Friday from St. Croix, where he is teaching on sabbatical at the University of the Virgin Islands. He will return to South in early March.
"I enjoy travel, I build relationships, and I learn things that I can share in my classes," he said. "I think it also informs the research I do to a certain extent."
Williams, 66, was born in Mobile but grew up in Prentiss, Mississippi, where his parents were high school teachers. He earned a bachelor's degree from the University of Southern Mississippi and a master's degree from the University of Alabama.
At the age of 21, he began teaching marketing courses at Alabama A&M University. He went on to earn a Ph.D. from the University of Arkansas before returning to Southern Mississippi, where he taught for 28 years. He joined the faculty at the University of South Alabama in 2008.
In Hattiesburg, Mississippi, Williams has worked with the Boy Scouts of America and many other community groups. At True Light Baptist Church, he has served on the Board of Deacons and taught Sunday school. In his spare time, he's a runner and gardener who grows okra and tomatoes.
As a marketing professor, Williams has won Outstanding Faculty and Outstanding Teacher awards. He remembers his first undergraduate business class, Principles of Marketing, and strives to connect academic lessons with real-world situations.
"Fundamentally, I'm focused on getting students engaged and getting them to apply concepts," he said. "They need to see themselves in the same shoes as a marketing researcher, a sales manager, a business strategist."
Some of the biggest changes Williams has seen in business education have come in the last year with the coronavirus pandemic. Zoom meetings replaced in-person classes. Distance learning became the norm.
"We've never had to make adjustments of this magnitude," he said. "We've been forced to do things differently. Students are learning in different ways."
Williams keeps in touch with dozens of students that he's taught over the years. Their success is one of his rewards.
"One of the most exciting things about what we do is seeing people develop," he said. "There's nothing more exciting than meeting a prospective student, talking to them about coming to college, and then four years later, seeing them graduate, find a job and start a career."
Williams takes over from Dr. Bob Wood, who recently reverted to the faculty in the department of economics, finance and real estate.
---
---