Melton Center Clay Shoot Fundraiser
---
Posted on June 8, 2023 by MCOB Outreach
MCOB Outreach
---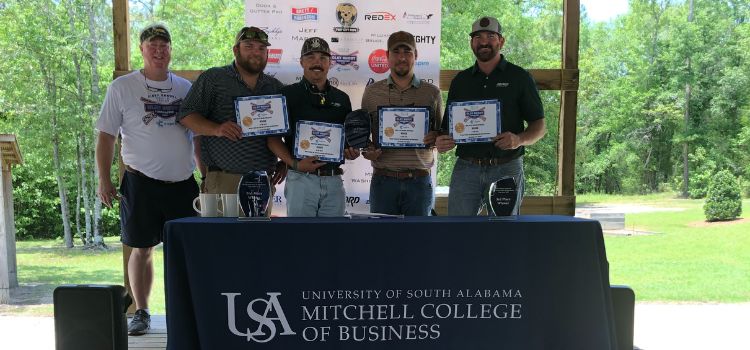 ---
Melton Center Holds First Clay Shoot Fundraiser
The University of South Alabama Melton Center for Entrepreneurship and Innovation
held its first Clay Shoot Fundraiser on May 12th, 2023 at the Bushy Creek Clays in Perdido, Alabama.

The winners:
1st Place: Forest Gibbs, Brandon Frank, Hunter LaPointe, Robert Smith from Beard Equipment Company
2nd Place: Ethan Sloan, Rick Philips, Brandon Hubbard, Jared Johnson from Brett/Robinson
3rd Place: Steve McNair, Jackie Brewer, Jonathan Green, Chris Hanks from Hargrove Engineering

Thank you to all of our sponsors and participants for making this event possible: C Spire, Beard Equipment Company, Hargrove Engineering & Constructors, Dean Parker (Redex), Elcan and Associates, Jeff Marcus, Ron Sivak, Johnny Nix, Brett/Robinson, Bailey Duos, Mel Washington, Vickie Wyatt, Door and Gutter Pro, Braided River, Coca Cola, Joe Bullard Automotive, Hunter Adams, Horizon Freight System, Inc., James Wishon, and William Bruce.

The Melton Center for Entrepreneurship and Innovation provides educational, engagement, and development opportunities along the Gulf Coast. By participating in the fundraising event, teams and sponsors supported the Center's mission and vision while also connecting with other local working professionals.
---
---