Navigating Office Politics
---
Posted on January 18, 2023 by MCOB
MCOB
---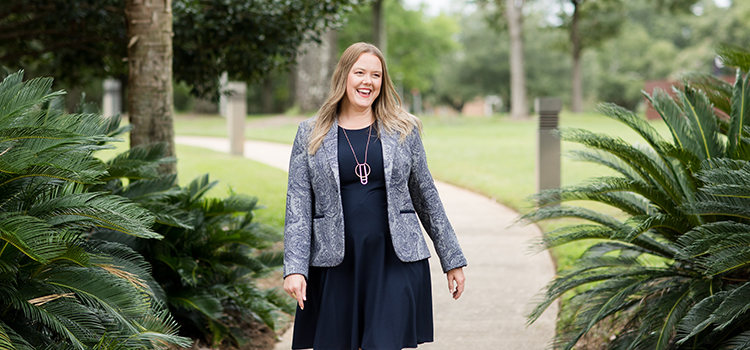 ---
Everybody can relate to Dr. Robyn L. Brouer's inspiration for her career path: "Just from my own personal experiences in the workplace, I thought, boy, there has to be a better way to manage and lead people than what I was witnessing."
In search of better ways, Brouer obtained bachelor's degrees in psychology and sociology, a master's in management, and a doctorate in business administration. After teaching in New York state, she returned last fall to her native South (she's from Georgia) to join the Mitchell College of Business.
As the Ben May Distinguished Professor of Management, she teaches undergraduate and graduate students. She mentors doctoral candidates, helping to guide their research. She also maintains a full schedule of her own research – much of it focused on leadership.
"Leadership is not common sense," she said. "We don't necessarily have it figured out yet."
She has uncovered some clues. For example, workers often underestimate the value of office
politics.
"You can think of it as a political savviness," she said. "It's this understanding of the environment that you're operating in and understanding of other people in that environment. And it also involves a behavioral flexibility."
It's simply a skill. And, good news: It can be learned. "You can train people to be better at picking up situational cues," Brouer said. "You can also train them to be better at being flexible in their behavior."
Some workers view office politics as mere schmoozing or, worse, sucking up to bosses by unctuous strivers with C-suite ambitions. In fact, Brouer said, "The majority of the research finds that people who are politically skilled tend to use it in a positive way."
And they use it all the time, every day, in any situation that involves interaction with others.
"A politically skilled person could walk into a conference room at the start of a meeting,"
Brouer said, "and they would be able to pick out who are the people in charge. Who are the people who are taking the back seat. Maybe they could even within the first couple of minutes pick out who is fighting whom."
Seems useful, doesn't it?
It gets better. Research also indicates that having a politically skilled manager may reduce stress for that manager's subordinates.
Unfortunately, "Research articles are not read by managers," Brouer said.
So she spreads the word by other means. "My hope is that I'm training students, or at least giving them the information, to become better leaders themselves. So that when they climb up the corporate ladder, then they themselves maybe remember back to what they learned in that MBA class."
Companies need the help. "Most people get promoted because they're good at their job, and that does not make them a good leader," Brouer said. "And many organizations do a particularly bad job of training people to be leaders."
Perhaps the Ben May Distinguished Professor of Management, and her students, can do a little
something to correct that.
---
---