Dr. Craig Pearce Receives Highest Alumni Honor from Penn State
---
Posted on November 22, 2016 by MCOB Outreach
MCOB Outreach
---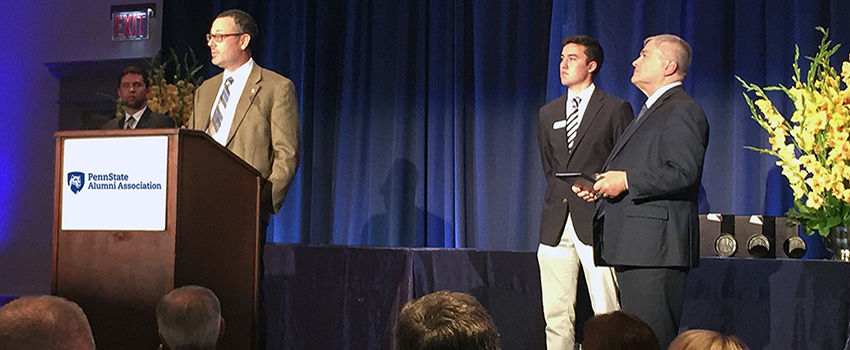 Photo shows Dr. Pearce accepting the award from Pennsylvania State University President Dr. Eric J. Barron far right.
---
On October 26, Professor Craig L. Pearce was honored as one of the 24 Alumni Fellows for 2016 during a ceremony at University Park, State College, PA. The award of the lifelong title of Alumni Fellow is the highest award given by the Penn State Alumni Association. Each of the recipients are nominated by a college or branch campus as a leader in their professional field and if selected, are invited by the president of the University to return to campus to share their expertise with students, faculty and administrators, which Dr. Pearce did on October 28th with a visit to Penn State DuBois. He offered a presentation on his strategies for shared leadership. According to Pearce, implementing shared responsibility for leadership throughout the reporting structure of a business or organization improves overall operation and productivity.
Additionally, Pearce is a 2014 recipient of the Penn State DuBois Outstanding Alumni Award.
Pearce is the Ben May Endowed Chair of Management at the University of South Alabama, and maintains an advisory position at MEF University in Istanbul, Turkey. He also works as an international management consultant and keynote speaker, specializing in executive leadership development.
His research interests are shared leadership, hierarchical leadership, ethics/sustainability/corporate social responsibility and organizational performance. Dr. Pearce has published three best selling books on leadership: Shared Leadership: Reframing the Hows and Whys of Leadership, The Drucker Difference, Share, Don't Take The Lead, and his fourth book, Twisted Leadership will be published soon. He has published over 70 articles and book chapters and his work has been translated into Chinese, German, Indonesian, Japanese, Korean, Polish, Portuguese, Russian and Spanish.
Pearce completed a B.S. with honors and distinction in management and a minor in psychology from Penn State in 1987. He earned his MBA in management from the University of Wisconsin-Madison in 1988, and a Ph.D. in management and organization from the University of Maryland-College Park in 1997.
He also is a co-founder of an agricultural biotechnology company and an active keynote speaker and consultant to business organizations, including American Express, Behlen Manufacturing, British Bakeries, Central Intelligence Agency of the United States of America, Land Rover, GEICO Insurance, Panda Restaurant Group, Rayovac, Pickering Foods, Nebraska Educational Telecommunications, The Rouse Company, Rover Cars, Serono, SK Group Korea, and SmartScan Imaging.
Additionally, Pearce is the founding Director of the Deloitte Leadership Institute at Ozyegin University in Istanbul, Turkey. He was formerly the dean of the School of Business and Entrepreneurship at the American University of Nigeria and was the Donald Clifton Chair in Leadership and the director of the Institute for Innovative Leadership at the University of Nebraska-Lincoln. Previously, he worked with Peter Drucker at the Peter F. Drucker and Masatoshi Ito School of Management.
Contributed by Christina Wassenaar, Department of Management
---
---