PhD Students Receive SHRM Scholarship
---
Posted on November 16, 2020 by Email Mitchell College of Business
Email Mitchell College of Business
---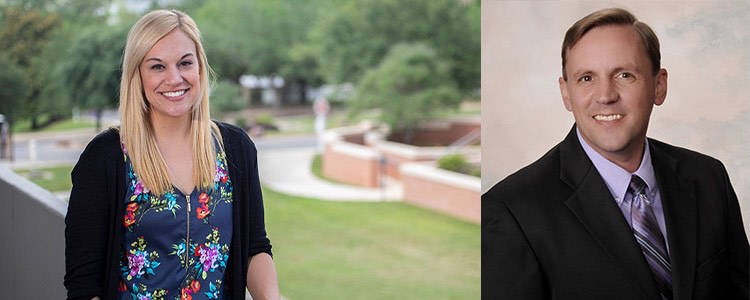 ---
The University of South Alabama Mitchell College of Business would like to congratulate PhD in Business Administration students, Melanie Boudreaux and Matthew Oglesby, for each winning the Society for Human Resource Management (SHRM) graduate scholarship.
According to PhD Professor of Management, Mickey Smith, "Receiving a scholarship as a PhD student is quite an accomplishment. First, there are far fewer scholarship opportunities for PhD level students than undergraduate students, which makes them very competitive. Second, these scholarships are usually awarded to students who exemplify excellence in both research and professional activities."
Each year the Society for Human Resource Management awards 30 scholarships to graduate and PhD students who are pursuing degrees at accredited universities. To qualify for the scholarship, students must express their commitment and passion to the HR profession, actively volunteer, lead and serve in their communities, and show continued academic achievement by maintaining a minimum GPA of 3.5.
The Mitchell College of Business faculty are exceptionally dedicated to the support of their students. Dr. Smith has worked extensively with Boudreaux and Oglesby in the classroom and is proud of the work they have accomplished, "Melanie and Matt were perfect candidates for this award. They are exemplary doctoral students with a high level of intellectual curiosity backed by years of real-world experience."
According to SHRM's website, the organization strives to create better workplaces where employers and employees thrive together. With 300,000+ HR and business executive members in 165 countries, SHRM impacts the lives of more than 115 million workers and families globally.
Malanie Boudreaux is part of PhD cohort seven where she is pursuing her PhD degree in management. Boudreaux shared, "I have been a member of National SHRM, along with our local Bayou SHRM group for over 10 years now. This organization is the largest national Human Resource organization, and the individuals who are associated with SHRM are some amazing HR professionals! I obtained my SHRM-CP (Certified Professional) certification five years ago, and proudly still hold that certification. This is a great professional network that I reach out to when I have a question, and they are always more than happy to help." Boudreaux also serves as the HR Advisor for the SHRM student group at Nicholls State University, where she teaches Human Resource Management courses. "I am beyond honored and excited for this scholarship, and I am extremely proud that they chose me as a recipient of this scholarship!"
Mathew Oglesby is part of PhD cohort seven and is pursuing a PhD degree in management. Oglesby has a long history of involvement with SHRM and expresses his appreciation for the society and the impact of this award. "I am so thankful and honored to receive the SHRM foundation graduate scholarship. I have been involved with SHRM for many years as a volunteer leader, and SHRM has been an invaluable resource to me throughout my career. This award will help me make the transition from practitioner to teacher/researcher, and I hope to be able to contribute to SHRM's mission of building better workplaces through my education and research here at South Alabama."
Back to Mitchell Report | November 2020
---
---