In with the New: SABRE
---
Posted on June 15, 2021 by MCOB Outreach
MCOB Outreach
---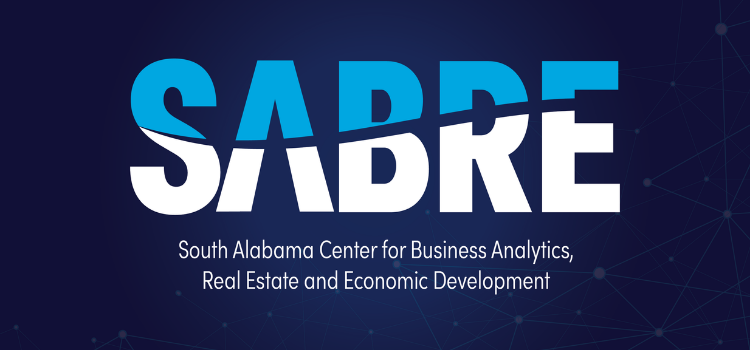 ---
Keeping pace with its expanding function, the Center for Real Estate and Economic Development at the University of South Alabama is evolving and with that evolution comes a name change. The department within the Mitchell College of Business has been rebranded the South Alabama Center for Business Analytics, Real Estate, and Economic Development, or SABRE.
Using its academic and technical resources, SABRE actively seeks to build strategic public and private partnerships to promote the growth and development of the coastal region by providing cutting-edge resources for businesses and institutions.
"We use multiple, industry-standard proprietary database and analytic platforms to deliver results that rely on the latest available information," said Dr. Reid Cummings, director of SABRE. "We also have access to more than 50 highly educated, well-trained faculty members whose expertise offers an unparalleled level of research and analytics capabilities."
Founded in 2006 as the Center for Real Estate Studies, it produced real estate market transaction reports and supported the University's new real estate major. After the 2010 BP oil spill, the Center completed a series of economic impact analyses of large-scale projects planned in response to the disaster which led to its first functional expansion and name change.
Over the last couple of years, the Center has expanded its work by presenting analyses of a wider range of issues by using "big data" that are so large traditional data processing software can't manage them. However, these massive volumes of data can be used to address business problems in a way not previously possible. SABRE Assistant Director, Jana Stupavsky and her team then simplify the data for clients by producing easy-to-read, interactive dashboards.
"An interactive dashboard provides major benefits for our clients," Stupavsky said. "Compared to a spreadsheet, it presents data in a much more intuitive, and easy-to- digest format,. It also enables the user to instantly customize scenarios. Because updates are automated, they save decision-makers and companies time."
Most recently, SABRE's efforts zeroed in on some of the COVID-19 pandemic's effects on residential and commercial real estate markets, airport activity, intermodal movements of people and freight, mortgage lending, economic development and COVID-related intensive care hospitalizations.
"While not abandoning our critically important real estate roots, over the last couple of years we have expanded our work by presenting analyses of a wider range of issues," Cummings said. SABRE also offers corporate partners training in Tableau, the data visualization software it uses. Data visualization classes are also available to students allowing them to gain these fundamental skills before leaving South.
The Mitchell College of Business is also expanding academically. Last year Dr. Joe Hair, distinguished professor of marketing and director of the PhD in business administration program, successfully petitioned the Alabama Commission for Higher Education for the addition of business analytics to the University's current management and marketing doctoral tracks.
The PhD program and SABRE will work together to apply an analytical approach to completing projects relevant to understanding Alabama and national economic challenges.
"This partnership will leverage the increasing application of business analytics to create knowledge that improves business decisions and supports economic development," Hair said.
The new business analytics PhD program's first cohort will begin May 2021.
---
---