Up to Bat: Santiago Montiel
---
Posted on January 16, 2021 by Mitchell Magazine Fall 2020
Mitchell Magazine Fall 2020
---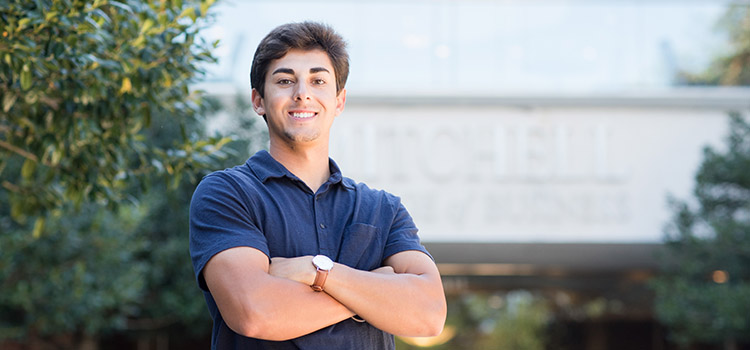 Santiago Montiel shares his advice on how to balance it all.
---
Santiago Montiel's baseball career didn't start with a bat. Instead, it started with a TV and a small boy's love for his grandfather. "The biggest thing that pulled me toward baseball was my grandfather, who loved watching baseball," said the South Alabama shortstop and Mitchell Scholar. "We always watched it together when I was younger."
Montiel, of Alpharetta, Ga., was a natural and started playing competitive travel ball at 7 years old. By the time he was a sophomore in high school, Montiel was starting on the varsity team. That summer, he knew he would likely attend and play at a Division I college. While in high school, he was named Golden Glove Champion, Silver Slugger, two-year MPV, three-year All-Region Team, 2018 All-Star All-State Team by the Georgia Dugout Club and 2018 High School All-Star Team by the Atlanta Braves Fan Club.
Montiel had the help of a great mentor, Cody White. "He was one of our assistant coaches who came during my sophomore year. He took on a role of mentoring me and taking me through the ropes and ended up finding me a spot here at South.
"South sounded like a great opportunity. I ended up coming for a visit. I toured campus, the Mitchell College of Business and the baseball facilities. Then they sat me down and talked me through what types of scholarships I could get and what my role would be here. Honestly, leaving South with my parents, I felt really comfortable.
"I liked the small campus, everything was close, and my teammates and classmates were great. It had a great energy."
With the help of White, Montiel committed to play at South by the end of his junior year in high school. While at South, Montiel started all 56 games his freshman year. Following his freshman year, he was invited to play in the Cape Cod league in Boston, Mass., the most well-known league in the country filled with major league scouts. "That opened my eyes to be able to play further; it gave me a lot of confidence."
Additionally, Montiel is a recipient of the prestigious Mitchell scholarship, which requires students to maintain exceptional academic performance. Devoting over 30 hours a week to baseball while pursuing a finance degree, Montiel had little time for other activities. When asked how he balances such a heavy load, Montiel said, "Honestly, time management is my biggest friend. I keep a notepad and calendar and write down when all my assignments are due. It has gotten harder with online classes due to COVID, but I keep the schedule. That's my biggest key, that and not procrastinating.
"The Mitchell Scholarship has been huge. Just from the financial standpoint, and also the connections like being able to attend seminars and breakfasts, it really opens your eyes to the future and what you have to do to get there. It will have a huge impact on my future."
That future is why Montiel understands the most important part of baseball is not the sport itself.
"At the end of the day, baseball is going to end, so honestly, it's the connections — the friends you make for life," he said. "I know I have met friends and coaches that I will stay in contact with for the rest of my life. That's the biggest part of it."
Grateful for the support of his family- he calls his parents his "biggest supporters" — Montiel looks forward to the end of this year, when he hopes to be drafted. Following a successful baseball career, Montiel aspires to be a financial advisor or to enter the financial side of the sport. "There are a ton of jobs within the baseball organizations that have to do with numbers and finance; hopefully, I can be a finance manager or get a job and work my way up."
Read More From Mitchell Magazine Fall 2020
---
---