Student Spotlight: Hailey Kerstiens
---
Posted on September 16, 2021 by MCOB Outreach
MCOB Outreach
---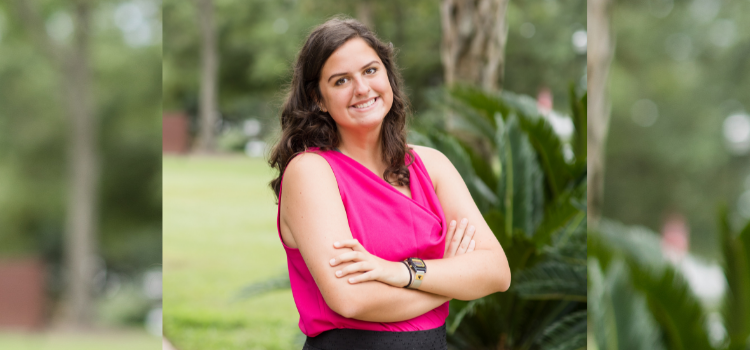 ---
Hi everyone! My name is Hailey Kerstiens and I am a junior double majoring in Marketing and Philosophy. I grew up in Madison, Alabama. After graduating from St. John Paul II Catholic High School, I started at the University of South Alabama in Fall of 2019.
I discovered South through my sister, who attended USA's Occupational Therapy School, and decided to add it to the list of schools to tour. At every University I visited, I toured the main campus as well as the College of Business. The Mitchell College of Business at South Alabama immediately stood out. Having attended a small Catholic high school, one concern in my college search was becoming just a number to my professors. During my Mitchell College tour, I witnessed teachers and students chatting and walking through the halls together, as well as the dean knowing the name of almost every student we passed. The community in MCOB makes it impossible to not have a sense of belonging.
There is no doubt that the Mitchell College of Business drew me to South, and being selected for the Mitchell Scholarship sealed the deal. The opportunities I have been provided through MCOB and being a Mitchell Scholar have benefited me greatly. For example, I have been given many opportunities to meet and be advised by successful community members in my field of study.
I have been fortunate to make the Mitchell College of Business my home over the last two years. Aside from classes, I currently work as a student intern in the Marketing Department and serve as a Mitchell Ambassador.. The marketing experience and connections with faculty and staff are proving invaluable and just add to the multitude of skills and opportunities at Mitchell students' fingertips.
Over the next two years, I am excited to continue working for the Mitchell College of Business, serving as a Mitchell Ambassador, continuing my involvement in Catholic Student Association, and soaking up all the South has to offer!
Following graduation, I plan to work for a mission organization for 2 to 3 years and then pursue my Masters. These ambitions would not be possible without the support of my parents and siblings, the Sacred Heart of Jesus Catholic Student Center, and the staff at the Mitchell College of Business, with special thanks to Emmy Rieske. I know that with all I have been gifted, I will be well-equipped to pursue my goals with confidence.
---
---