Student Spotlight: Maddie Mitchell
---
Posted on November 23, 2020 by Mitchell College of Business
Mitchell College of Business
---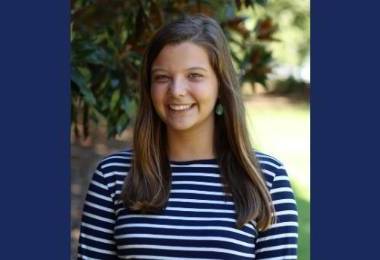 ---
Watch Maddie's Interview | Watch What's in the Box with Maddie
Throughout her college search, senior Maddie Mitchell was looking for a high quality education. To her, quality meant the opportunity to be exposed to high caliber professionals and professors with exceptional experience who share real life experiences. Equally important, Maddie was looking for a new place to call home. She wanted a community of peers who would push her to be better. She eventually found the University of South Alabama, a place she has found a home, valuable education, and more.
Coming all the way from St. Louis, Missouri, Maddie visited the Mitchell College of Business her senior year of high school. During her first time on campus, Maddie met with Dean Wood and expressed her interest in the University, field of business, and Mitchell Scholarship program. Dean Wood assured Maddie she would learn from quality faculty and have the ability to call Mobile and the University of South Alabama hers for the following four years. Following her campus visit, Maddie knew that South was going to become her new home.
That August, Maddie began her freshman year at South as a Mitchell Scholar in the Mitchell College of Business. She recalls, "The first time I felt really at home here (at South) was when I got to meet Mr. Mitchell early in my first semester. We (the Mitchell Scholars) were outside waiting to take pictures with him one-by one; I got to talk to some of the other Scholars and their parents. One of the moms, who worked for the University, told me that I always had a place to stay and a home cooked meal if I ever needed it because she knew how far away I was from home." Since then, Maddie has made many more friends with faculty, staff, and peers. She finds it comforting that she is able to walk down any hallway in MCOB and always runs into someone she knows.
As graduation approaches, Maddie could not be happier with her choice to come to South and encourages others to take a leap of faith like she did, even though that leap seems rather large. She notes that the Mitchell College has played a big part in helping her adapt to being far away from home. "What separates MCOB from other colleges would be the distinguished staff that really care about how well you are doing in school and want you to learn the most that you can. A lot of them spend time going beyond the curriculum and give you real-world examples."
Back to Mitchell Report | November 2020
---
---
Mitchell Magazine recently caught up with Devin Epps, an MCOB graduate...

During the 2020 Collegiate Entrepreneurs Organization (CEO) Global Con...

ASCPA, Ellen Madden, "Outstanding Educator Award", Faculty A...

Student Spotlight, Maddie Mitchell, MCOB, Spotlight, Mitchell, Busines...