Student Spotlight: Mariam El-Sharkh
---
Posted on February 28, 2022 by MCOB Outreach
MCOB Outreach
---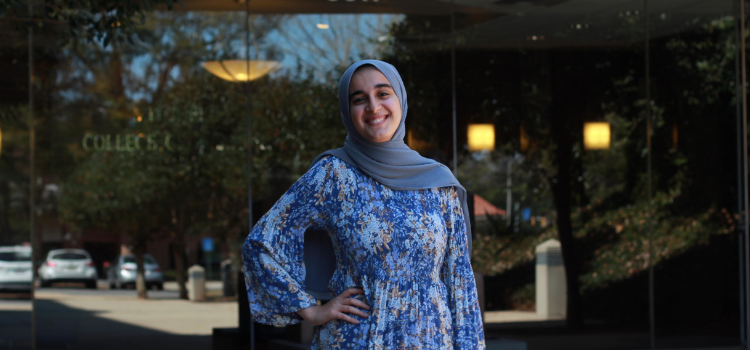 ---
Hey everyone! My name is Mariam El-Sharkh, and I am a junior majoring in management with a concentration in general management, along with a minor in psychology. I am originally from Egypt, but I grew up in Mobile, Alabama. After graduating early from Baker High School, I started at the University of South Alabama in Fall of 2019.
At the beginning of my college career, I did not know what I wanted to study for the next four years of my life. I knew my long-term goal was to implement meaningful change in society, but I was unsure of which path to take to reach this goal. Most of my family are either doctors or engineers, but I did not see myself flourishing in those areas. I have always had a keen interest in business and psychology but I was unsure as to how these two interests could be combined into a single career path. I am forever grateful to my uncle and the MCOB staff for the eye-opening conversations that would lead me to pursue a business degree at the Mitchell College of Business.
My experience at the Mitchell College of Business has taught me lifelong lessons about professionalism, organization, efficiency, management, communication, and marketing. I applied these skills to the real world by launching my own business in December of 2020. I launched an ecommerce store where I make and sell environmentally friendly, soy-blended candles, soaps, and hand sanitizers. This business has not only been a learning experience, but it has also solidified my confidence that I am on the path to fulfill my goals.
Aside from attending classes at MCOB and running my business, I enjoy staying busy and being involved on campus. I work as a student assistant at the General Counsel Office on campus where my main role is to assist in data entry,scanning and organizing files. I am also a peer mentor for the Jag Student Support Network. This has allowed me to follow my passion of being an advocate for mental health. Finally, I also serve on the executive board of the Society of Human Resources, and am fundraiser coordinator of the Muslim Student Association.
Following graduation, I plan to get experience using my management degree by working for a company, while pursuing a Ph.D. in clinical psychology. My goal is to combine my knowledge that I have acquired throughout my undergraduate and graduate careers to start a counseling business in the future. In the meantime, I plan on advancing in my ecommerce store. I would like to thank God, my parents, my siblings, my uncle, and my management professors at South for continuously providing me with support and advice.
---
---