Student Spotlight: Anne Morgan Swearingen
---
Posted on November 29, 2022 by MCOB Outreach
MCOB Outreach
---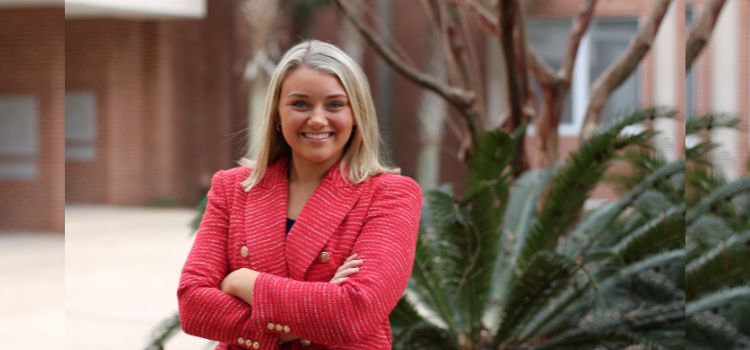 ---
Hello, everyone! My name is Anne Morgan Swearingen, and I am a junior majoring in Accounting.
A lifelong resident of Mobile, I grew up just a few short miles from the University of South Alabama campus. Planning for the next phase of my life after graduation from Cottage Hill Christian Academy was difficult as there were many universities at which I could continue my education. However, I always had South Alabama in the back of my mind. My older sister was in her junior year having a great undergraduate experience and both of my parents attended USA. After much prayer and consideration of the college options available to me, it became very clear that South Alabama would be a place where I could grow and flourish while getting an excellent education.
The opportunities to get involved once on campus are seemingly endless. As early as my freshman year, I served on First Year Council, represented the school as a COVID-19 Student Ambassador, and also welcomed incoming students as an orientation leader for incoming freshmen. I continued my campus engagement by serving as a senator for the Mitchell College of Business for two consecutive years. Tutoring student athletes has also given me a chance to reinforce the knowledge I gain in the classroom. In January 2023, I will begin my second term as President of Chi Omega, a Greek organization that I have the honor to be a member of here at South.
In addition to having a great experience with collegiate organizations, I've been fortunate to build fantastic relationships with my professors. In the College of Business, there is an obvious passion and care behind the guidance and instruction provided by each professor. In addition, classroom presentations from a variety of business professionals such as accountants, attorneys, business owners, and managers have provided a glimpse into the business world.
Following graduation, I plan to attend law school and obtain CPA licensure. I would not have such ambitions without the help and guidance of my mentors at South Alabama. This university inspires me daily to better myself and has shaped me to be the person that I am today.
---
---