USA Department of Pediatrics Hosts Pediatric Leadership Alliance Session
---
Posted on June 23, 2017 by Med School Watercooler
Med School Watercooler
---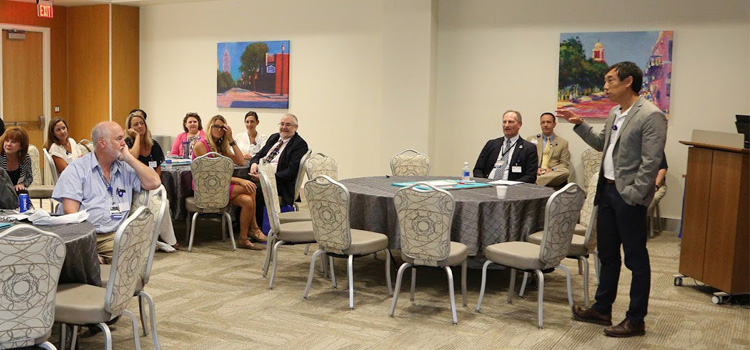 ---
In collaboration with the American Academy of Pediatrics and the Alabama Chapter of the American Academy of Pediatrics, the University of South Alabama Department of Pediatrics recently hosted a Pediatric Leadership Alliance Session at the Strada Patient Care Center.
The multi-day workshop provided both didactic and hands-on elements to help attendees understand their role in the Patient-Centered Medical Home (PCMH) model and how they can be a leader in the process. More than 55 pediatric healthcare staff attended the event, including leadership from the American Academy of Pediatrics.
"The workshop gave nurses, physicians, residents and administrators the opportunity to enhance the leadership skills needed to transform healthcare practices to align with the patient-centered medical home model," said Natalie Fox, manager of clinical operations for pediatrics at USA Physicians Group. "The sessions were interactive and encouraged active learning for participants."
The event was led by Dr. Gil Liu, chair of the American Academy of Pediatrics Pediatric Leaders Alliance, and featured five speakers: Dr. Daniel Preud'Homme, director of the USA Pediatric Healthy Life Center and professor of pediatrics at the USA College of Medicine; Dr. Michael Ramsey, a pediatrician in Dothan, Ala.; Dr. Francis Rushton, medical director for South Carolina Quality through Technology and Innovation in Pediatrics and professor of pediatrics at South Carolina School of Medicine in Columbia, S.C.; Dr. James Wiley, chief medical officer of Focus-MD in Mobile, Ala.; and Dr. Craig Pearce, Ben May Distinguished Professor at the USA Mitchell College of Business.
---
---