Audition Packets for the 2016-2017 Jaguar Drumline Now Available for Download!
---
Posted on April 5, 2016 by Dr. Luis Rivera
Dr. Luis Rivera
---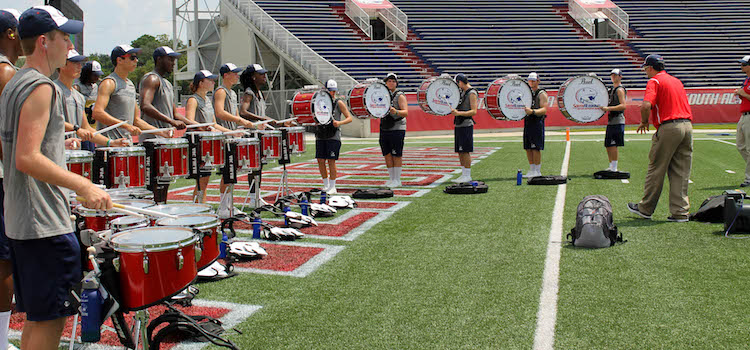 Members of the 2015-2016 Jaguar Drumline during a Gameday Rehearsal.
---
Audition packets are now available for the 2016-2017 Jaguar Marching Band Jaguar Drumline. The Jaguar Drumline is made up of a full battery (Snare, Tenors, Basses, Cymbals) and front ensemble (Marimba, Vibraphone, Xylophone). Each member of the Jaguar Drumline, if accepted, receives a generous scholarship for their participation. The Jaguar Drumline proudly performs on Pearl Drums, Sabian Cymbals, and Vic Firth Sticks. In addition, all sticks and supplies are provided for each member during the course of the season!
The JDL rehearses Monday – Friday, 4:00-6:00PM during the fall semester and performs with the Jaguar Marching Band at all games, exhibitions, and other scheduled events. In addition, the JDL occasionally performs for other events on and off-campus. Members of the drumline do not need to be music majors! Over two thirds of the JMB are non-music majors!
For new members auditioning, you must fill out the Audition Application through your JagSpot Scholarship Application Portal. Members of the 2015-2016 line do not need to fill out a JagSpot Application. All auditionees should fill out the JMB Member Intent Form to indicate they plan on auditioning for the JDL.
We also would like to invite you to the JDL Audition Clinic on Saturday, May 14, 2016 from 10:00AM-4:00PM where you can meet current faculty and staff, current JDL members, and get a feel for what to work on and expect for your audition on June 11-12, 2016.
Good luck and Go Jags!
AUDITION PACKETS
All audition packets include a welcome letter with detailed information about the Jaguar Drumline, audition clinic, and helpful information as you prepare! If you have specific questions please feel free to contact Dr. Luis Rivera, Director of Percussion Studies or Prof. Matt Greenwood, Instructor of Percussion and Associate Director of the Jaguar Drumline.
Audition Packet Links
JDL Snare Audition Packet 2016
JDL Tenors Audition Packet 2016
JDL Basses Audition Packet 2016
JDL Cymbals Audition Packet 2016
Front Ensemble Audition Packet 2016
---
---