AT&T Contribution to USA School of Computing Provides for Cybersecurity Camp
---
Posted on July 23, 2018 by Spencer Radford
Spencer Radford
---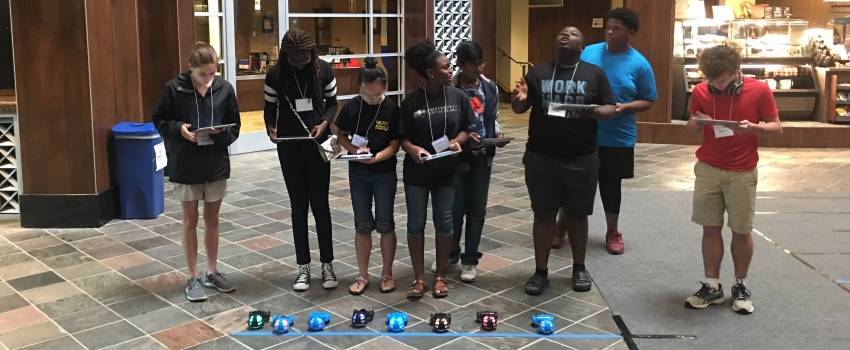 ---
Efforts to keep local students connected to a positive future got a boost as AT&T contributed $15,250 to the University of South Alabama's School of Computing. AT&T's contribution was used to provide support to the 2018 USA School of Computing Cybersecurity and Information Assurance Summer Camp (CIASC), which was held in June at USA's campus.
The gift was made to USA through AT&T's Aspire program, with the goal of helping prepare our youth to reach their academic goals. Fifty ninth-grade students from W.P. Davidson High School in Mobile received hands-on experience in cybersecurity through activities, guest speakers and real-world scenario exercises over the course of the five-day camp.
CIASC took place at USA's School of Computing. Les Barnett, director of the Center for Forensics, Information Technology and Security at USA, said the camp taught students computer programming in an applied fashion. "During the camp, the students developed an application for a computerized device that interacted with the world outside a computer," said Barnett. "The camp culminated in a contest testing what the students learned about programming by getting their device to navigate through a maze."
Barnett said AT&T's generous support of the program allows the School of Computing to continue fostering college-bound students' interest in the rapidly growing field of cybersecurity. Students had the opportunity to learn programming, cryptography and cyber physical systems as well as participate in discussions about trending topics on safe online behavior. He noted that many career opportunities are available for cybersecurity students including positions with the U.S. Department of Defense, state level Departments of Public Safety, Department of Homeland Security, the National Cyber Security Center, corporations, non-profit organizations and more.
"A culture of continuous learning is a key component to student success," said Alabama State Senator Vivian Davis Figures. "The University of South Alabama's cybersecurity camp enables students to gain skills in one of the fastest growing fields in technology today."
"At AT&T, we are committed to helping people connect with their world and opportunities that make life more fulfilling," stated Glyn Agnew, AT&T Alabama Regional Director of External and Legislative Affairs. "As the cybersecurity industry continues to grow in Mobile and beyond, we are proud to support USA and their work to positively impact our community and state by helping prepare our youth with skills needed to graduate 21st century career ready."
---
---