Alumni Spotlight: Suparba Panda
---
Posted on April 12, 2022 by Keith Lynn
Keith Lynn
---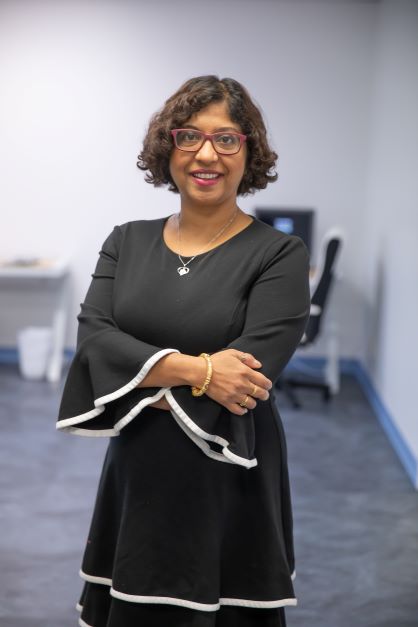 Suparba Panda
---
MS – Computer and Information Sciences, 2002
Chief Executive Officer, Service Works in St. Louis Missouri
"It was really about meeting my future and current husband, Avichal," says School of Computing alumna, Suparba Panda, about one of her most interesting memories from attending USA and pursuing her masters in computer and information sciences. "We met in the courtyard, and he took me to registration in the lab. Since then, we bonded forever." Today, Suparba, and her husband, Avichal Jain (MS in CIS, 2001) both enjoy working in the field of technology while raising their two children and living in St. Louis, Missouri.
Suparba says that several instructors had an impact on her life and ultimately her career. She credits Dr. David Langan, Dr. Bart Longenecker and Mr. Leo Denton and says, "All of them helped me gain a solid understanding of the fundamentals of the subject which was very useful for my profession. Theory along with practical experience made me work on freelance projects during my degree years."
"Dr. Langan's Java 101 is something I will always remember," she continues. "The way he taught everything and the dynamicity he brought to the class was infectious. You couldn't stop paying attention to him and the way he explained things."
Other favorite memories of her time in the School of Computing include spending hours and hours in the lab as well as spending nights at Waffle House for assignments, discussions and work on extension projects for Dr Longenecker. Suparba enjoyed her campus life while at USA and was active with the International Office. She also completed an internship experience with Quality Micro Systems (QMS) and worked as a graduate assistant.
Once she earned her master's degree in 2002, she started as a programmer analyst at Empoint in Birmingham. Her work experiences continued and included working at United Toll System in Montgomery as a developer, working in Mobile County as a development consultant, working for various companies in Raleigh and Atlanta, and finally settled in St. Louis where she worked as a software architect at Brownshoe (now Caleres). She went to work for Equifax as a software
architect, then was promoted to vice president of technology.
Of her work experiences, Suparba says, "Working in different industry and sectors gave me the depth and breadth of understanding business process. Then I decided to start my own company along with the wish to bring STEM to the kids."
As co-founder and CEO of her company, Service Works, she offers a complete suite of products for simplified and complete solutions for dispatch, inventory, point of sale, accounting and real time tracking. The company works with businesses in the repair, cleaning, construction, delivery, fleet maintenance and automobile and aviation maintenance sectors and they handle interdepartmental communication, real-time status, web and mobile enabled technology, cloud
search, GPS tracking, API interface and native apps to enable businesses to be more efficient and to accelerate their sales potential.
Suparba also founded TymeMachine, a STEM education business which provided young students with after-school hands-on activities and classes to expose them to technology and inspire their creativity.
She offers these words of encouragement to SoC students: "Just work hard, keep your fundamentals solid. Technology changes every single day. Just understand the basics and be adaptable to change. Work on hands-on projects. Development is science as much as it is art. The more you do, the more you think, the more you experiment, the better you get."
---
---