USA Students Introduced to the World of Cyber Competitions
---
Posted on March 7, 2023 by Keith Lynn
Keith Lynn
---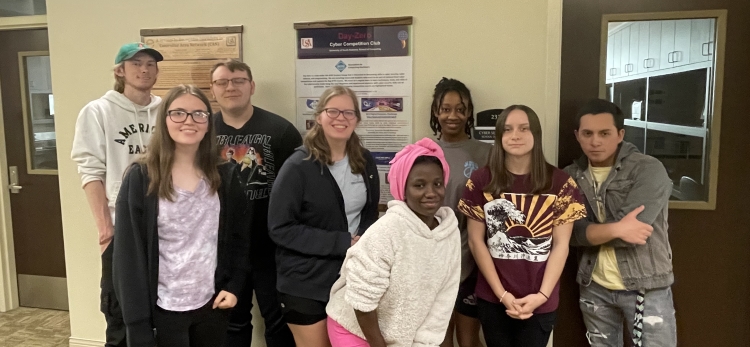 Team Members Pictured (l to r): Nicholas Thompson, Sarah Pyle, Robert Anderson, Brianna Rawden, Housseuina Ba, Jalyn Thornton, Lydia Stroud, and Jose Wheeler
---
We would like to congratulate our Jaguar team for placing 3rd overall in the southeast region 1 NCAE Cybergames Competition. This is the first time a USA team has been fielded for this competition, and they performed exceptionally. The NCAE Cybergames Competition is a beginner-friendly competition oriented towards students that have never competed in a competition before. This year, we sent a team of 8 to the competition, where they placed 3rd overall in the regional. The games provide a form of blue-team/red-team network defense scenario where students manage a simulated real-world business that is being actively attacked by skilled hackers. Our team managed to score the highest in service uptime among the seven other schools competing, which represents keeping a company operational during a cyberattack. According to the judges, our team also managed to have the ... "best security practices" out of the participating teams. The team consisted of members from the School of Computing and the Math Department who are also active members of USA's DayZero student organization.
USA is a National Center of Academic Excellence (NCAE) in Cyber Defense, which is a renewable designation given to universities that meet criteria established by the National Security Agency and Department of Homeland Security for cybersecurity curriculum standards. The NCAE Cybergames are reserved for students who attend such universities, and such competitions help students build solid resumes for future jobs, find their interests in the cybersecurity profession, hone their technical skills, and many such as the Cybergames offer a fun way to win prizes and cash. If you are interested in participating in these competitions, please feel free to contact a DayZero officer or come to our meetings hosted every other Thursday; the next one is Thursday, March 16th, in room SHEC 2119 at 7:30 PM. These competitions are areas where students are able to learn real-world skills that cannot be taught in the classroom.
DayZero is a USA student organization dedicated to furthering cybersecurity knowledge and skills through participation in regional and international cyber competitions and capture the flag events. The group is actively sponsored by AM/NS Calvert and USA's Center for Forensics, Information Technology, and Security (CFITS). Again, congratulations to our NCAE Cybergames team, and we look forward to more competitions this year.
---
---