Jayla Young Selected for Travel Scholarship to Attend HIMSS Global Conference
---
Posted on June 23, 2021 by Keith Lynn
Keith Lynn
---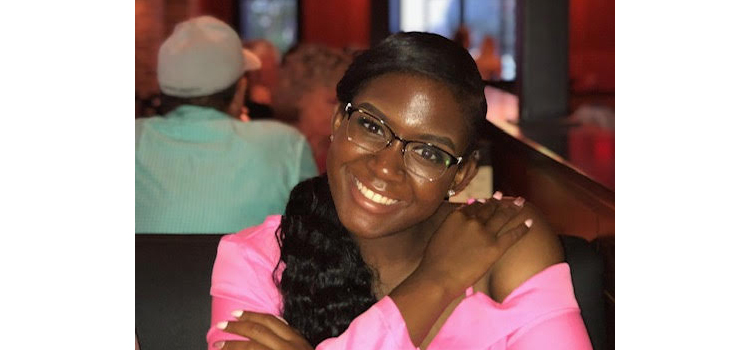 ---
USA Health Informatics major, Jayla Young, has been selected to attend the HIMSS21 Global Health Conference and Exhibition in Las Vegas in August thanks to a generous travel scholarship provided by the Alabama Chapter of HIMSS - the Healthcare Information and Management Systems Society. This is the fourth year the organization has offered the travel scholarship to Health Informatics students from the School of Computing at the University of South Alabama in Mobile.
Ms. Young, a senior student from Hoover, Alabama, was selected for the travel scholarship based on her outstanding academic achievements and the essay she completed on how attending the conference would benefit her in achieving her educational goals and future career plans. The scholarship will cover conference-related expenses including airfare, hotel and meals, and Ms. Young will also have the opportunity to meet board members from the Alabama Chapter who helped to make this funding possible.
In her essay, Ms. Young stated, "I would like to go to the HIMSS Conference in order to enhance my knowledge of Health Informatics and learn more about their initiatives, solutions, and opportunities. I think attending the conference would benefit my career by networking with HI professionals for future job opportunities and learning more about the industry."
While completing her application and researching the HIMSS organization online, Ms. Young says she was able to learn more about Health Informatics and how it is evolving the healthcare system. Several of the organization's key initiatives stood out to her including the Compassion Across Borders program.
Ms. Young shared, "Compassion Across Borders aims to encourage physicians and healthcare professionals to be more compassionate towards patients because their life is in your hands. My ultimate goal is to become a pharmacist and obtain my masters in Health Informatics. With that being said, I think it is vital that the patient knows we care."
Another program that resonated with Ms. Young was the TIGER program. Technology Informatics Guiding Education Reform (TIGER) is an interprofessional community within the HIMSS organization whose purpose is to engage and prepare the global workforce in using technology and health informatics to improve the delivery of patient care. The program helps to develop resources for HI professionals to assist with their educational needs, clinical practice and research so they can enhance their knowledge base, expand their skills and advance in their career paths.
According to Ms. Young, "The TIGER initiative caught my eye because so many people ask me what Health Informatics is and what people do in this field. Educating healthcare professionals and students in the field would clear the air and give others a better understanding as to how we are revolutionizing the healthcare field."
Ms. Young is looking forward to attending the conference in August and having the opportunity to network with other students and conference attendees. She is planning to graduate from USA in the summer of 2022 and knows this travel opportunity will be a highlight of her college experience.
Dr. Matt Campbell, School of Computing Associate Professor in the Information Systems and Technology department and Health Informatics Program Coordinator, is also excited for this opportunity for Jayla and is thankful for the impact HIMSS has had on HI students over the years. "Most Hospital CIO's as well as the leaders of many healthcare-related companies in Alabama are members. HIMSS is a great way to meet lots of important people in the Health Informatics field and start to network for a job once you graduate," he confirms.
According to their website, "HIMSS21 draws a huge variety of attendees across the health information and technology ecosystem—including CIOs and senior executives, providers, IT professionals, government officials, innovators, consultants, market suppliers and more." The global conference is widely known for its educational programming that features a variety of sessions from industry leaders and renowned keynote speakers, specialized programs to meet unique needs, and hands-on preconference forums and seminars.
For more information about the HIMSS21 Global conference, visit their website: https://www.himss.org/global-conference. To learn more about the Alabama chapter of HIMSS, visit: http://alabama.himsschapter.org/.
Contact:
Lori Harris
School of Computing Development Officer
lnharris@southalabama.edu
251-414-8064
---
---