Study assesses clinical impact of targeted genomic profiling
---
Posted on November 17, 2022 by Lindsay Lyle
Lindsay Lyle
---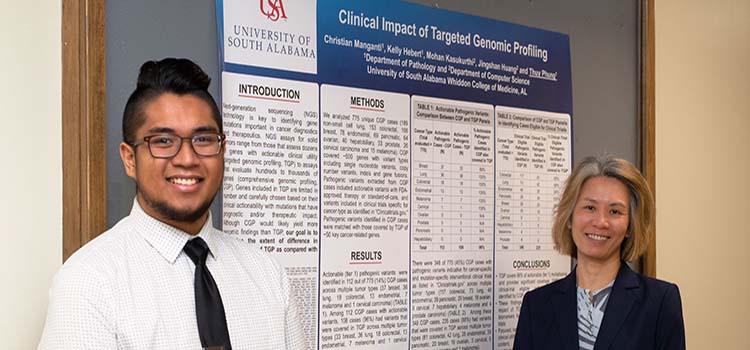 Christian Manganti, a third-year medical student, and Thuy Phung, M.D., Ph.D., associate professor of pathology, display their poster describing the clinical impact of targeted genomic profiling.
---
Next-generation sequencing (NGS) technology is key to identifying gene mutations important in cancer diagnostics and therapeutics. Representatives from the Frederick P. Whiddon College of Medicine and the School of Computing at the University of South Alabama presented their clinical research findings on NGS at the Association for Molecular Pathology international annual meeting, held Nov. 1-5 in Phoenix, Arizona.
Christian Manganti, a third-year medical student, conducted research for the project, titled "Clinical Impact of Targeted Genomic Profiling," during the Medical Student Summer Research Program in 2021. He completed the work in the Molecular Pathology Laboratory under the direction of Thuy Phung, M.D., Ph.D., associate professor of pathology at the Whiddon College of Medicine and director of molecular genetic pathology and dermatopathology at USA Health.
Next-generation sequencing assays for solid tumors range from targeted genomic profiling (TGP), which assesses dozens of genes with actionable clinical utility, to comprehensive genomic profiling (CGP), which evaluates hundreds to thousands of genes.
"NGS truly is the future of medicine," Manganti said. "Research continues to move towards identifying genetic associations with all types of disease states, even obesity."
However, genetic testing can be costly for patients and the healthcare system. "That's where targeted genomic profiling comes in; it's a very efficient solution," he said. "TGP is cost-effective, and our data supports that utilizing TGP in cancer patients provides important information that's pertinent to patient care."
The study found that TGP covers 96% of actionable mutations and provides significant coverage (68%) of clinical-trial-eligible pathogenic variants identified by CGP. These findings indicate significant clinical impact of TGP with respect to identifying biomarkers for targeted therapy and clinical trials. Focused, targeted gene profiling has important clinical utility in the setting of small tissue specimens, cost effectiveness and limited healthcare resources, the study concluded.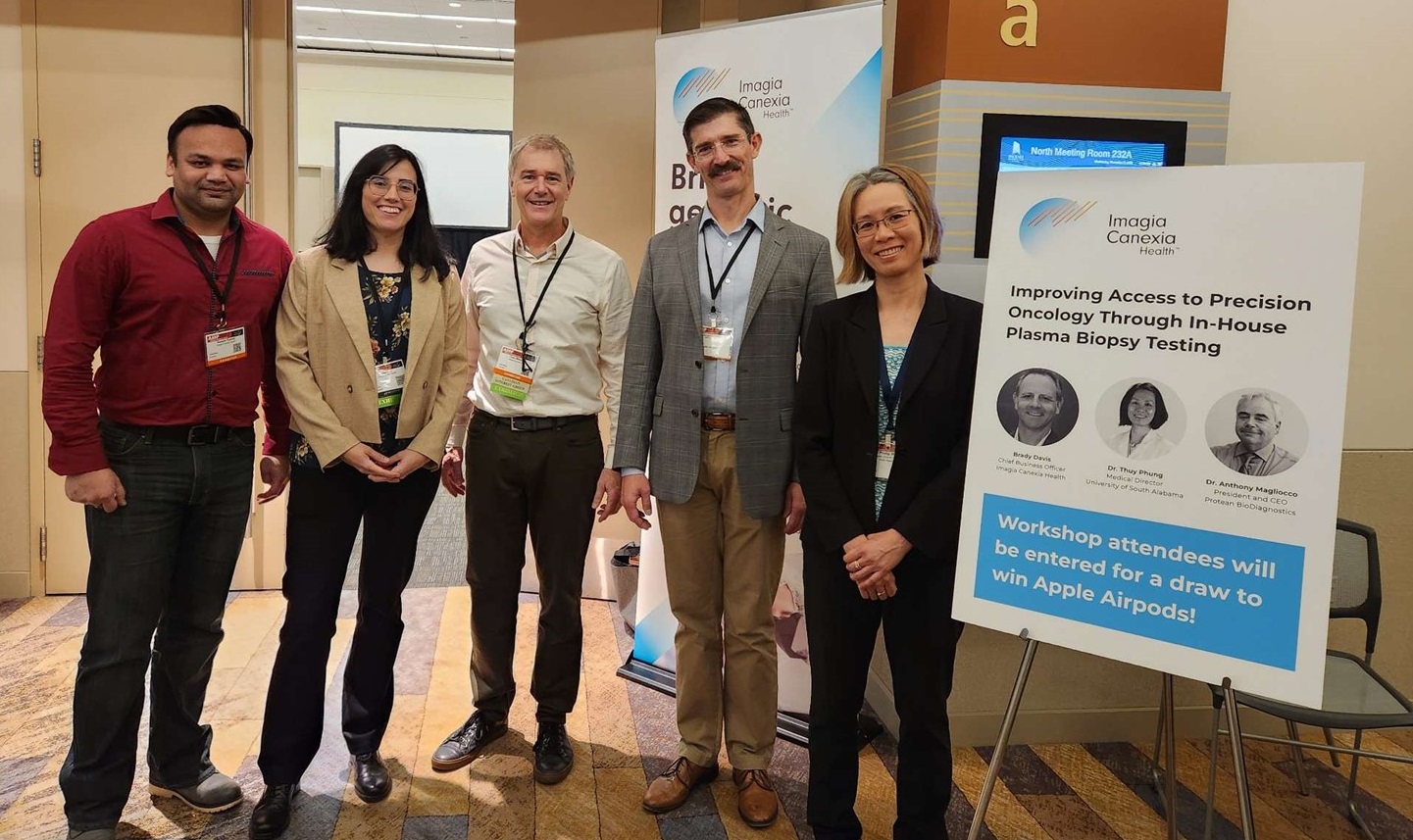 Thuy Phung, M.D., Ph.D., far right, spoke at a corporate workshop during the Association for Molecular Pathology annual meeting.
Phung was a featured speaker in a corporate workshop on "Improving Access to Precision Oncology Through In-House Plasma Biopsy Testing," in which she discussed the establishment of molecular cancer testing at USA Health and how in-house testing can lead to significant improvement in the quality of patient care. She was also invited to serve on several key committees for the Association for Molecular Pathology, and commenced her committee assignments at the association's annual meeting.
"It is an honor to represent the University of South Alabama and the Department of Pathology at an international molecular pathology conference to showcase what we are doing in Mobile to improve patient care locally, and to raise awareness of efficient and cost-effective means to improve patient access to lifesaving molecular testing," she said.
Manganti said he is grateful to Phung, the laboratory staff and the pathology department for sponsoring the project. "This is a completely new avenue in medicine that isn't quite covered in detail yet in our pre-clerkship years," he said. "Much of my learning during that summer occurred simply by interacting with my colleagues every day, and I'm grateful that they were so hospitable to me and open to answering any questions I had."
Collaborators on the interdisciplinary project included Kelly Hebert, Ph.D., lead molecular medical scientist; Mohan Kasukurthi, a doctoral candidate in computer science; and Jingshan Huang, Ph.D., professor of computer science.
AMP is the leading organization in the field of molecular diagnostics. The annual meeting, which attracts about 2,000 attendees from all over the world, explores how cutting-edge technology and developments in molecular testing and diagnostics impact patient care. The meeting consisted of three days of scientific sessions on molecular diagnostics with 200 exhibiting companies, a corporate workshop, and educational and networking opportunities.
---
---