SoC Grad Gets Her Dream Job at FBI
---
Posted on November 2, 2023 by Keith Lynn
Keith Lynn
---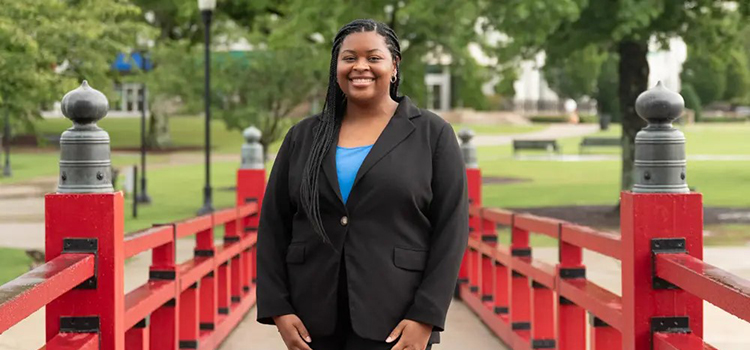 After FBI training and orientation in Washington, D.C., and Quantico, Virginia, Shelby Caldwell has begun working on computer security in Huntsville, Alabama.
---
#MyFirstJob is a series focused on recent graduates of the University of South Alabama.
Shelby Caldwell was always shy, growing up in Oxford, Alabama, which helped lead her into a career in science.
"I was pretty introverted," she said. "I think I got interested in technology because I didn't have to speak so much."
At Oxford High School, Caldwell played softball, became a cheerleader and continued working with computers. She wasn't so shy. For Government Day, she shadowed an information technology supervisor.
"I wanted a job that challenges you and also makes a difference," she said. "I thought that anything in criminal justice would do that."
Personal interest and popular culture gave her a more specific goal.
"I knew I wanted to work for the FBI," she said. "I was interested in criminal justice and there was a TV show, "Criminal Minds," about the FBI, and there was a character, I think her name was Penelope, who was the technical person, and I was like, 'OK, maybe I could do that. I could work for the government and help them solve their problems.'"
Caldwell enrolled at South and earned bachelor's and master's degrees in Computer and Information Sciences. She was active in Jaguar Women in Technology. She joined the National Society of Black Engineers.
She became more of an extrovert, working in the Scholarship for Service program, and did a summer internship at the FBI office in Huntsville, Alabama.
After graduation, along with training and orientation in Washington, D.C., and Quantico, Virginia, she returned to a full-time job with the FBI. Starting a career can be a daunting, even though she's working in the same office where she did her internship, but she's living a dream that's become a reality.
"I feel very motivated," she said. "I feel like I have a job to do and I was chosen to do it for a reason. "That gives me a lot of confidence."
Angela Clark, program coordinator of Scholarship for Service at South, said Caldwell was well-suited for a program that offers tuition and stipends in return for working in government cybersecurity after graduation.
"Not only do students have to be strong in technical coursework, they also have to be well-rounded, and willing to do extra things," she said. "They have to have the soft skills as well."
Clark watched Caldwell grow and mature as an undergraduate and graduate student in computer science.
"One of the great things about the SFS program is that it helps students become more outgoing," she said. "Shelby got a lot of experience presenting her research and doing USA Days, things like that. She was always a great student. She has attention to detail, which is important in our field, and willingness to learn, which is definitely something we look for."
Working in a SCIF
Caldwell works in a SCIF – a Sensitive Compartmented Information Facility – within an FBI office. She and her colleagues have computers, but they are not allowed to bring their own communication devices. No phones. No watches. No tablets.
"There's a little deck outside," she said, "where you can go to make phone calls or whatever."
Caldwell works for a team that monitors and protects agency networks and systems. She hasn't decorated her cubicle yet, but she does display the FBI challenge coins she picked up during training in Washington. She has four or five coins. Older colleagues in her office have dozens of them.
Her office building is located in the Redstone Arsenal, a huge Army complex adjacent to Huntsville. Working there are more than 30,000 federal employees and contractors.
"It's like being in a city within a city," she said. "You kind of feel protected while you're there."
Caldwell knew what she was getting into when she signed up for Scholarship for Service. She thinks she got a good deal. Her requirement is to work at a government agency for two-and-a-half years.
"It's a big commitment," she said, "and I talked with my parents about it. I didn't do it my first go around, but I did get my senior year and graduate school paid for in the program."
The young woman working for the FBI in Huntsville has come a long way from the shy girl growing up in Oxford. She's comfortable working on a team. She wants to be heard.
"I've definitely come out of my shell," she said. "I've learned how to speak out and how to lead group projects. My friends and I joke that the personality you see in IT and computer science, we're completely the opposite of that.
---
---