Uniti Fiber Donates Equipment for DayZero Student Organization
---
Posted on August 16, 2021 by Keith Lynn
Keith Lynn
---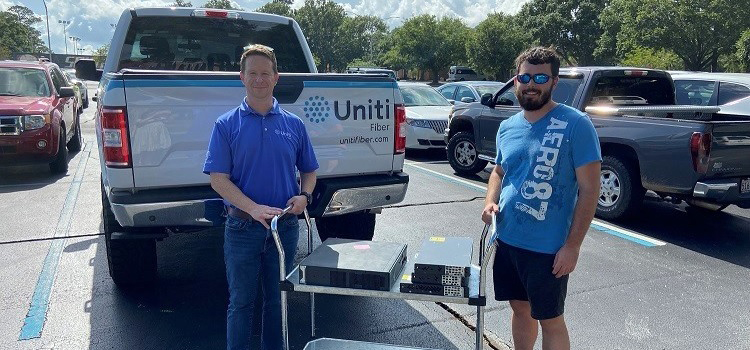 ---
The School of Computing recently received a donation of several switches and routers from Uniti Fiber. The "end-of-life" equipment from Uniti will find a new home in room 3308 in Shelby Hall and will be utilized by the DayZero Student Organization in their preparation for cyber competitions.
Brandon Baggett is the current President of DayZero and the group's purpose is to promote professional development and increase knowledge and awareness in cybersecurity, digital forensics and other related disciplines. In addition to professional and educational growth, the group fosters participation in cybersecurity-related competitions, both physical and virtual in nature. The competitions vary from blue-
team/red-team cybersecurity challenges sponsored by collegiate organizations to "capture the flag" events sponsored by federal agencies and corporations.
The equipment donation will help DayZero students to train for competition and to practice ethical hacking. This upcoming academic year, the DayZero team is scheduled to compete in the Southeast Regional Cyber Defense Competition (SECCDC), the Collegiate Penetration Testing Competition (CPTC) and the DoE Cyberforce Competition.
Austin Carr from Uniti Fiber worked with Baggett and Dr. Todd McDonald, DayZero faculty advisor, to help facilitate the equipment donation. Carr serves as Uniti's Director of Network Assurance and Engineering and is Uniti's representative to the School of Computing Advisory Board. In addition, he is a current PhD student in computing with a research interest in networking and moving target defense.
The School of Computing is grateful to Uniti Fiber for their gift of equipment and for their incredible partnership and commitment to assisting students and enhancing programs in the School of Computing.
Students interested in joining the DayZero organization and cyber competition team should email dayzeropresident@southalabama.edu. The group meets bi-weekly and membership dues are $15 per year. Students of all experience levels are invited to participate.
To make a gift or to contribute support or resources to the cyber competition team, please email lnharris@southalabama.edu.
---
---