Adult and Pediatric CPR/AED/First Aid Certification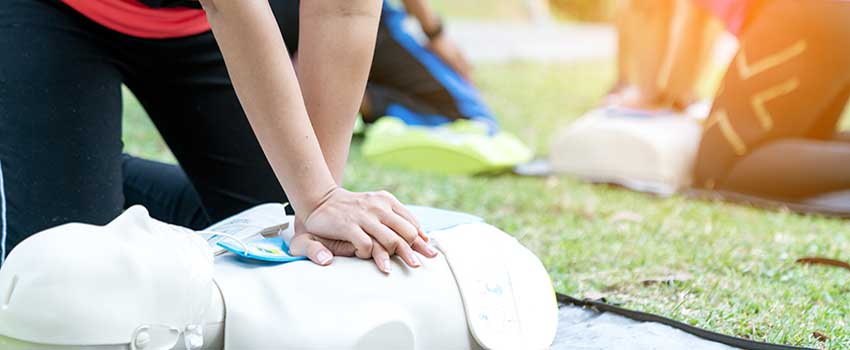 American Red Cross Safety Certifications
The Department of Campus Recreation offers several American Red Cross safety certifications including:
Adult and Pediatric CPR/AED/First Aid for the layperson
Lifeguard Certification and Recertification
Water Safety Instructor (WSI)
Due to COVID-19, our certifications are currently open to USA students, employees, and SRC members only.
**If you need a course for a Healthcare Provider or Advanced Life Support, please contact the university's Department of EMS Education/Center for Emergency Response Training. Students who are applying to departments within the College of Allied Health may need American Heart Association Healthcare Provider or ALS certification.**
▼ Adult and Pediatric CPR/AED/First Aid for the Layperson
This course has two parts: an online portion that must be done in advance followed by an in-person skills sessions. The in-person skills session is approximately two hours.
Select from the following dates for your in-person skill session. Skill sessions take place in the USA Student Recreation Center, Fitness Studio 2 at 51 Jaguar Blvd. Please make sure you wear comfortable clothing because you will be practicing the skills you have learned in the online portion. The deadline to cancel your skills session with a full refund is 48 hours prior to the start. If you cancel fewer than 48 hours in advance, no-show, or are late to the skills session there are no refunds and there is a $10 fee to reschedule to another session. Participants must be on time; no late arrivals will be permitted.
Spring 2021 dates

Tuesday, May 11, 11:30am-1:30pm
Sunday, May 16, 5:30-7:30pm
Price
Free for USA faculty/staff
$35 for USA students and Student Recreation Center members
Register via the Campus Recreation Portal. Pricing will be adjusted after you login.
Online Portion
This must be completed in advance of your skill session. If you are a USA student or employee, please use your USA JagMail address to create an account with the American Red Cross.
Use this link to access the online portion: http://redcrosslearning.com/course/6d002c60-cf7c-11e5-8450-0d0cff7f5cef
If you have trouble with the online portion, you may need to try a different web browser (Safari, Firefox, Chrome, etc). You can also call the American Red Cross at 1-800-REDCROSS.
Show proof of completion to the instructor at the start of the skills session. You can print out the completion record, show the email confirming the completion, or login to your American Red Cross account and show the "completion" status.
▼ Lifeguard Certification and Recertification
The Lifeguard course provides entry level lifeguard participants with the knowledge and skills to prevent, recognize, and respond to emergencies and provide care until emergency medical services arrive and take over. You must pass a pretest and be at least 15 years old to take the course.
The recertification option is for lifeguards who are currently certified.
Please see our Aquatics page for more information including course pre-requisites, dates and prices.
▼ Water Safety Instructor (WSI)
The Water Safety Instructor course certifies swimming instructors to teach American Red Cross swimming lessons, diving and water safety programs.
Please see our Aquatics page for more information including course pre-requisites, dates and prices.