Community Involvement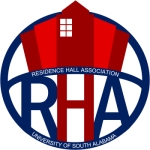 University of South Alabama
Residence Hall Association (RHA)
The Residence Hall Association (RHA) was founded in 1984 at South Alabama and currently represents the 2,400 students who live on campus. RHA is the governing and programming board for all residence halls. This organization consists of the executive board officers, representatives from each community and committee members. Input from all RHA members is utilized to develop campus-wide social events, respond to the issues and needs of residential students, and enhance the total residence hall living experience. RHA members also have the opportunity to serve as delegates to state, regional and national leadership conferences. RHA provides an excellent opportunity for you to get involved on campus and gain leadership experience!
Vision Statement
The vision of RHA is to be a nationally known program that fully represents what it means to be a resident at the University of South Alabama. Through the active voices of our residents, RHA wishes to embody and be recognized programmatically in all aspects of college living.
Mission Statement
The purpose of RHA shall be to promote, through service, the betterment of academic life outside the classroom for students living in the university residence halls. In order to obtain this goal, we will: provide active and relative programming towards the issues and interests of the residents; continually search for services and improvements that enhance the quality of the residence halls; and act as a liaison between the residents and the university administration on issues and concerns that affect USA Housing, residence halls, and/or the student body.
Membership
As a resident on this campus, students are already considered a member of RHA and are entitled to the services of the RHA for the duration of their housing contract. However, there are two distinguishable memberships. The first being active member, the second being an officer.

Click here to download the RHA Request for Co-Sponsorship